2021 "Be an Angel" Campaign
Congratulations to Jenny C. of Saltillo, MS, the winner of the painting, "Friends in Need".

Thanks to all of the Angels for a very successful year as we raised $6,010!

Thank you Denise Saleh for donating another one of your fabulous paintings!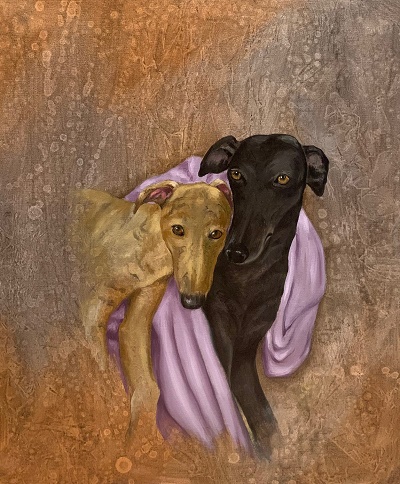 "Friends in Need"

These two found each other and became friends in the most uncertain and unsettling time in their lives. When dogs find themselves uprooted from all that is familiar, they often find closeness, warmth, and solace in the heartbeat of another dog.

The Greyhounds that come into our homes give us the same kind of comfort. They make us laugh as they throw their newfound stuffies in the air or cuddle up with us on the sofa. Please consider opening your heart to fostering, adopting, and supporting these loving dogs.
ABOUT THE PAINTING

The painting, "Friends in Need" is a 20" x 24" oil on deep stretched canvas with gallery finished edges by Denise Saleh. This piece may be hung as is or framed. The background does not phot all that well as it is copper and silver metallic. Much more impressive in person.

2021 Angels
Click here to find out more on how to become an Angel for the Greyhounds.
Kathy Cleveland is an Angel for Mila; In Memory of Mary McAnally


Kathy Cleveland is an Angel for Mila; In Memory of Mary McAnally


Kathy Cleveland is an Angel for Mila; In Memory of Mary McAnally


Kathy Cleveland is an Angel for Mila; In Memory of Mary McAnally


Jessica Ferrer is an Angel for All Greyhounds in GU's care; In Memory of Layla; In Honor of Coco


Jessica Ferrer is an Angel for All Greyhounds in GU's care; In Memory of Layla; In Honor of Coco


Bonnie GU 2014 is an Angel for All Greyhounds in GU's care; In Memory of Betty White and her love of animals


Tyler Greyhounds Unlimited Volunteers are Angels for All Greyhounds in GU's care; In Memory of Bill Mayes; In Honor of Shirley McInnis


Tyler Greyhounds Unlimited Volunteers are Angels for All Greyhounds in GU's care; In Memory of Bill Mayes; In Honor of Shirley McInnis


Tyler Greyhounds Unlimited Volunteers are Angels for All Greyhounds in GU's care; In Memory of Bill Mayes; In Honor of Shirley McInnis


Tyler Greyhounds Unlimited Volunteers are Angels for All Greyhounds in GU's care; In Memory of Bill Mayes; In Honor of Shirley McInnis


Tyler Greyhounds Unlimited Volunteers are Angels for All Greyhounds in GU's care; In Memory of Bill Mayes; In Honor of Shirley McInnis


Tyler Greyhounds Unlimited Volunteers are Angels for All Greyhounds in GU's care; In Memory of Bill Mayes; In Honor of Shirley McInnis


Tyler Greyhounds Unlimited Volunteers are Angels for All Greyhounds in GU's care; In Memory of Bill Mayes; In Honor of Shirley McInnis


Tyler Greyhounds Unlimited Volunteers are Angels for All Greyhounds in GU's care; In Memory of Bill Mayes; In Honor of Shirley McInnis


Tyler Greyhounds Unlimited Volunteers are Angels for All Greyhounds in GU's care; In Memory of Bill Mayes; In Honor of Gail Mayes


Tyler Greyhounds Unlimited Volunteers are Angels for All Greyhounds in GU's care; In Memory of Bill Mayes; In Honor of Gail Mayes


Tyler Greyhounds Unlimited Volunteers are Angels for All Greyhounds in GU's care; In Memory of Bill Mayes; In Honor of Gail Mayes


Tyler Greyhounds Unlimited Volunteers are Angels for All Greyhounds in GU's care; In Memory of Bill Mayes; In Honor of Gail Mayes


Tyler Greyhounds Unlimited Volunteers are Angels for All Greyhounds in GU's care; In Memory of Bill Mayes; In Honor of Gail Mayes


Tyler Greyhounds Unlimited Volunteers are Angels for All Greyhounds in GU's care; In Memory of Bill Mayes; In Honor of Gail Mayes


Tyler Greyhounds Unlimited Volunteers are Angels for All Greyhounds in GU's care; In Memory of Bill Mayes; In Honor of Gail Mayes


Tyler Greyhounds Unlimited Volunteers are Angels for All Greyhounds in GU's care; In Memory of Bill Mayes; In Honor of Gail Mayes


Jesse and Emily Thune are Angels for All Greyhounds in GU's care; In Honor of All of the sweet greyhounds needing homes in GU's care


Jesse and Emily Thune are Angels for All Greyhounds in GU's care; In Honor of Cozart


Jesse and Emily Thune are Angels for All Greyhounds in GU's care; In Memory of Bella


Jesse and Emily Thune are Angels for All Greyhounds in GU's care; In Memory of Navarro


Eddie and Becky McAllister are Angels for All Greyhounds in GU's care; In Memory of Boots, Dakota, Savannah and Morgan


Eddie and Becky McAllister are Angels for All Greyhounds in GU's care; In Memory of Boots, Dakota, Savannah and Morgan


Thomas & Brenda Burns is an Angel for All Greyhounds in GU's care; In Memory of our hounds - Cadence, Pete, Stella, Vladimir


Thomas & Brenda Burns is an Angel for All Greyhounds in GU's care; In Memory of our hounds - Cadence, Pete, Stella, Vladimir


Charlene Chaney is an Angel for All Greyhounds in GU's care; In Memory of Joker II


Charlene Chaney is an Angel for All Greyhounds in GU's care; In Memory of Joker II


Kelly Wells is an Angel for All Greyhounds in GU's care; In Memory of Merlin, Fred and Zeus


Kelly Wells is an Angel for All Greyhounds in GU's care; In Memory of Merlin, Fred and Zeus


Kelly Wells is an Angel for All Greyhounds in GU's care; In Memory of Merlin, Fred and Zeus


Kelly Wells is an Angel for All Greyhounds in GU's care; In Memory of Merlin, Fred and Zeus


Kate Howell is an Angel for All Greyhounds in GU's care; In Memory of All my greyhound Angels


Kate Howell is an Angel for All Greyhounds in GU's care; In Memory of All my greyhound Angels


Ruth Nelson is an Angel for All Greyhounds in GU's care


Ruth Nelson is an Angel for All Greyhounds in GU's care


Ruth Nelson is an Angel for All Greyhounds in GU's care


Ruth Nelson is an Angel for All Greyhounds in GU's care


Ruth Nelson is an Angel for All Greyhounds in GU's care


Ruth Nelson is an Angel for All Greyhounds in GU's care


Ruth Nelson is an Angel for All Greyhounds in GU's care


Ruth Nelson is an Angel for All Greyhounds in GU's care


Ruth Nelson is an Angel for All Greyhounds in GU's care


Ruth Nelson is an Angel for All Greyhounds in GU's care


Ruth Nelson is an Angel for All Greyhounds in GU's care


Ruth Nelson is an Angel for All Greyhounds in GU's care


Ruth Nelson is an Angel for All Greyhounds in GU's care


Ruth Nelson is an Angel for All Greyhounds in GU's care


Ruth Nelson is an Angel for All Greyhounds in GU's care


Ruth Nelson is an Angel for All Greyhounds in GU's care


Ruth Nelson is an Angel for All Greyhounds in GU's care


Ruth Nelson is an Angel for All Greyhounds in GU's care


Ruth Nelson is an Angel for All Greyhounds in GU's care


Ruth Nelson is an Angel for All Greyhounds in GU's care


Tom and Gail Moffat are Angels for All Greyhounds in GU's care; In Memory of Angel, Noga, Hercules, Petra, and Baxter


Tom and Gail Moffat are Angels for All Greyhounds in GU's care; In Memory of Angel, Noga, Hercules, Petra, and Baxter


Tom and Gail Moffat are Angels for All Greyhounds in GU's care; In Memory of Angel, Noga, Hercules, Petra, and Baxter


Tom and Gail Moffat are Angels for All Greyhounds in GU's care; In Memory of Angel, Noga, Hercules, Petra, and Baxter


Micky Nielsen is an Angel for All Greyhounds in GU's care; In Honor of GU's Foster Homes


Micky Nielsen is an Angel for All Greyhounds in GU's care; In Memory of Hazel, Whisper, Sarah, Gabbie and Monnie


Micky Nielsen is an Angel for All Greyhounds in GU's care; In Honor of Susan and Mark Lemon


Micky Nielsen is an Angel for All Greyhounds in GU's care; In Memory of Mary McAnally


Carol Enkoji and Rick Nelson are Angels for Mila


Carol Enkoji and Rick Nelson are Angels for Ivory


Carol Enkoji and Rick Nelson are Angels for Cassie


Carol Enkoji and Rick Nelson are Angels for Bucki


Graying Texas expats Dave Gillen & Lois Teed-Gillen in Grand Rapids, MI. are Angels for All Greyhounds in GU's care; In Memory of Frenchy, Cissy, PD, Woody, and Peaches; In Honor of Duncan (now 12) and Gigi (now 13)


Graying Texas expats Dave Gillen & Lois Teed-Gillen in Grand Rapids, MI. are Angels for All Greyhounds in GU's care; In Memory of Frenchy, Cissy, PD, Woody, and Peaches; In Honor of Duncan (now 12) and Gigi (now 13)


Graying Texas expats Dave Gillen & Lois Teed-Gillen in Grand Rapids, MI. are Angels for All Greyhounds in GU's care; In Memory of Frenchy, Cissy, PD, Woody, and Peaches; In Honor of Duncan (now 12) and Gigi (now 13)


Graying Texas expats Dave Gillen & Lois Teed-Gillen in Grand Rapids, MI. are Angels for All Greyhounds in GU's care; In Memory of Frenchy, Cissy, PD, Woody, and Peaches; In Honor of Duncan (now 12) and Gigi (now 13)


Graying Texas expats Dave Gillen & Lois Teed-Gillen in Grand Rapids, MI. are Angels for All Greyhounds in GU's care; In Memory of Frenchy, Cissy, PD, Woody, and Peaches; In Honor of Duncan (now 12) and Gigi (now 13)


Graying Texas expats Dave Gillen & Lois Teed-Gillen in Grand Rapids, MI. are Angels for All Greyhounds in GU's care; In Memory of Frenchy, Cissy, PD, Woody, and Peaches; In Honor of Duncan (now 12) and Gigi (now 13)


Jenny Castillo is an Angel for All Greyhounds in GU's care


Jenny Castillo is an Angel for All Greyhounds in GU's care


Jenny Castillo is an Angel for All Greyhounds in GU's care


Jenny Castillo is an Angel for All Greyhounds in GU's care


Jenny Castillo is an Angel for All Greyhounds in GU's care


Jenny Castillo is an Angel for All Greyhounds in GU's care


Jenny Castillo is an Angel for All Greyhounds in GU's care


Jenny Castillo is an Angel for All Greyhounds in GU's care


Jenny Castillo is an Angel for All Greyhounds in GU's care


Jenny Castillo is an Angel for All Greyhounds in GU's care


Jenny Castillo is an Angel for All Greyhounds in GU's care


Jenny Castillo is an Angel for All Greyhounds in GU's care


Becky Ritz is an Angel for All Greyhounds in GU's care; In Memory of Angus, Flame, Mr. Tuffy, Miss Tuffy, Lovely, Perfect, and Wonderful


Julie & Ovi Vazquez family are Angels for All Greyhounds in GU's care; In Memory of Tinkerbell, and all your babies who have passed over the rainbow bridge; In Honor of Happy Birthday Leslie Peck, greyhound rescuer


Julie & Ovi Vazquez family are Angels for All Greyhounds in GU's care; In Memory of Tinkerbell, and all your babies who have passed over the rainbow bridge; In Honor of Happy Birthday Leslie Peck, greyhound rescuer


Mark Izbrand is an Angel for All Greyhounds in GU's care


John Montois is an Angel for All Greyhounds in GU's care; In Memory of Santee & Boris; In Honor of Dana


John Montois is an Angel for All Greyhounds in GU's care; In Memory of Santee & Boris; In Honor of Dana


John Montois is an Angel for All Greyhounds in GU's care; In Memory of Santee & Boris; In Honor of Dana


John Montois is an Angel for All Greyhounds in GU's care; In Memory of Santee & Boris; In Honor of Dana


Tom Crull is an Angel for All Greyhounds in GU's care; In Memory of Isabella, Iris and Zilla; In Honor of Luna and Freckles


Tom Crull is an Angel for All Greyhounds in GU's care; In Memory of Isabella, Iris and Zilla; In Honor of Luna and Freckles


Tom Crull is an Angel for All Greyhounds in GU's care; In Memory of Isabella, Iris and Zilla; In Honor of Luna and Freckles


Tom Crull is an Angel for All Greyhounds in GU's care; In Memory of Isabella, Iris and Zilla; In Honor of Luna and Freckles


Tom Crull is an Angel for All Greyhounds in GU's care; In Memory of Isabella, Iris and Zilla; In Honor of Luna and Freckles


Tom Crull is an Angel for All Greyhounds in GU's care; In Memory of Isabella, Iris and Zilla; In Honor of Luna and Freckles


Tom Crull is an Angel for All Greyhounds in GU's care; In Memory of Isabella, Iris and Zilla; In Honor of Luna and Freckles


Tom Crull is an Angel for All Greyhounds in GU's care; In Memory of Isabella, Iris and Zilla; In Honor of Luna and Freckles


Tom Crull is an Angel for All Greyhounds in GU's care; In Memory of Isabella, Iris and Zilla; In Honor of Luna and Freckles


Tom Crull is an Angel for All Greyhounds in GU's care; In Memory of Isabella, Iris and Zilla; In Honor of Luna and Freckles


Hayes Daugherty is an Angel for Cassie


Jennifer Demarest is an Angel for All Greyhounds in GU's care; In Memory of Our beloved Destiny, Aiden and Liza


Linda Perry is an Angel for All Greyhounds in GU's care; In Memory of All my greyhounds; In Honor of All greyhound volunteers


Linda Perry is an Angel for All Greyhounds in GU's care; In Memory of All my greyhounds; In Honor of All greyhound volunteers


Linda Perry is an Angel for All Greyhounds in GU's care; In Memory of All my greyhounds; In Honor of All greyhound volunteers


Linda Perry is an Angel for All Greyhounds in GU's care; In Memory of All my greyhounds; In Honor of All greyhound volunteers


Linda Perry is an Angel for All Greyhounds in GU's care; In Memory of All my greyhounds; In Honor of All greyhound volunteers


Linda Perry is an Angel for All Greyhounds in GU's care; In Memory of All my greyhounds; In Honor of All greyhound volunteers


Linda Perry is an Angel for All Greyhounds in GU's care; In Memory of All my greyhounds; In Honor of All greyhound volunteers


Linda Perry is an Angel for All Greyhounds in GU's care; In Memory of All my greyhounds; In Honor of All greyhound volunteers


Linda Perry is an Angel for All Greyhounds in GU's care; In Memory of All my greyhounds; In Honor of All greyhound volunteers


Linda Perry is an Angel for All Greyhounds in GU's care; In Memory of All my greyhounds; In Honor of All greyhound volunteers


Linda Perry is an Angel for All Greyhounds in GU's care; In Memory of All my greyhounds; In Honor of All greyhound volunteers


Linda Perry is an Angel for All Greyhounds in GU's care; In Memory of All my greyhounds; In Honor of All greyhound volunteers


Linda Perry is an Angel for All Greyhounds in GU's care; In Memory of All my greyhounds; In Honor of All greyhound volunteers


Linda Perry is an Angel for All Greyhounds in GU's care; In Memory of All my greyhounds; In Honor of All greyhound volunteers


Linda Perry is an Angel for All Greyhounds in GU's care; In Memory of All my greyhounds; In Honor of All greyhound volunteers


Linda Perry is an Angel for All Greyhounds in GU's care; In Memory of All my greyhounds; In Honor of All greyhound volunteers


Linda Perry is an Angel for All Greyhounds in GU's care; In Memory of All my greyhounds; In Honor of All greyhound volunteers


Linda Perry is an Angel for All Greyhounds in GU's care; In Memory of All my greyhounds; In Honor of All greyhound volunteers


Linda Perry is an Angel for All Greyhounds in GU's care; In Memory of All my greyhounds; In Honor of All greyhound volunteers


Linda Perry is an Angel for All Greyhounds in GU's care; In Memory of All my greyhounds; In Honor of All greyhound volunteers


Peyton, Debra, Kelly, and Daniel Allen are Angels for Mila


Peyton, Debra, Kelly, and Daniel Allen are Angels for Ivory


Peyton, Debra, Kelly, and Daniel Allen are Angels for Cassie


Peyton, Debra, Kelly, and Daniel Allen are Angels for Bucki


Peyton, Debra, Kelly, and Daniel Allen are Angels for Apache


Terri Schroeder is an Angel for All Greyhounds in GU's care


Updated: 24 January 2022 03:54