2020 "Be an Angel" Campaign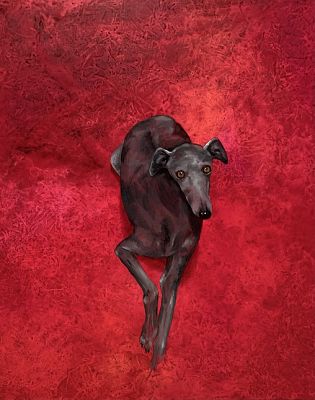 ABOUT "SHIELD", THE PAINTING
"What are the things in life that give you comfort and make you feel a sense of security and well-being? Family, friends, music and for those of us who love animals, our canine companions. It has been said that dogs are a furry shield against melancholy. When the atmosphere closes in and the stress of responsibility or the conditions of the world around us become much to bear, the steady heartbeat and quiet presence of our Greyhounds are there for us. It seems to be a symbiotic relationship that we share with them. We give them the resources they need to survive, and they give us all their love and devotion. Their silky linear form is visually soothing. They make us laugh sometimes when we need it most. No matter what is happening in the world outside our homes, those of us with Greyhounds are extremely fortunate souls."

SHIELD is a 24 x 30" oil on canvas with gallery finished edges by Denise Saleh. This piece has a vibrant red background with subtle undertones of orange and pink all underneath a dark distressed glaze. The blue grey tones in the Greyhound offset his almost illuminated eyes. This piece may be hung with or without frame.
Click here to become an Angel for the Greyhounds: https://store.gu-tx.org/

The drawing will be held on January 19, 2021. Due to the Coronavirus the location has not been selected. You do not have to be present to win.
*********************************************************
Online Sales end at 10:00 PM Central on Thursday, December 31, 2020
*********************************************************
2020 Angels
Click here to find out more on how to become an Angel for the Greyhounds.
Chris is an Angel for All Greyhounds in GU's care; In Memory of Pasta Pasta


Jenny Castillo is an Angel for All Greyhounds in GU's care; In Memory of Dolly, Senior Sasha and Misty


Jenny Castillo is an Angel for All Greyhounds in GU's care; In Memory of Dolly, Senior Sasha and Misty


Jenny Castillo is an Angel for All Greyhounds in GU's care; In Memory of Dolly, Senior Sasha and Misty


Jenny Castillo is an Angel for All Greyhounds in GU's care; In Memory of Dolly, Senior Sasha and Misty


Bill & Gail Mayes are Angels for All Greyhounds in GU's care; In Honor of Denise Saleh's Birthday


Kate Howell is an Angel for All Greyhounds in GU's care; In Memory of All my GU companions over the past 17 years; In Honor of And in honor of all the GU volunteers who make adoptions possible


Kate Howell is an Angel for All Greyhounds in GU's care; In Memory of All my GU companions over the past 17 years; In Honor of And in honor of all the GU volunteers who make adoptions possible


Tom & Gail Moffat are Angels for All Greyhounds in GU's care; In Memory of Angel, Noga, Hercules, Petra, & Baxter


Tom & Gail Moffat are Angels for All Greyhounds in GU's care; In Memory of Angel, Noga, Hercules, Petra, & Baxter


Tom & Gail Moffat are Angels for All Greyhounds in GU's care; In Memory of Angel, Noga, Hercules, Petra, & Baxter


Tom & Gail Moffat are Angels for All Greyhounds in GU's care; In Memory of Angel, Noga, Hercules, Petra, & Baxter


Tracie Robison is an Angel for All Greyhounds in GU's care; In Memory of Spot


Tracie Robison is an Angel for All Greyhounds in GU's care; In Memory of Spot


Cynthia Bowen is an Angel for All Greyhounds in GU's care


Cynthia Bowen is an Angel for All Greyhounds in GU's care


Cynthia Bowen is an Angel for All Greyhounds in GU's care


Cynthia Bowen is an Angel for All Greyhounds in GU's care


Denise & Danny Saleh are Angels for All Greyhounds in GU's care; In Honor of DeAnne Blackwell


Denise & Danny Saleh are Angels for All Greyhounds in GU's care; In Honor of Sherry Burnette


Denise & Danny Saleh are Angels for All Greyhounds in GU's care; In Honor of Sherry Burnette


Denise & Danny Saleh are Angels for All Greyhounds in GU's care; In Honor of Sherry Burnette


Denise & Danny Saleh are Angels for All Greyhounds in GU's care; In Honor of Sherry Burnette


Denise & Danny Saleh are Angels for All Greyhounds in GU's care; In Honor of Shirley McInnis


Denise & Danny Saleh are Angels for All Greyhounds in GU's care; In Honor of Shirley McInnis


Denise & Danny Saleh are Angels for All Greyhounds in GU's care; In Honor of Shirley McInnis


Denise & Danny Saleh are Angels for All Greyhounds in GU's care; In Honor of Shirley McInnis


Denise & Danny Saleh are Angels for All Greyhounds in GU's care; In Honor of Shirley McInnis


Denise & Danny Saleh are Angels for All Greyhounds in GU's care; In Honor of Shirley McInnis


Denise & Danny Saleh are Angels for All Greyhounds in GU's care; In Honor of Shirley McInnis


Denise & Danny Saleh are Angels for All Greyhounds in GU's care; In Honor of Shirley McInnis


Denise & Danny Saleh are Angels for All Greyhounds in GU's care; In Honor of Gail & Bill Mayes


Texas ex-pats in the Great White North: Dave Gillen & Lois Teed-Gillen are Angels for All Greyhounds in GU's care; In Memory of Frenchy, Cissy, PD, Woody & Peaches; In Honor of Duncan & Gigi


Texas ex-pats in the Great White North: Dave Gillen & Lois Teed-Gillen are Angels for All Greyhounds in GU's care; In Memory of Frenchy, Cissy, PD, Woody & Peaches; In Honor of Duncan & Gigi


Texas ex-pats in the Great White North: Dave Gillen & Lois Teed-Gillen are Angels for All Greyhounds in GU's care; In Memory of Frenchy, Cissy, PD, Woody & Peaches; In Honor of Duncan & Gigi


Texas ex-pats in the Great White North: Dave Gillen & Lois Teed-Gillen are Angels for All Greyhounds in GU's care; In Memory of Frenchy, Cissy, PD, Woody & Peaches; In Honor of Duncan & Gigi


Texas ex-pats in the Great White North: Dave Gillen & Lois Teed-Gillen are Angels for All Greyhounds in GU's care; In Memory of Frenchy, Cissy, PD, Woody & Peaches; In Honor of Duncan & Gigi


Texas ex-pats in the Great White North: Dave Gillen & Lois Teed-Gillen are Angels for All Greyhounds in GU's care; In Memory of Frenchy, Cissy, PD, Woody & Peaches; In Honor of Duncan & Gigi


Texas ex-pats in the Great White North: Dave Gillen & Lois Teed-Gillen are Angels for All Greyhounds in GU's care; In Memory of Frenchy, Cissy, PD, Woody & Peaches; In Honor of Duncan & Gigi


Texas ex-pats in the Great White North: Dave Gillen & Lois Teed-Gillen are Angels for All Greyhounds in GU's care; In Memory of Frenchy, Cissy, PD, Woody & Peaches; In Honor of Duncan & Gigi


Texas ex-pats in the Great White North: Dave Gillen & Lois Teed-Gillen are Angels for All Greyhounds in GU's care; In Memory of Frenchy, Cissy, PD, Woody & Peaches; In Honor of Duncan & Gigi


Texas ex-pats in the Great White North: Dave Gillen & Lois Teed-Gillen are Angels for All Greyhounds in GU's care; In Memory of Frenchy, Cissy, PD, Woody & Peaches; In Honor of Duncan & Gigi


Eddie & Becky McAllister are Angels for All Greyhounds in GU's care; In Memory of Boots, Dakota, Savannah & Morgan


Eddie & Becky McAllister are Angels for All Greyhounds in GU's care; In Memory of Boots, Dakota, Savannah & Morgan


Eddie & Becky McAllister are Angels for All Greyhounds in GU's care; In Memory of Boots, Dakota, Savannah & Morgan


Eddie & Becky McAllister are Angels for All Greyhounds in GU's care; In Memory of Boots, Dakota, Savannah & Morgan


Rebecca Olson is an Angel for Cray


Keri & Jim Hogan are Angels for All Greyhounds in GU's care; In Memory of Vegas, Jake & Tabby


Keri & Jim Hogan are Angels for All Greyhounds in GU's care; In Memory of Vegas, Jake & Tabby


Neil & Joan Alcorn are Angels for All Greyhounds in GU's care; In Memory of Caroline; In Honor of Lucy & Georgia


Neil & Joan Alcorn are Angels for All Greyhounds in GU's care; In Memory of Caroline; In Honor of Lucy & Georgia


Neil & Joan Alcorn are Angels for All Greyhounds in GU's care; In Memory of Caroline; In Honor of Lucy & Georgia


Neil & Joan Alcorn are Angels for All Greyhounds in GU's care; In Memory of Caroline; In Honor of Lucy & Georgia


Linda Perry is an Angel for All Greyhounds in GU's care; In Memory of Lulu; In Honor of All the volunteers


Linda Perry is an Angel for All Greyhounds in GU's care; In Memory of Lulu; In Honor of All the volunteers


Linda Perry is an Angel for All Greyhounds in GU's care; In Memory of Lulu; In Honor of All the volunteers


Linda Perry is an Angel for All Greyhounds in GU's care; In Memory of Lulu; In Honor of All the volunteers


The Demarest Family are Angels for All Greyhounds in GU's care; In Memory of Liza and Aiden who we miss dearly


Rick Nelson & Carol Enkoji are Angels for Mila


Rick Nelson & Carol Enkoji are Angels for Mila


Rick Nelson & Carol Enkoji are Angels for Marilyn


Rick Nelson & Carol Enkoji are Angels for Marilyn


Rick Nelson & Carol Enkoji are Angels for Erin


Rick Nelson & Carol Enkoji are Angels for Erin


Rick Nelson & Carol Enkoji are Angels for Erin


Rick Nelson & Carol Enkoji are Angels for Claudia


Rick Nelson & Carol Enkoji are Angels for Aaron


Peyton, Debra, Kelly and Daniel Allen are Angels for Erin


Peyton, Debra, Kelly and Daniel Allen are Angels for Aaron


Peyton, Debra, Kelly and Daniel Allen are Angels for Mila


Peyton, Debra, Kelly and Daniel Allen are Angels for Marilyn


Tom Crull is an Angel for All Greyhounds in GU's care; In Memory of Isabella, Iris and Zilla; In Honor of


Tom Crull is an Angel for All Greyhounds in GU's care; In Memory of Isabella, Iris and Zilla; In Honor of


Tom Crull is an Angel for All Greyhounds in GU's care; In Memory of Isabella, Iris and Zilla; In Honor of


Tom Crull is an Angel for All Greyhounds in GU's care; In Memory of Isabella, Iris and Zilla; In Honor of


Tom Crull is an Angel for All Greyhounds in GU's care; In Memory of Isabella, Iris and Zilla; In Honor of


Tom Crull is an Angel for All Greyhounds in GU's care; In Memory of Isabella, Iris and Zilla; In Honor of


Michael Norman & Elizabeth Rudy are Angels for Erin; In Memory of All of our Angels; In Honor of Koryn, Flyer & Maxine


Michael Norman & Elizabeth Rudy are Angels for Erin; In Memory of All of our Angels; In Honor of Koryn, Flyer & Maxine


Michael Norman & Elizabeth Rudy are Angels for Erin; In Memory of All of our Angels; In Honor of Koryn, Flyer & Maxine


Michael Norman & Elizabeth Rudy are Angels for Erin; In Memory of All of our Angels; In Honor of Koryn, Flyer & Maxine


Michael Norman & Elizabeth Rudy are Angels for Erin; In Memory of All of our Angels; In Honor of Koryn, Flyer & Maxine


Michael Norman & Elizabeth Rudy are Angels for Erin; In Memory of All of our Angels; In Honor of Koryn, Flyer & Maxine


Michael Norman & Elizabeth Rudy are Angels for Erin; In Memory of All of our Angels; In Honor of Koryn, Flyer & Maxine


Michael Norman & Elizabeth Rudy are Angels for Erin; In Memory of All of our Angels; In Honor of Koryn, Flyer & Maxine


Michael Norman & Elizabeth Rudy are Angels for Erin; In Memory of All of our Angels; In Honor of Koryn, Flyer & Maxine


Michael Norman & Elizabeth Rudy are Angels for Erin; In Memory of All of our Angels; In Honor of Koryn, Flyer & Maxine


Jesse & Emily Thune is an Angel for All Greyhounds in GU's care; In Memory of Navarro & Bella


Jesse & Emily Thune is an Angel for All Greyhounds in GU's care; In Memory of Navarro & Bella


Jesse & Emily Thune is an Angel for All Greyhounds in GU's care; In Memory of Navarro & Bella


Jesse & Emily Thune is an Angel for All Greyhounds in GU's care; In Memory of Navarro & Bella


Tom Crull is an Angel for All Greyhounds in GU's care; In Memory of Isabella, Iris and Zilla; In Honor of


Tom Crull is an Angel for All Greyhounds in GU's care; In Memory of Isabella, Iris and Zilla; In Honor of


Tom Crull is an Angel for All Greyhounds in GU's care; In Memory of Isabella, Iris and Zilla; In Honor of


Tom Crull is an Angel for All Greyhounds in GU's care; In Memory of Isabella, Iris and Zilla; In Honor of


Maryke & Jack Montois are Angels for All Greyhounds in GU's care; In Memory of Sontee; In Honor of Boris


Maryke & Jack Montois are Angels for All Greyhounds in GU's care; In Memory of Sontee; In Honor of Boris


Maryke & Jack Montois are Angels for All Greyhounds in GU's care; In Memory of Sontee; In Honor of Boris


Maryke & Jack Montois are Angels for All Greyhounds in GU's care; In Memory of Sontee; In Honor of Boris


Micky Nielsen is an Angel for All Greyhounds in GU's care; In Memory of Hazel, Shisper, Gabbie and Sarah


Micky Nielsen is an Angel for Erin; In Honor of Sammye Conway for fostering Erin


Micky Nielsen is an Angel for Beckett; In Memory of Mary McAnally


Micky Nielsen is an Angel for All Greyhounds in GU's care; In Honor of Susan & Mark Lemon


Sammye Conway is an Angel for All Greyhounds in GU's care; In Honor of Micky & Doug Nielsen and all the work they do for the greyhounds.


Sammye Conway is an Angel for All Greyhounds in GU's care; In Honor of Micky & Doug Nielsen and all the work they do for the greyhounds.


Sammye Conway is an Angel for All Greyhounds in GU's care; In Honor of Micky & Doug Nielsen and all the work they do for the greyhounds.


Sammye Conway is an Angel for All Greyhounds in GU's care; In Honor of Micky & Doug Nielsen and all the work they do for the greyhounds.


Jenny Castillo is an Angel for All Greyhounds in GU's care


Jenny Castillo is an Angel for Marilyn


Jenny Castillo is an Angel for Cray


Jenny Castillo is an Angel for All Greyhounds in GU's care


Updated: 19 November 2020 09:42