2018 "Be an Angel" Campaign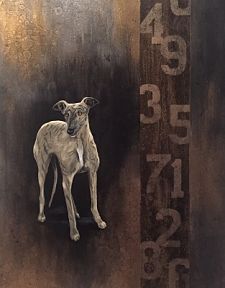 "Foster Dog"
I am practicing to be someone's beloved pet. You will be my gateway to a whole new life. Because you have trusted me to be in your home, I am learning to trust. I have come from a structured environment where I spent a good deal of time with other Greyhounds. Please be patient with me while I learn to navigate through the unfamiliar surroundings of a home. I really want to please you and learn how to relax and soak up the love you have for me. Teach me to snuggle and show me how to play and be silly. One day when my special person comes along and decides to make me their very own, I will be so happy, but I will always remember my first teacher, my foster person. You gave me a chance, took me by the paw and taught me so much about life. Now I am complete.
Only with the help of loving foster homes can these Greyhounds learn the skills to become forever pets. With the current change in the racing industry, there will be more Greyhounds than ever, looking for a foster home and eventually a forever home. Please open your heart and your home, if possible, to help support the efforts of Greyhounds Unlimited. Through your empathy and generosity, we can make a new life for these wonderful Greyhounds.
The painting, by Denise Saleh, "Foster Dog", is a 24" x 30" oil on canvas with gallery finished edges. May be hung with or without frame. Metallic undertones with a dark distressed glaze and a visual nod to the numbers with which these dogs are often identified such as tattoos, racing silks etc. The dog in the painting is Keeper Bash (Winnie). She has just recently become a foster.
The drawing will be held on January 19, 2019 at PetSmart located at 6204 W Park Blvd · Plano, TX during the Meet and Greet. You do not have to be present to win.
Click here to learn more and to become an Angel for the Greyhounds.