2012 "Be an Angel" Campaign
Tripp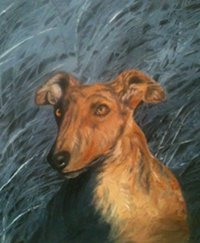 This piece enables us to imagine that Tripp is a wild animal, unleashed and running free in the tall grass. He is strikingly regal and beautiful. Typical of many Greyhounds who find their way into loving homes, through the work of Greyhounds Unlimited, he is a bit unsure of his surroundings at first, but settles nicely into home life. Now a happy confident dog who has learned to connect with those that love him. He no longer wears the racing muzzle of his youth, but now wears a special vest and leash and is revered and respected in many medical facilities as a specially trained therapy dog.
In what has become an annual collaboration, Artist Denise Saleh has teamed with GU again this Holiday Season for our Angel Campaign. Be an Angel to one or all of the hounds in GU's care with a donation of $25 or more and we will enter your name for each $25 increment in a drawing for this beautiful original painting donated by Denise.
In addition to helping the hounds and being entered in the drawing, you also can use your Angel donation to honor that special someone or somehound in your life. Or use your donation as a memorial to a lost hound. All Angels are listed permanently in the Be an Angel Campaign page of our website, along with those they want to honor.
"Tripp" is an original oil painting on canvas, 24" by 24" in size with gallery finished edges. Denise Saleh is not only an extraordinary artist in her own right, she is also a long-time, cherished GU volunteer.
Every hound in GU's care could use an Angel or two, or more, right now. Please help them out. And best of luck in the drawing when you do!
Click here to learn more and to become Angel for the Greyhounds
2012 Angels
• GFA Limited Partnership/Carolyn G. Compton is watching over All Greyhounds in GU's care
• Leah Sprecher is an Angel for All Greyhounds in GU's care; In Honor of Raleigh and Gracie
• Kate Howell is an Angel for All Greyhounds in GU's care; In Memory of Angel Ruger
• Zuma, Nutmeg & Athena McPike are Angels for all Greyhounds in GU's care; In Memory of Ferrari, Banjo, Annie & Chili
• The Swindell Family proud owners of Porsche (formerly "Pat") are Angels for all Greyhounds in GU's care
• Betty Story is an Angel for Ivy; In Memory of ViVi and Aryn
• Betty Story is an Angel for Violet; In Memory of ViVi and Aryn
• Jeff and Beth Clark are Angels for all Greyhounds in GU's care
• Tom Swartz is an Angel for Pewter; In Memory of Grey Scooby
• DeAnne Blackwell is an Angel for All Greyhounds in GU's care; In Memory of my beloved Abby
• DeAnne Blackwell is an Angel for All Greyhounds in GU's care; In Honor of Denise Saleh and all the Tyler GU volunteers
• David and Jennifer Craft is an Angel for All Greyhounds in GU's care; In Honor of Denise Saleh's Birthday...Happy Birthday Denise.
• David and Jennifer Craft is an Angel for All Greyhounds in GU's care; In Memory of Katie and Valor...till we meet again.
• Shirley McInnis is an Angel for All Greyhounds in GU's care; In Honor of Denise Saleh
• Shirley McInnis is an Angel for All Greyhounds in GU's care; In Memory of Pat Riley
• Eddie and Becky McAllister is an Angel for Aimee; In Honor of All GU Volunteers
• Marcia Snowden is an Angel for All Greyhounds in GU's care
• Bonnie Lacombe is an Angel for All Greyhounds in GU's care; In Memory of Maple
• Nancy Dicks is an Angel for Pewter; In Memory of Doe
• Nancy Dicks is an Angel for Dove; In Memory of Doe
• Karin and Sonny Morgan is an Angel for Pasta
• Karin and Sonny Morgan is an Angel for All Greyhounds in GU's care; In Memory of Stella Elaine
• Bill and Gail Mayes is an Angel for All Greyhounds in GU's care; In Honor of Denise Saleh's Birthday ... Happy Birthday dear friend.
• Tom and Gail Moffat is an Angel for Ivy; In Honor of Sammye Conway
• Tom and Gail Moffat is an Angel for All Greyhounds in GU's care; In Memory of Lorelei
• Richard Nelson and Carol Enkoji is an Angel for Chloe; In Honor of Laura Nelson
• Richard Nelson and Carol Enkoji is an Angel for Dove
• Richard Nelson and Carol Enkoji is an Angel for Duke
• Richard Nelson and Carol Enkoji is an Angel for Karen; In Honor of Laura Nelson
• Richard Nelson and Carol Enkoji is an Angel for Ivy; In Honor of Laura Nelson
• Richard Nelson and Carol Enkoji is an Angel for Miles
• Richard Nelson and Carol Enkoji is an Angel for All Greyhounds in GU's care
• The Saleh Family is an Angel for All Greyhounds in GU's care; In Honor of David and Jennifer Craft
• Shelby Costner is an Angel for Miles; In Memory of White Lightning and Fanny
• Shelby Costner is an Angel for Queen; In Memory of White Lightning and Fanny
• Joe and Virginia Curtis are Angel's for All Greyhounds in GU's care; In Memory of Prissy Sue
• Joe and Virginia Curtis are Angel's for All Greyhounds in GU's care; In Honor of Friend - Joan Wilkinson and Jerry Wilkinson for Christmas 2012
• Pat Lynch is an Angel for Toni; In Memory of All of our beloved Greyhounds now gone
• Pat Lynch is an Angel for Wolfe; In Memory of All of our beloved Greyhounds now gone
• Ikuo and Theresa Ito are Angel's for All Greyhounds in GU's care
• Peyton, Debra, Kelly and Daniel Allen are Angel's for Chloe; In Memory of Daytona our forever angel
• Peyton, Debra, Kelly and Daniel Allen are Angel's for Dove; In Memory of Daytona our forever angel
• Peyton, Debra, Kelly and Daniel Allen are Angel's for Karen; In Memory of Daytona our forever angel
• Peyton, Debra, Kelly and Daniel Allen are Angel's for Shake; In Memory of Daytona our forever angel
• Max Pfiffner is an Angel for Chloe; in Memory our sweet Sophie
• Karen Laucka is an Angel for All Greyhounds in GU's care
• Dave Gillen and Lois Teed-Gillen are Angel's for All Greyhounds in GU's care; In Memory of Cissy, Frenchy, PD and Woody
• Dave Gillen and Lois Teed-Gillen are Angel's for All Greyhounds in GU's care; In Honor of Peaches and Duncan
• Barbara Sudweeks is an Angel for All Greyhounds in GU's care; In Memory of Venus
• Tina Giles is an Angel for Ebony; In Memory of Lady Ebony - Ginger
• Bob and Peggy Gracy and Duncan, Leonard and Omar are Angels for Miles; In Memory of Dorsey, Christopher, Dylan and Vincent
• Bob and Peggy Gracy and Duncan, Leonard and Omar are Angels for Dove; In Memory of Dorsey, Christopher, Dylan and Vincent
• Pat and Austin Hutton are Angels for All Greyhouunds in GU's care
• Jennifer and Errol Hepker are Angels for Chloe; In Memory of All our beloved hounds, to live in or hearts is not to die
• Jennifer and Errol Hepker are Angels for Gemini; In Memory of All our beloved hounds, to live in or hearts is not to die
• Chloe's room mate is an Angel to Chloe; In Memory of Porvia
• Aileen Gauntt is an Angel for All Greyhounds in GU's care; In Memory of Blanco and Bandera
• Aileen Gauntt is an Angel for All Greyhounds in GU's care; In Honor of Magic
• Sherry Miller is an Angel for All Greyhounds in GU's care; In Memory of Daisy and Poppi
• Deborah Trask is an Angel for All Greyhounds in GU's care; In Honor of Kim and Larry
• Jack DeSoto is an Angel for All Greyhounds in GU's care; In Honor of Kathy and Brad Cleveland
• Linda Rutledge is an Angel for All Greyhounds in GU's care; In Honor of Janet
• John and Roxy Selman is an Angel for Karen
• John and Roxy Selman is an Angel for Shake
• John and Roxy Selman is an Angel for Violet
• Matt, Kathy, Ryan and Jaden Balsly is an Angel for All Greyhounds in GU's care
• Christina Finch is an Angel for Duke
• Matthew Solodow is an Angel for All Greyhounds in GU's care
• Sharon Barker is an Angel for All Greyhounds in GU's care; In Memory of Becall and Speedy
• Carolyn Reeves is an Angel for All Greyhounds in GU's care; In Memory of Machala
• Cam and Adriane Mason are Angels for all Greyhounds in GU's care
• Rose Dewald is an Angel for all Greyhounds in GU's care; In Memory of Sonny
• Diane Benson is an Angel for All Greyhounds in GU's care; In Memory of Pharoah
• Lana Kelley is an Angel for All Greyhounds in GU's care; In Memory of Faith Kelley
• Tom Crull is an Angel for All Greyhounds in GU's care
• Patricia Winning and John Shuey are Angels for All Greyhounds in GU's care; In Memory of Nelly and Bugsy
• Sammye Conway is an Angel for all Greyhounds in GU's care; In Memory of Lorelei, you will always be in my heart
• Heidi is an Angel for all Greyhounds in GU's care; In Honor of my friends
• Troika is an Angel for Miles; Troika says - no hard feelings :-)
• Maryke and Jack Montois are Angels for Chloe; In Memory of Santee
• Maryke and Jack Montois are Angels for Duke; In Memory of Santee
• Maryke and Jack Montois are Angels for Violet; In Memory of Santee
• Maryke and Jack Montois are Angels for Zone; In Memory of Santee
• Micky and Doug Nielsen are Angels for Dove; In Memory of Hazel
• Micky and Doug Nielsen are Angels for Miles; In Memory of Whisper
• Micky and Doug Nielsen are Angels for Pasta; In Memory of Gabbie
• Micky and Doug Nielsen are Angels for Port; In Honor of Mary McAnally
• Peter Millar is an Angel for Debeers
• Peter Millar is an Angel for Karen
• Carole Clark is an Angel for Karen; In Memory of Ginger my first Greyhound
• Carole Clark is an Angel for Shake; In Memory of Ginger my first Greyhound
• Julia Walters is an Angel for all Greyhounds in GU's care
• Kim and Scot Fishburn are Angels for Flo; In Honor of Noah Bruce
• Todd and Torrey Landry are Angels for Puma; In Honor of Bambina and Bella, our "greyt" girls
• Todd and Torrey Landry are Angels for Zone; In Honor of Bambina and Bella, our "greyt" girls
• Dan and LaDelle Springer are Angels for all Greyhounds in GU's care; In Memory of Thor and Whiffin
• Ron and Vicki Collins are Angels for all Greyhounds in GU's care
• Jennifer and Gene Capps are Angels for T Bone
• Tara Fedric is an Angel for all Greyhounds in GU's care; In Memory of Abby
• Linda Perry is an Angel for all Greyhounds in GU's care; In Honor of my new grandson, Colt Matthew McGuire
• Brad and Kathy Cleveland are Angels for all Greyhounds in GU's care
• Tim and Maguy Thomson are Angels for All Greyhounds in GU's care; In Memory of Floyd; In Honor of Janet M. Stewart
• Sarah, Gryf & Belle Bueno are Angels for All Greyhounds in GU's care
• Lillie Riggenbach is an Angel for All Greyhounds in GU's care; In Honor of Tripp and Stacy
• Debra Fuentes is an Angel for all Greyhounds in GU's care; In Memory of Sedonna, Larry, Ridgley and Carlton
• Chuck and Sue Eddy are Angels for All Greyhounds in GU's care; In Honor of Tripp Riley
• The Saleh Family is an Angel for All Greyhounds in GU's care; In Honor of Tyler GU volunteer, Gail and Bill Mayes
• The Saleh Family is an Angel for All Greyhounds in GU's care; In Honor of Deanne Blackwell, Tyler GU volunteer
• The Saleh Family is an Angel for All Greyhounds in GU's care; In Honor of Tyler GU volunteers, Stacey Riley and Randy Riley
• The Saleh Family is an Angel for All Greyhounds in GU's care; In Honor of Tyler GU volunteers Joyce and Don Kessel
• The Saleh Family is an Angel for All Greyhounds in GU's care; In Honor of Tyler GU volunteers, Amanda and Bryan Baker
• The Saleh Family is an Angel for All Greyhounds in GU's care; In Memory of Tyler GU volunteer, Pat Riley
• The Saleh Family is an Angel for All Greyhounds in GU's care; In Honor of Tyler GU volunteer, Ricky Polcer
• The Saleh Family is an Angel for All Greyhounds in GU's care; In Honor of Tyler GU volunteer, Shirley McInnis
• The Saleh Family is an Angel for All Greyhounds in GU's care; In Honor of Tyler GU volunteer, Carol Walliser
• Mary Jane Conner is an Angel for All Greyhounds in GU's care; In Memory of Hollywood & Baby and Breezy
• Linda Crabtree is an Angel for All Greyhounds in GU's care; In Honor of Tripp and Stacy
• Mike and Jan McCall are Angels for All Greyhounds in GU's care; In Memory of Trigger, Joe and Suki
• Cathy and Richard Lewis are Angels for T Bone; In Memory of Shanna; In Honor of Fastball
• Cathy and Richard Lewis are Angels for Shake; In Memory of Shanna; In Honor of Fastball
• Stacy and Randy Riley are Angels for All Greyhounds in GU's care