2015 "Be an Angel" Campaign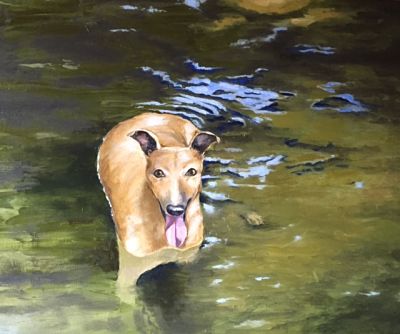 Best Day Ever
This Greyhound is having her best day ever, relaxing and cooling off in a clear stream, after a nice long walk in the woods. The life of a dog is measured in moments. Some of the dogs that come through Greyhounds Unlimited, to find their forever homes, come from hard times and some just from the structured life of a working dog. No matter where they come from, they all deserve to have their "best day ever".
Greyhounds Unlimited is offering this wonderful program for you to be able to show your support for the myriad of expenses associated with the Greyhound rescue such as veterinary, housing, general rehabilitation costs and ultimately finding a loving permanent home for them.
This original painting titled "BEST DAY EVER" is oil on canvas, 18" by 24", with gallery finished edges. It is being donated by artist, Denise Saleh.
The drawing will be held on January 16, 2016 at the Barnes & Noble Meet and Greet in Plano, TX.
You do not have to be present to win.
Click here to learn more and to become an Angel for the Greyhounds.
Click here to see those who have donated so far.
North Texas Giving Day - A Success!
Thanks to everyone for your donating to Greyhounds Unlimited! We raised almost $2,000 and that doesn't include the additional money will get from the North Texas Giving Day organization.

Tom Thumb Good Neighbor Program – Register Now and Help the Hounds
Tom Thumb will donate 1% of the purchase price of groceries when you use your Tom Thumb Rewards card. All you have to do is go to the Tom Thumb Good Neighbor Program, fill out the form using our Charity #2743, take it to the customer service counter at your store.
Help Us Now, Make Your Donation Today
Greyhounds Unlimited is a non-profit, all-volunteer organization with no paid staff. Your support is always needed and greytly appreciated, especially by the hounds. Cash donations are always welcome, and 100% of all donations support the ongoing needs of the greyhounds in GU's care.
Help us help a Greyhound ... Click the button below
or mail your check to:
Greyhounds Unlimited
P.O. Box 703967
Dallas, TX 75370-3967