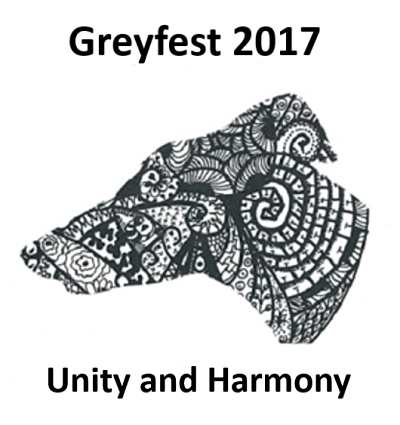 Click Here to Register Now

Here at Greyhounds Unlimited we are always striving to create unity between our adoptable greyhounds and their forever humans. If we are successful then the greyhound and their forever family can live in harmony in their forever home.
Registration is $5 and includes:
A greyt time with all of your friends
Our specially stocked GU Online Store
Vendors,
Silent auctions,
Raffles,
Costume Contest for the hounds (open theme),
and more...
You can add a meal for $10 which is catered by "The Hamburger Man" and includes a Hamburger, Cheeseburger, or Veggie burger with all the condiments (mustard, mayonnaise, ketchup, pickles, onions, lettuce, tomatoes), potato salad, baked beans. A soft drink or bottled water is also included.
We will also have all our available hounds out: if you are looking to adopt and have sent us an application, Greyfest is a great way to meet all of the GU greyhounds who are looking for their forever homes.
Greyfest is not just a fundraising event for Greyhounds Unlimited. It is also a great time to meet other greyhound adopters and trade greyt stories, or share experiences, or just plain show off your gorgeous greyhound. For no more than the cost of a dinner out, you can enjoy being surrounded by greyhound everything, have a great lunch, and still know that you've helped GU continue their work of finding greyt homes for greyhounds and greyhound mixes.
We have greyt fun putting this event together for all of you, our greyhound adopters, and hope you will be able to come out and join us!
Location
Saturday, October 21st from Noon until 3:00 PM
Arbor Hills Nature Preserve
6701 W Parker Road
Plano, TX 75093
Help Us Continue to Bridge the Gap between Greyhounds and their forever home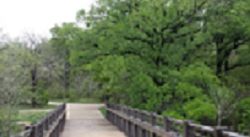 Help by purchasing a wooden plank for $25!
For as little as $25 you can show your support to maintain our bridge and carry out our mission of finding caring and responsible homes for greyhounds from all situations including track racers who have retired (or in some cases, never began), sick, injured and abandoned. With each $25 donation, your name or short message will be etched on a wooden plank used to build the bridge that leads to a forever home.
Make your donation now or visit our Bridge to see our generous donors.
Help by becoming a foster home!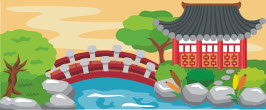 We are still in dire need of foster homes for our incoming hounds. Foster homes are the bridge that leads to a forever home for our adoptable hounds, giving them a head start on getting accustomed to living in a home instead of a kennel, teaching them all the new and wonderful things they will encounter in a home that they may never have seen before.
If you are ready to give fostering a try, please send an email to ifostergreyhounds@gmail.com. One of our foster coordinators will contact you to talk about fostering and how you might be able to help, what your obstacles might be and how we might overcome them together. We all want this to be a successful experience for you and your new foster!
Donate and Express Yourself on our website
Memorial Page: Express yourself regarding the passing of a loved one, be it hound or human. These usually post within 7 days.
For more details and to Submit your Memorial Request
In Honor Of: Honor someone's Anniversary, Birthday, Graduation, Appreciation, Addition to the Family and anything else you wish. You can request a complimentary email (optional) be sent to the recipient containing your message. These usually post within 7 days. If you would like to have a photo posted along with your message you can email one to guonlinestore@msn.com.
For more details and to Submit Your "In Honor Of" Request
Rainbow Bridge: You can list your animal companion accompanied by your name on the Rainbow Bridge page. This is of no cost to you but of course donations are always appreciated.
For more details and to Submit your Rainbow Bridge Request
Can't Donate? Let others do it for you!
Tom Thumb Good Neighbor Program – Register Now and Help the Hounds
Tom Thumb will donate 1% of the purchase price of groceries when you use your Tom Thumb Rewards card. All you have to do is go to the Tom Thumb Good Neighbor Program, fill out the form using our Charity #2743, take it to the customer service counter at your store.
Current Greyhounds Available for Adoption
Help Us Now, Make Your Donation Today
Greyhounds Unlimited is a non-profit, all-volunteer organization with no paid staff. Your support is always needed and greytly appreciated, especially by the hounds. Cash donations are always welcome, and 100% of all donations support the ongoing needs of the greyhounds in GU's care.
Help us help a Greyhound ... Click the button below
or mail your check to:
Greyhounds Unlimited
P.O. Box 703967
Dallas, TX 75370-3967
Recurring Donation
Please tell us if you have changed your contact information or your Dog's name.