May is Senior Month at GU!
We've got a secret to share ... senior greyhounds are Greyt! We often say they are the best kept secret in greyhound adoption! In keeping with GU's tradition, May is Senior Month, and the wonderful news is that we only have one senior in our care at this time!
A greyhound is considered a senior hound at 8 years old. But with a general life expectancy of 14 years, 8 is truly far from old. Senior hounds are perhaps a little calmer than their younger counterparts, maybe a little more experienced in life, but they have not lost their gentle spirit or love of life. They still make excellent companions.
For the month of May, GU will waive the adoption fee on our senior hounds to any individual who has adopted from GU previously. For new GU adopters, we will waive 1/2 of our usual senior adoption fee, leaving a fee of just $137.50.
Some of our members who have senior hounds would tell you that's a greyt deal for a greyt dog. And so, without further ado, we present our one and only "Greyt GU Senior".
All About Erin — The Velcro Hound with Eyes for You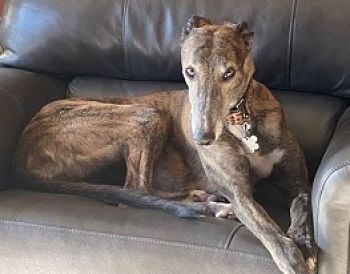 She has fur like velvet; you won't be able to stop touching it, and that's fine with her. She loves to look into your eyes while you're petting her; she's definitely a Velcro dog. This petite brindle five-year-old will gladly crawl into your lap and into your heart.
Erin walks well with an easy-walk harness in quiet neighborhoods, but she will look to you for protection from those big noisy trucks! Her favorite trick at home is to empty the toy basket and carry the toys all over the house. She loves playing and being with other Greyhounds, and a house with one Greyhound already would be a special bonus for her.
Erin is looking for a very special home to love and protect her. She was born with a condition called "megaesophagus, " and so she will need to be fed several times daily with small meals of high-quality canned food, mashed to a soft consistency. She takes a medication at breakfast and dinner to control the condition. This will enable her to digest her food and stay healthy.
A diagnosis of megaesophagus used to be a death sentence. Severe cases would make it impossible for the dog to hold down food and water. Fortunately, Erin's condition is well-controlled. She knows her routine and is happy to cooperate with anyone taking care of her.
She needs someone who will be at home during the day to feed her. There is a financial commitment as well, due to the extra cost of the food. She will also need to be prevented from eating extra food outside of feeding times. So, no sharing and only certain kinds of limited snacks for her.
We know that there is a perfect family (maybe yours?) waiting for Erin. Someone is ready to love her and commit to taking care of her, for all her life. If that's you, Erin is ready.
If you would like to donate for her continued care, please make your donation here or go to https://www.paypal.com/cgi-bin/webscr?cmd=_s-xclick&hosted_button_id=EB3MNP7JLY972
If you would like to consider adopting Erin, please contact jpvandehaar@verizon.net. As always, we thank you for your continued support.
(Thanks to Marilyn Mathis, the author of this article)
Cray and Tripp: Twice as Nice!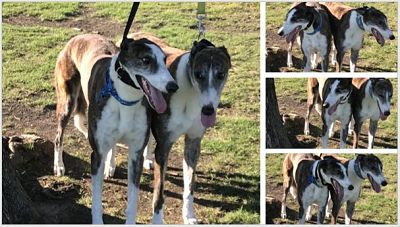 Meet Cray and Tripp! These three-year-old brindle brothers are as handsome as they come. They have both come a long way since being taken into their foster homes and are eager to find their forever home. Both are a bit on the shy side, but they are readily bonding with their foster parents. Tripp is somewhat more comfortable with people than his brother, but he is more sensitive to noises and changes in his environment. Tripp is very comfortable in his crate and seeks refuge there when he gets scared. On the other hand, Cray would prefer to stay close to you for comfort. They would be happiest in a home without young children.
Both boys are model greyhounds at home. True to the breed, they enjoy plentiful naps and a daily walk. Both are friendly with their housemates. Tripp even enjoys cuddling up with his feline friend; however, Cray does not appear to be cat tolerant. Cray takes his hunting instinct seriously and will make sure your yard is squirrel-free for years to come! Although these boys will quickly work their way into your heart, it will be important that they receive plenty of patience and love after they are taken home. With time, they are bound to blossom into your new best friends!
Help by becoming a foster home!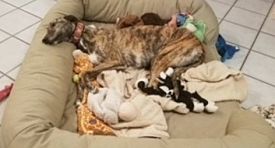 She is quite comfortable in her new foster home...
We also hear that she has a toy-hoarding problem...
We are still in dire need of foster homes for our incoming hounds. Foster homes are the bridge that leads to a forever home for our adoptable hounds, giving them a head start on getting accustomed to living in a home instead of a kennel, teaching them all the new and wonderful things they will encounter in a home that they may never have seen before.
If you are ready to give fostering a try, please send an email to mickynielsen@att.net. One of our foster coordinators will contact you to talk about fostering and how you might be able to help, what your obstacles might be and how we might overcome them together. We all want this to be a successful experience for you and your new foster!
Could you say NO? Neither could we!


We need your help!

Snowflake and Archer were surrendered by their owner who no longer wanted to care for them. A wonderful individual in their area reached out on social media in search of a greyhound group that would take them. One look at Snowflake in those deplorable conditions and the love he so desired just broke our hearts.

Without hesitation, Greyhounds Unlimited took them in to provide medical and emotional healing support. Their lives consisted of being kept outside 24/7 in pens. They were not given any exercise. We can only imagine what their daily lives must have been like…no animal should have to live like that. When they arrived into our care, Snowflake had pure liquid poop that smelled horrible.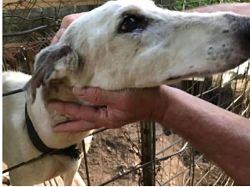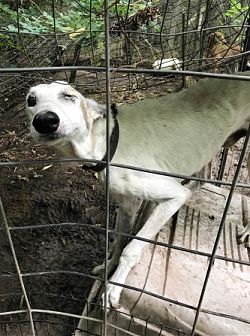 Snowflake
(formerly known as Poke because of his eye)
» Almost 8 years old
» Malnourished
» Heartworm positive
» Extremely poor physical and mental condition
» One of his eyes is sunken and not visible
» Most likely the eyeball will have to be removed once he is healthy enough to survive surgery
» He also has large growths on his chest that are scheduled to be biopsied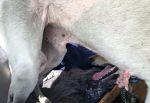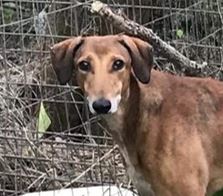 Archer
» Almost 7 years old
» Heart worm positive
» Evaluating physical and mental health

Donate and Express Yourself on our website
Memorial Page: Express yourself regarding the passing of a loved one, be it hound or human. These usually post within 7 days.
For more details and to Submit your Memorial Request
In Honor Of: Honor someone's Anniversary, Birthday, Graduation, Appreciation, Addition to the Family and anything else you wish. You can request a complimentary email (optional) be sent to the recipient containing your message. These usually post within 7 days. If you would like to have a photo posted along with your message you can email one to guonlinestore@msn.com.
For more details and to Submit Your "In Honor Of" Request
Rainbow Bridge: You can list your animal companion accompanied by your name on the Rainbow Bridge page. This is of no cost to you but of course donations are always appreciated.
For more details and to Submit your Rainbow Bridge Request
Can't Donate? Let others do it for you!
Tom Thumb Good Neighbor Program – Register Now and Help the Hounds
Tom Thumb will donate 1% of the purchase price of groceries when you use your Tom Thumb Rewards card. All you have to do is go to the Tom Thumb Good Neighbor Program, fill out the form using our Charity #2743, take it to the customer service counter at your store.
Current Greyhounds Available for Adoption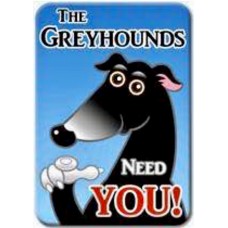 Help Us Now, Make Your Donation Today
Greyhounds Unlimited is a non-profit, all-volunteer organization with no paid staff. Your support is always needed and greytly appreciated, especially by the hounds. Cash donations are always welcome, and 100% of all donations support the ongoing needs of the greyhounds in GU's care.
You can make a one-time donation of recurring monthly donation by clicking on the donate button.
or mail your check to:
Greyhounds Unlimited
P.O. Box 703967
Dallas, TX 75370-3967
Recurring Donation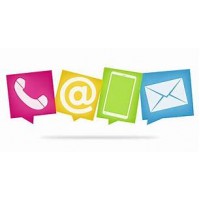 Please tell us if you have changed your contact information or your Dog's name.