In Memory Of...
You may submit your memorial along with a minimal $25 donation by clicking here.

In Memory of Angel Saleh
In memory of Angel Saleh, Denise Saleh's mother-in-law. May she rest in peace.
— Shirley McInnis
In memory of Holly Rae (fka Shadow) and Emma Rose (fka as Mabel)
Blessings to the hounds.
— Debra L. Brod
In Memory of Hope
Sweet Hope, a perfectly healthy 12yo, left so quick and unexpectedly, for the Rainbow Bridge. She was only here for 2 months, given up by a previous owner. She came to me with Cassie, and the two became fast friends. A shy girl, she was fast becoming a velcro girl, like her "sister". She loved to "watch the world go by" at the upstairs window. She is so missed by both of us. May she love her new home and run free without pain with all the others before her.
— Ricky Polcer and Cassie
In Memory of George (Randy) Schaumburg
— Carrollton High School Class of 1981 (Combined classes of 1978-1981)
In Memory of Manny
Manny crossed the Rainbow Bridge on 4/12, 2019 unexpectedly. He was a truly affectionate Greyhound who loved everyone. He was my constant companion for six years. He will be greatly missed by myself and Iris, Scarlet and Zilla.
— Tom Crull
In Memory of Miguel Polcer
Sweet Miguel crossed the Rainbow Bridge 3-08-19 at the age of 10yo. Miguel had a rough start in life that affected him throughout his life. He was easily intimidated even though he helped many fosters and permanent siblings learn the life of a grey. He particularly loved his morning walks and special treats. We know he is having a ball with those who went before him. Run free with your friends — we'll see each other one day.
— Much love — Ricky Polcer
In Memory of Miss Ellen 12/11/05 - 02/03/19
Miss Ellen lived a lot longer than many greys. She had a good racing career, and when she retired from racing, went to be a brood mom until 11yo, then finally retired. She took full advantage of the retired life, lazing on her bed and getting lots of good walks in to enjoy smelling things and all things that were good in life. Our home was so blessed to have had her for even such a short time. She is now running free and loving the friends that went before her. Love being free from pain, sweet girl — we'll see you one day.
— Miss you — Ricky Polcer and brother, Miguel
In Memory of Miss Saigon
In Memory of our wonderful girl, Miss Saigon. We miss you every day.
— Connie and Betty
In Memory of Idgy
— Satori Capital LLC – On behalf of Hope Kahan
In Memory of Hank
Hanks crossed the Rainbow Bridge on October 5, 2018. He shared this earth with Michelle and Tony Sickles.
— Shirley Stafford
In Memory of Jinx
Jinx crossed the Rainbow Bridge in August 2018 after a short bout with cancer. He was with us a short 2 years after being a blood donor for many years for a vet in Dallas. Jinx had big brown eyes that melted your heart; everyone who met him fell in love. Jinx loved his morning walks and led the pack with his brother, sister and neighbor's miniature dachshund. Jinx is running free with all the others who passed through the house before him. Run free, sweet boy, we miss you.
— Ricky Polcer, Miss Ellen and Miguel
In Memory of Myca Mayes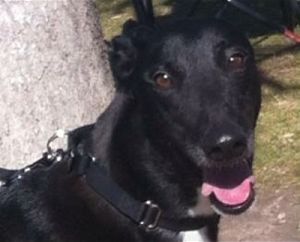 Myca was a beautiful shiny black Greyhound boy. One of the sweetest souls. When he came to his forever home with Gail and Bill, he collected household items and brought them, outside through the dog door, to the base of his favorite tree. He also brought a few items inside, like a baby bunny that he laid gently on his bed and a big old turtle. We love you and miss you, Myca.
— The Tyler GU bunch
In Memory of Etta McInnis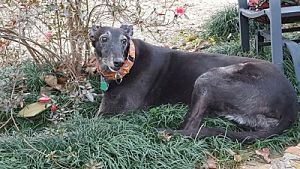 Beautiful black girl with a heart of gold. You came from the adoption kennel at Gulf Greyhound track and filled an empty spot in your mom, Shirley\'s heart. Your reserved sweet nature was such a pleasure, always welcoming in a new foster buddy. Your pal, Lucy sure misses you. We love and miss you, girl.
— The Tyler GU bunch
In Honor of Mary McAnally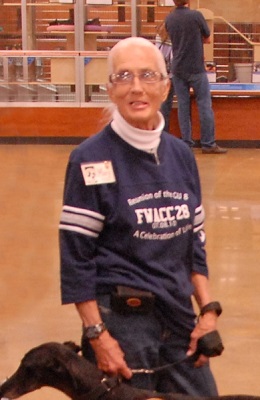 — Joe and Elaine McAnally
In Memory of Annie, Banjo, Chili and Ferrari
— Steven and Carol McPike
In Memory of Luther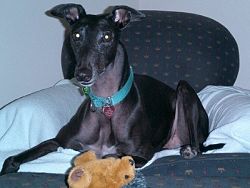 Luther passed almost 10 years ago. He was the best dog ever and will always be fondly remembered.
— Jane Grace
In Memory of Violet
Beautiful Violet, I will miss you terribly.
— Meredith Uhl
In Memory of Serina Bagley
— Kim Furstenwerth
In Memory of Gracie Girl
Born March 2003 AKA Tugger's Sammy, Adopted October 1st 2006 and Passed away in her FOREVER HOME 3-30-17. Our hearts are broken. A Family Friend comforted us with his very wise words. "Every day is the best, except for the last."
— The LeMoine Family
In memory of Donnie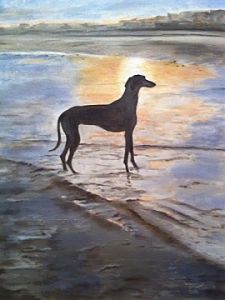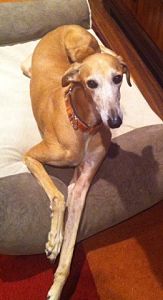 We lost our Donnie suddenly and unexpectedly last Monday morning. He lived a happy and full life with us for 5 years, after GU rescued him from a rough start, near starvation on the streets of Ft. Worth. He was a stable quiet presence in our home and such a pleasure to have as a buddy. Donnie loved his trip to the Gulf coast. The excitement of jumping the waves and hope of chasing birds thrilled him. He was the subject of my painting entitled "Survivor", for he actually was a miracle of survivorship. His quirky fear of slick floors made us buy multiple nonskid rugs and make a "safety" path for him throughout our home. Run free, with great traction, for I know there are no slick floors in heaven, my sweet boy.
— Denise and Danny Saleh
In memory of all my greyhounds that are at the bridge.
— Linda Perry
In Memory of ElleMae Polcer 2-15-2005 to 06-01-2016
Precious ElleMae made her way over the Rainbow Bridge and is now running through the Elysian Fields, filled with flowers and chasing butterflies. For several years, ElleMae was a staple at the Tyler Meet&Greet. She always had a smile for everyone, never met a stranger, and convinced many people to consider adopting a wonderful greyt; she also helped heal many fosters and guide them to their forever homes. Her never-ending smile and bright eyes will be sorely missed. You'll be forever in my heart.
— Ricky Polcer and "brother" Miguel
In Memory of Cindy (aka Candy)
My first Greyhound. She started it all for me - adopting, fostering, helping Mary McAnally transport, clean & feed Greys. I have not been without one since. I will always remember her - a very quiet Alpha queen! I loved her so very much!!
— Nan Stegall
In Memory of Jasmen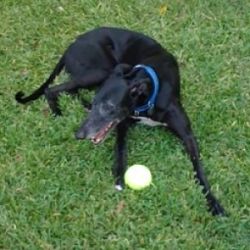 Jasmen was our first greyhound and we will forever be grateful to her for introducing us to the most gentle and loving breed. She joins her sister Rosie to catch tennis balls, play with squeakers, and run free. We love you, sweet angel.
— Love, Matt, Brannen, Henry, Oliver, Grace, and greyhound brother Whiskey
In Memory of Trudy Jones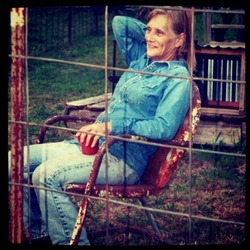 Trudy Jones entered this life on June 26, 1954 in Lamar, Colorado, born to James Norman and Julia Pearl (McGrath) Collins. Trudy went home to be with her Lord and Savior on April 26, 2016 in Denison, TX at the age of 61 years, and 10 months.

Trudy enjoyed tending to her "mini ranch", which consisted of several small farm animals. She also enjoyed her horses and goats. Trudy spent a lot of time painting and doing crafts. She loved spending time with her cherished family and friends. She was of the Baptist faith, and will be dearly missed by all who knew and loved her.

Preceding her in death are her father, James Collins; and one brother, Tom Collins.

Survivors include her mother, Julia Collins of Kemp, OK; daughters, Dusty Jones of Rowlett, TX, Stormy Jones of Lakewood, CO, and Misty Jones of Kemp, OK; brothers, Bob Collins, Norman Collins, Buel Collins, and Milton Collins; sisters, Judy Collins and Joy Collins; best friend Sherry Knight of Hendrix; and numerous nieces and nephews.

Following Trudy's wishes, she was cremated and no services are planned at this time.

In lieu of flowers, the family suggests donations in her honor to be made to Greyhounds Unlimited (http://www.greyhoundsunlimited.org).

Online Condolences can be made to the family at www.brownsfuneralservice.com

Arrangements are under the direction of Brown's Funeral Service, Durant.
— Your Friends at Greyhounds Unlimited
In Memory of Solomon (a.k.a. Carson)
January 2002-March 15, 2016: R.I.P.
In October 2005 I attended a GU Meet 'n Greet for an introduction to a hound named "Carson". He had been described to me as "large for breed" and "not your typical ambassador Greyhound. He had a couple of failed placements, but he immediately found a place in my heart. Renamed "Solomon", he was a member of our family until severe arthritis made life not much fun anymore. Thank you Solomon for over 10 years of love and companionship!
— Linda Burney-Fuhr
In Memory of Bruce, Formerly known as Pickett
So handsome. Rest in peace, big guy.
— Ninja and Stacy
In Memory of Andy
Andy crossed the Rainbow Bridge early in the morning at home March 2 with me laying at his side. Andy had ongoing spinal problems since 2014. Andy you were deeply loved and are sorely missed. You are fully healed and running free now with Scout, Conan, Dusty and Slam. Rest in peace dear friend.
— Tom Crull
In Memory of Joker II
Remembering our beloved boy, we miss you every day!
— Loving parents Jordan and Charlene Chaney
In loving memory of Marianne Hoppe Wood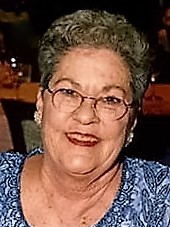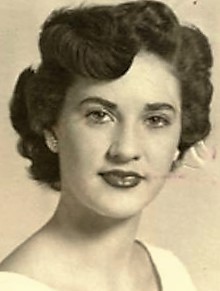 Marianne of Austin, Texas passed away on Dec 7th, 2015 at the age of 78. Marianne was well known for her love of animals and spent her later years in her home on Lake Travis in the company of many friends but especially enjoyed the company of best friend Hanzel, the Great Dane and her loving rescue Greyhound, Annie. You will be missed mom!
— Allison & Dale W. Wood
In Memory of Marianne Wood
Your infectious laugh will be missed.
— Gavin Loftus
In memory of Butters (Moe) Aug 2003 - 23 Nov 2015
Our "brother" Butters flew away to wait for us in the Elysian Fields at the Rainbow Bridge. He had some heart problems and mom said the vet couldn't fix him. He was a wonderful brother for the short time he was with us (May 2014-now). Mom said he's running free with his sister, Missoula, that flew away earlier this month. Much as you love the butterflies, you must let them go when they are ready. We love you, sweet Butters -- we'll see you one day, so run and run with Missoula till we see you.
— ElleMae, Miguel and mom (Ricky Polcer)
In memory of Bob's Missoula, 19 Jun 2001 - 6 Nov 2015
Missoula came to us during senior month of May 2014. We have loved her from the minute she arrived -- her sweet loving face, beautiful brown eyes, and wonderful personality. In her final senior year, she was the highlight of the house, making sure all the greyts were taken care of. While some are afraid to adopt black senior pups, she was one black senior that will never be forgotten. We couldn't fix our little butterfly, so we had to set her free. Sweet sister, run, run and run some more in the Elysian Fields.
— Your loving greyt family: ElleMae, Butters, Miguel and our mom, Ricky (Polcer)
In memory of Slam aka Keeper Kylemore
Slam unexpectly crossed the rainbow Bridge October 27 after suffering grave injuries over his entire body.He fought a valient battle for a week but in the end asked to be let go with his head laying peacefully in my lap. Slam, you were deeply loved and will be sorely missed. Run free with Scout, Conan and Dusty. Rest in peace my dear friend.
— Tom Crull
In loving memory of Dakota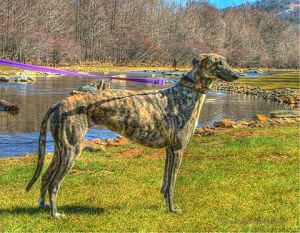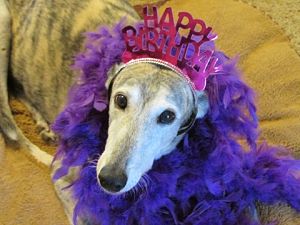 Our very special girl, you were loved by so many and will live forever in our hearts. Run free sweet girl!
— Becky and Eddie
In Memory of Killer Bee
You are truly missed by all.
— Connie and Betty
In Loving Memory of Robert J. Laucka
Laucka, Robert J., of Marshfield, passed away on June 18, 2015 at the age of 68. Loving husband of Judith (Broderick) Laucka. Dear father of Janice and Stephan Friedel of Marshfield and Karen and James Caudill of Delray Beach, Florida, Robert also leaves his two grandchildren Christian and Marcus, and a brother Edward Laucka of Carver.

Robert was born in Boston and was employed as a Process Engineer for the Gillette Company for over 40 years. He was known for his love of his grandson's sporting events, cruising the Caribbean with his wife, golf, and a great steak – always with béarnaise sauce.
In Memory of Emiliano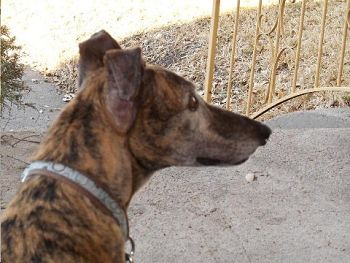 (March 15, 2015) Emiliano, 10, adopted John and Marilyn Spaulding from GU four years ago. After an amazing recovery from amputation, we were fortunate to have him with us for 11 months.He loved walking more than anything else. He took life at a gallop but moderate his pace perfectly for a slow human. He was a therapy dog and will be missed by residents at Autumn Leaves,and MoMo's and Gloria's restaurants. He was featured in Celebrating Greyhounds in Summer 2012 and Spring 2015. Run free, beloved friend, with four legs instead of three.
In Memory of Kayla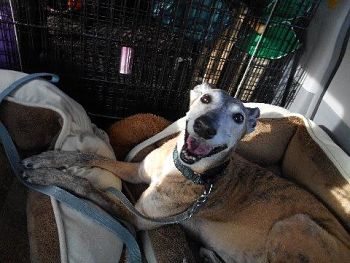 Kayla (Nita's Kayla), 2005-2015, passed away due to bone cancer on June 7. She adopted John and Marilyn Spaulding four years ago from GU and made their lives better with joy, dignity and enthusiasm. She loved making new friends, traveling to distant parts of Texas, taking long leisurely walks and consuming any food that came her way, especially treats. She served as a visitation therapy dog and will be deeply missed by the residents of Autumn Leaves in Dallas. Her many friends included vendors and customers of White Rock Market and the staff at MoMos. Kayla had the gift of hospitality and in any group, checked to make sure everyone was enjoying themselves. It was great to see her work a crowd. She was often jubilant but was also a wise old soul and comforted many.
In Memory of Angel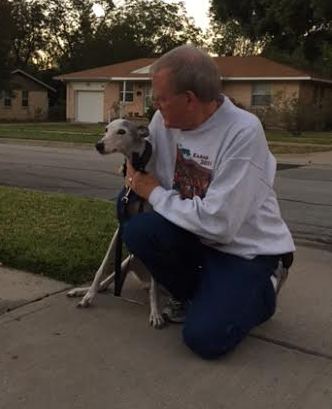 Angel was a precious Greyhound whose name fit her perfectly. When she was rescued, she showed the signs of having been abused and neglected. My neighbor, Jim McIntosh, adopted her. From the day she became his Greyhound, she knew nothing but love. He did everything possible to make sure she knew happiness in her senior years. Angel crossed over the Rainbow Bridge on 2/14/15, and she will be missed by all who knew her.
— Martha Palmer
In Memory of Mary McAnally
— Ray Thomas
In Memory of Asia Blue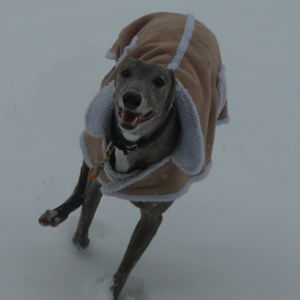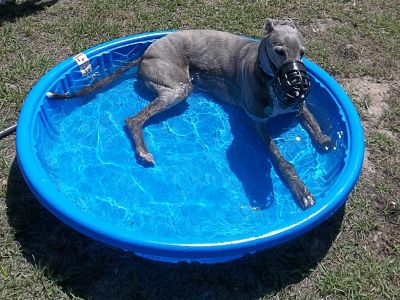 Asia Blue came to us 7 years ago, on Christmas Eve. Right away, she let everyone know who the boss of the house was. She ran like the wind on her 3 strong legs and kept up with her 4 legged brother. I remember when I chose her from the picture on the website; my husband said, "what do we need with a 3 legged dog." He immediately fell in love with her. She crossed over the bridge just short of her 12th birthday.
— Bill and Gail Mayes
In Memory of Maly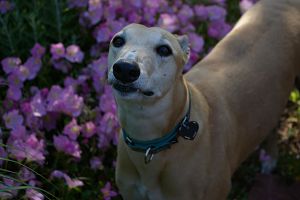 I can not express the joy that Maly brought to us and how much I'll miss her soft face, snotty looks, loving nose and regal manner. Maly knew that she was the chosen one in the house. Even though she has been fragile these past few months she maintained her dignity. Even last night her ears were up and she sat surveying her domain from her bed with bright eyes. Mary matched us up perfectly. Take care of her Mary. I know that you're taking care of all our greyt dogs. #687
— Nancy and David Hein
In Memory of Asia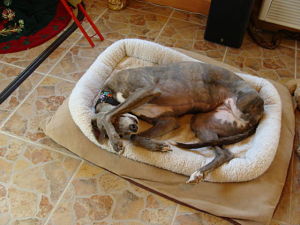 Gail and Bill, you gave Asia a loving home life. We may have felt pity for her, at first, until she raced around the back yard on three legs! The girl had spunk and she was a sweetheart. She won all of our hearts.
— Tyler GU Volunteers
In Memory of Jay (J. R. Episode) Saleh
Jay had the sweetest heart. He was a wonderful ambassadog for our Tyler GU Meet & Greets. He single handedly convinced many of the joy of being owned by a Greyhound. Jay is sorely missed by his family and numerous friends. Run pain free sweet boy.
— The Tyler GU Volunteers
In Memory of: Jay (J. R. Episode)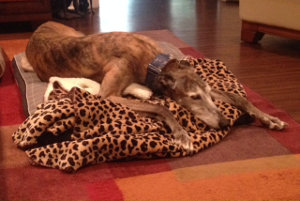 We will miss your mild, kind spirit. I will miss you as my Therapet partner and Meet n Greet buddy. Love you always, Jay.
— The Saleh Family
In Memory of June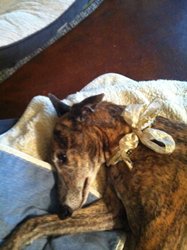 June was a beautiful brindle Greyhound girl belonging to Joyce and Don Kessel. She crossed over the bridge at age 12. Her early life was uncertain, as she was abandoned at a veterinary clinic around age 6. After a brief foster period, she went to a very happy home with Joyce and Don. She was loved by all and her shy sweet spirit will never be forgotten. Run free, gentle Junebug.
— Tyler GU volunteers
In Memory of Karen
You came into our lives at nearly 12 from the farm. The love and kindness that you gave us was unforgettable. I love you sweet girl – I just wish you had more time with us. — Elizabeth Rudy and Michael Norman
In Memory of Hammy
Sweet baby squirrel. Loved and adored by his owners Ashley and Kirk, and loved by all their friends near and far. He will be missed. — Holly, Harper, and Hugo (his brindle buddy)
In Memory of Clarence Orlin Drumm III
— Catherine, Mary and Sandra
In Memory of Daisy
Adopted from GU in 2004. Spent 10 of her 13 years with our family. You will be forever in our hearts.
— Neal Kellogg and Kate Pritchett
In Memory of Constance, Kendall and Tempest - Derr/Keith
In loving memory of Constance, Kendall and Tempest - Keith Derr - from family members in North Carolina. Your owners really miss you!!
— Barbara, Preston, Mary and Ryan
In Memory of Nikki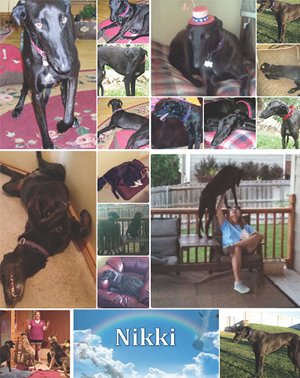 Nikki went to the Rainbow Bridge on Friday, June 13, 2014, at the age of 5 years old. Nikki (formerly Neeka) was one of the FWACC 28 (see the Special needs Hounds tab, FWACC Rescue of the 28) that came to me as a foster in July 2010. Nikki was a shy reserved girl that was very ill and after three (3) months of getting healthy she was adopted by my sister, brother-in-law (Kerri and Russel Trower) and nieces into their home. Nikki was like Goldilocks checking out the beds and knocking off all of the pillows until she found a bed that was "just right." Nikki loved to "sun" herself outside and would love to lie in the grass. Nikki had cancer and when she went to the Rainbow Bridge she was surrounded by her family as she made her way across the bridge. Nikki will be missed but she is no longer in pain and is waiting patiently for her family.
— With love, Kelly Wells and Merlin
In Memory of Joe Elson Herr
To honor the passing of Joe Herr, a man that truly loved dogs.
— BNSF-Lance French, Phil Gollhofer, Chuck Ferris and Team
In memory of Chamie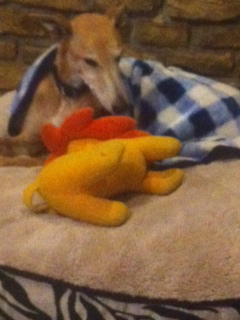 Chamie you will always be in our hearts.
— Your GU family
In memory of Mombasa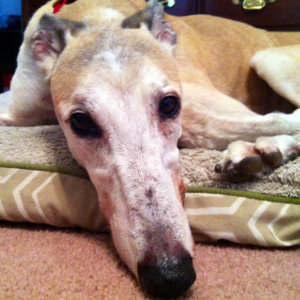 Thank you Karen for taking care and being with him until the end.
— Greyhounds Unlimited
In Memory of Shyla
We will miss Shyla at our Tyler Meet n Greets. She grew into such a beautiful girl, after her difficult health problems. Ricky Polcer did a fabulous job rehabbing her back to health. Shyla will be missed but we will always remember her strong spirit of survival.
— Tyler GU Volunteers
In Memory of Mercury
Loved by Josh Berner and Claire Uziel and all his grandparents.
— Barbara and Andy Berner
In Memory of Teak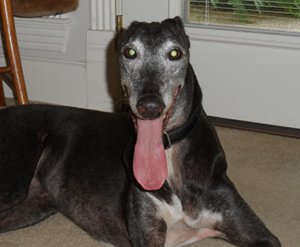 Teak was one of those seniors that only one who has experienced a senior could appreciate. We adopted her in May 2013 from Mary McAnally who had fostered her for over a year. She turned 13 yr old Oct 2013 and just kept going and going. She still had a pep in her step and loved like no other could till the very end. In her youth, Teak ran 50 races, so we are sure she is now racing again and loving every lap. May she and Mary have many chats again. Run free, sweet girl, and know we loved you every minute you were with us.
— Ricky Polcer and ElleMae
In Memory of Shyla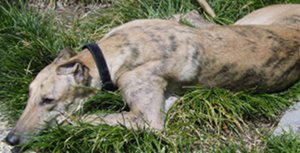 Shyla raced unexpectedly on 23 Jan to the Rainbow Bridge at only 6 yr old, leaving behind a fast growing rear leg cancer. Shyla was one of the FWAC 28 (see the Special needs Hounds tab, FWACC Rescue of the 28) that came to me as a medical foster. She had a hard time overcoming all the obstacles in her way, but finally rallied and became the sweetest little girl with a big smile and always "answered" the phone with a whopping "ahroooo". She helped us foster many greyts, teaching them to be the best they could be in their forever homes. Shyla was also the biggest "poster girl" at the Tyler M&G every month, greeting potential owners with lots of smiles. Shyla will be missed but we know she will be running without pain and will wait for us patiently.
— Ricky Polcer and ElleMae
In Memory of Ridley Mayes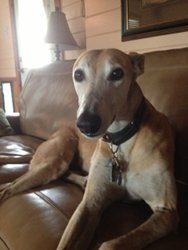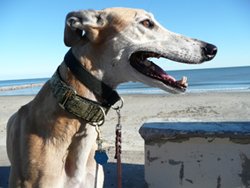 Way too soon, Ridley left us for the Rainbow Bridge. I wasn't ready to let him go and it was the hardest thing I've ever done. He always gave me the sweetest hugs in the mornings. Friends have told me how lucky he was to have us, but I know it was the other way around. We were the lucky ones. Ridley was our first greyhound, but surely won't be our last. Rest peacefully Sweet Ridley. I miss you.
— Mom and Dad Mayes
In Memory of Ridley Mayes
Ridley was a gentle sweet spirit. He served as a certified Therapet and was a great ambasadog for GU, attending countless Meet n Greets. He will be greatly missed by friends & family. Run free, "Ridles"; and may there be lots of coconut pies for you at the rainbow bridge.
— Tyler GU Volunteers
In Memory Of Rosie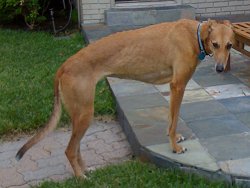 We were blessed by Rosie in July of 2009. She has given lots of love and kisses to us all over the past 4 years. We wish her peace and all the squeaky toys she could ever hope for! We will miss our sweet girl.
— All our love,
Matt, Brannen, Henry, Oliver, and your greyhound sister Jasmen
In Memory of Timmy
— Scott and Stefanie Sanderson
In Memory of Style
— Niloufer Mistry
In Memory Of Kamilah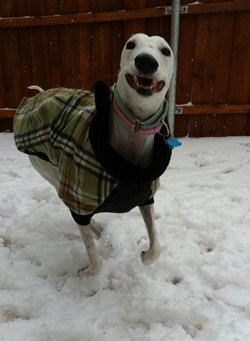 She came to us as a senior in September 2009 and joined our two other rescues from Greyhounds Unlimited. We are so glad she stayed with our family to meet our daughter Grey and give her special greyhound kisses. We will miss you, sweet girl, and will meet you on the bridge someday.
— Love, Chip, Jen, Grey and your brother and sister Todd and Seven
In Memory of Boomer aka Boomtown Episode, 20 Apr 2002-23 Nov 2013
Boomer came to me as a foster boy because his owner went to an assisted living facility. He was truly a wonderful, easy going senior boy that just loved life. He was adopted by Dean & Laurie Moore (and family) in Abilene TX and provided so much love to them. He was a bouncy senior, loving his walks and his greyhound brother, Fly. They made such a handsome pair on their daily walks. He is truly missed by all, but enjoying his freedom to run and play without pain.
— Ricky Polcer and her Tyler Greyts
In Memory of our Lovely Nattie (a/k/a Natasha).
We had the joy of Nattie since she was a puppy and right from the start she was a little spitfire. If she had ever raced, she would have won millions as she was the fastest Grey we have ever had and she truly loved to out run every other dog around. Our hearts were broken when she was diagnosed with cancer, and we had to let her rest just short of her 13th birthday.
— Lisa Von Domek and Philip Koch
In memory of Sheila Anderberg
In memory of my wife, Sheila Anderberg. We got so much love and affection from the greyhounds that we rescued through Greyhounds Unlimited. Our two current greys were at her side when she passed away on July 14, 2013.
— Gary Anderberg
In Memory of Gaea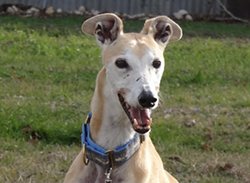 Gaea, aka Auburn was found as a stray and was double tattooed but we could tell that she was born sometime in October 2001 and she went to the bridge on August 22, 2013. She is terribly missed by her greyhound "brother", Radar and by Andy and Barbara, the family she chose.
— Andy and Barbara Berner
In Memory of Sheila Marie Anderberg.
— Margot Bartels
In Memory of Magnolia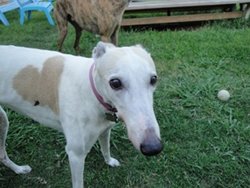 Magnolia was adopted from GU in 2002 and we lost her today. She was a sweet dog that was gentle and quiet. She began her life with us as a very shy dog and then came out of her shell to play with toys and run around our backyard. She was 13 years old. She will be missed by me and my husband dearly.
— Shannon Wiggins
In memory of Factor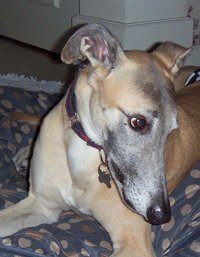 Factor crossed the Rainbow Bridge on 28 May after a very short illness. Factor came to us as a foster boy in Mar 2011 after his daddy, Bill Madden, died. We formally adopted him in May 2011; he grieved for his daddy for almost a full year. Although he was always a happy boy, he finally "came around" and was a loving, sweet boy that was so different from his arrival. He lived alone with Bill from Jul 2005 until his death and they were very close. He is now back with Bill, running free with no pain and we are sure he's happy to be with his daddy. Our "stop" was but an interval in his life and we were so very honored to have him with us. Run free sweet boy and know you are missed by your sisters and mom.
— Ricky Polcer, ElleMae and Shyla
In memory of Turbo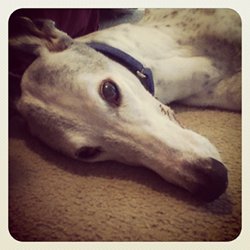 On Friday, April 12, at the old age of 14 1/2, Turbo crossed the Rainbow Bridge. Beyond the Rainbow came to our home, and Turbo was surrounded by the entire family as he made his way across the bridge.
Turbo was our "boy" for almost 13 years and we will always cherish our memories with this special boy. It is time to go run and play with Blueline now, and we will see you again some day, our sweet, sweet boy.
We will always love you, Turbo!
— Love, Clay and Stephanie Mullin, Rider, Fairbanks, and Mozambique
In Memory of Sylvia Johnson
— From Wayne and Evelyn Williams
In Memory of Sylvia Johnson
— From Ellen & Nell Smith; Stephen & Hally Smith; Sid & Scharlotte Mendoza & children
In Memory of Jet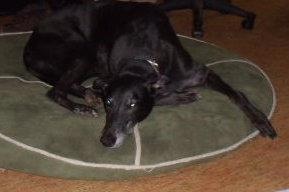 Jet was a sweet boy who was adopted at 6. He was a return from an elder couple who could no longer keep him. He settled in with Mary and Allen and was greatly loved! He loved having his feet rubbed. He is now running free with Mayor and Elwin. Our deepest condolences go to the Middletons. May you have happy memories of your beautiful black shiny boy.
— The Tyler GU volunteers
In Memory of Dirk Robarge
My husband and I adopted our first greyhound from your organization 3 years ago. I've always wanted a greyhound since I was little. We named him Dirk after our favorite Mavericks player. We fell in love with him instantly. Dirk immediately settled into our house. We left him sleep on our couches and bed (He was spoiled :-) ). Greyhounds are an amazing breed. Dirk taught me so much. Sadly, we lost our precious boy on 01/01/13 due to Leptospirosis. Be at peace Dirk.
— Cori & Jimmy
In Memory of Gigi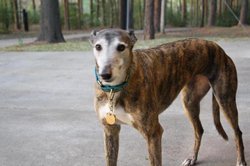 Roger and Margo Arrick gave Gigi a wonderful home full of love. Gigi came into GU with a group of Greyhounds that had been abandoned in a kennel facility. After this rough start, she had a life of smooth sailing, running in the huge beautiful field at the Arrick's home. This sweet brindle girl will be missed by all.
— The Tyler GU volunteers.
In Memory of Desperado and Spot
— John & Debbie Sand
In Memory of Dorothy Pleasant
Dorothy was mother and grandmother to Laurie Moore and family in Abilene TX. She was a delightful lady who also loved the Moore's furkids, Fly and Boomer. She is finally at peace and without pain.
— Ricky Polcer & the furkids, Tyler TX
In Memory of: Fonzie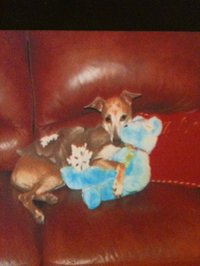 Dear little Fonzie came to our friend, Geneil from Partnership for Pets in Longview.He had an inner beauty that was hard to resist. The little guy had been through a rough life and was found as a stray.He spent the last three years of his life being loved and adored by his Mom. We will miss you, Fonz.
— From: Your Aunties, the Tyler GU volunteers
In Memory of Machala
Adopted from GU seven years ago. She was a sweet, attentive and loving dog. She will be missed by the whole family.
— Carolyn Reeves
In Memory of Faith Kelley
A sweet greyhound who loved her toys, her cozy beds, good runs, her buddy Mike and her mom Marcia.
— Lana Kelley
In Memory of Gabbie
Carolyn, a donation was made in Gabbie's behalf.
— Kay and Howard Weinstein
In Memory of Wayne



You bravely fought your battle with cancer for so many years and never complained. You were always positive and cheerful. I have lost my friend. You are deeply missed.
— Carole
In Memory of Ginger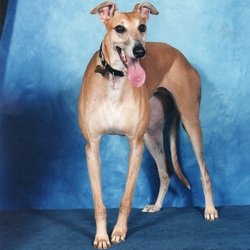 My "first" greyhound. I learned so much from you and got so much in return. Your endless patience with the fosters (and me) was inspirational. You were always the sweet girl that would run through the house with her squeaky toys . I had always hoped you would pick them up - but I guess that was my job.
— Carole Clark
In Memory of Ella,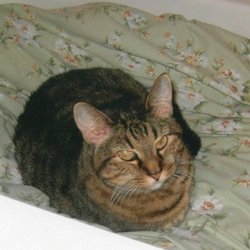 My sweet girl. I love the story of how we met. I went to the Vet to get heartworm medicine for the dogs and came home with a cat. You were the most mellow cat I had ever met and you never changed. You are missed.
— Carole Clark
In Memory of Faith,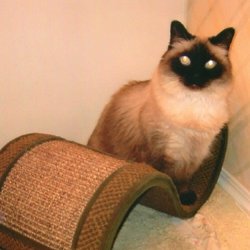 My beautiful and loyal friend. You found where I lived and moved your sweet babies there. That was so many years ago. You have left such a void in my life.
— Carole Clark
In memory of Skinner and Kellher.
— Pamela Freeman
In Memory of July McGuire
Sweet July, a rescue greyhound, and family member for over 12 years no longer is in pain and is waiting for her family at the Rainbow Bridge.
— Biff and Neen Hatfield
In Memory of TIMMY
To TIMMY: Thank you for being a wonderful companion to my friend Stefanie and her family, Scott, Sofia & Stanley. They love you so much and cherished their time with you.
To Stefanie, Scott, Sofia & Stanley: I'm so sorry for your loss. My heart breaks for you. Take comfort in the love and wonderful life you gave to Timmy.
— Shelley, Jeff & Brendan Speed