2015 "Be an Angel" Campaign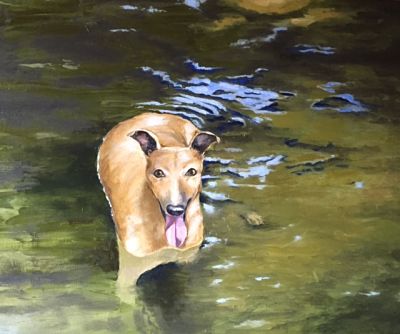 Best Day Ever
This Greyhound is having her best day ever, relaxing and cooling off in a clear stream, after a nice long walk in the woods. The life of a dog is measured in moments. Some of the dogs that come through Greyhounds Unlimited, to find their forever homes, come from hard times and some just from the structured life of a working dog. No matter where they come from, they all deserve to have their "best day ever".
Greyhounds Unlimited is offering this wonderful program for you to be able to show your support for the myriad of expenses associated with the Greyhound rescue such as veterinary, housing, general rehabilitation costs and ultimately finding a loving permanent home for them.
This original painting titled "BEST DAY EVER" is oil on canvas, 18" by 24", with gallery finished edges. It is being donated by artist, Denise Saleh.
The drawing will be held on January 16, 2015 at the Barnes & Noble Meet and Greet in Plano, TX.
You do not have to be present to win.