2013 "Be an Angel" Campaign
Donnie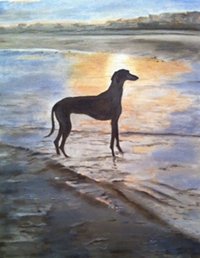 We are proud to once again offer this wonderful program that allows for you to be an Angel for one or all of the Greyhounds currently in our care. Your donations help support the myriad of expenses associated with the Greyhound rescue such as veterinary, housing, general rehabilitation costs and ultimately finding a loving permanent home for them.
Each $25 donation enters you into the drawing for this piece of art titled "Survivor". It was painted and donated by local artist Denise Saleh, one of our own volunteers. The artwork was inspired by Donnie, a rescued Greyhound/Saluki cross. He was found as a stray, in a very emaciated state and near death. The dedicated volunteers of Greyhounds Unlimited saved this boy's life and brought him back to health. From his nurturing foster home, to his adoptive home, he has thrived. His original photo usually brings tears to many who see it.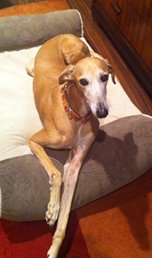 Donnie rehabilitated
He is a happy playful boy now, who recently enjoyed a trip to the ocean and played in the surf. Perhaps the most amazing thing about him is his resilient spirit and the ability to love humans and appreciate affection. He is a true survivor.
Click here to find out more on how to become an Angel for the Greyhounds.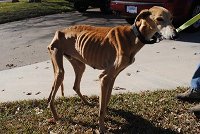 Donnie upon arrival at GU