2019 "Be an Angel" Campaign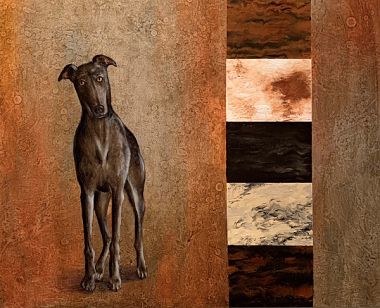 "LOVE COMES IN ALL COLORS"
When potential adopters consider bringing a Greyhound into their lives, sometimes they say, "I'd like a beautiful brindle" or "Fawn is my favorite color". The funny thing is, when you get to a Meet n Greet to meet a potential dog to adopt, usually, all that color consideration goes right out the window because every one of them is beautiful. When you look deep into a Greyhound's eyes and he or she presses their soft elegant head against your thigh, that is all it takes. The bond is started. Many of us have experienced this phenomenon. A person comes to meet Greyhounds Unlimited volunteers to discuss getting a large black male dog and walks away with a tiny brindle female. Call it magic, kismet or love at first sight. Love knows no color, size or style. The most important thing is that you walk away with a companion for life.
ABOUT THE PAINTING
The painting, "Love Comes In All Colors" is a 30" x 24" oil on canvas with gallery finished edges by Denise Saleh. This piece may be hung with or without frame. Copper and silver metallic undertones with a dark distressed glaze and a vertical panel suggesting several fur colors seen in Greyhounds.
The drawing will be held on January 18, 2020 at PetSmart located at 6204 W Park Blvd · Plano, TX during the Meet and Greet. You do not have to be present to win.
Click here to learn more and to become an Angel for the Greyhounds