2022 "Be an Angel" Campaign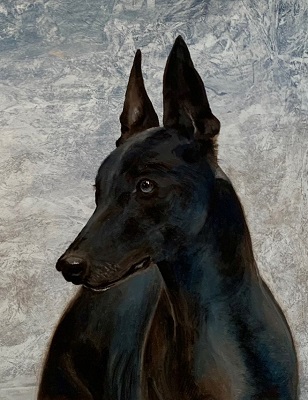 "Origins"

Egypt is considered to be the place of origin for the modern-day sighthound such as the Greyhound. The first Greyhound type canine is evidenced to be in existence about 8000 years ago. Greyhounds are considered to be one of the oldest purebred dogs. From their ancestors to modern day Greyhound pets, their magnetic beauty and calm temperament remains. Our own Greyhound pets can sometimes conjure images of the Egyptian Anubis. We must preserve the Greyhound breed and continue to enjoy them as our treasured companions. Please help Greyhounds Unlimited in their effort to preserve this wonderful breed and find loving homes through adoption. Please consider fostering, donating, or adopting.
ABOUT THE PAINTING

The painting, "Origins" is a 20" x 24" oil on deep stretched canvas with gallery finished edges by Denise Saleh. This piece may be hung as is or framed. Much more impressive in person.

2022 Angels
Click here to find out more on how to become an Angel for the Greyhounds.
Shannon Owens is an Angel for All Greyhounds in GU's care; In Memory of On his 7th Birthday (and his first birthday as my guardian angel, Aaron E. Owens aka National Anthem 1/12/16-12/10/22; In Honor of In honor of the bestest boy ever, my constant companion and best friend, Aaron aka A-Aron, Shirley McInnis, the most amazing Foster mom, who lovingly fostered my sweet boy for 3 long years before he found his way into my home and two of the best Auntie's a greyhound could ever encounter, Denise Saleh and Gail Mayes. Each of you will have a place in my heart for life!


Shannon Owens is an Angel for All Greyhounds in GU's care; In Memory of On his 7th Birthday (and his first birthday as my guardian angel, Aaron E. Owens aka National Anthem 1/12/16-12/10/22; In Honor of In honor of the bestest boy ever, my constant companion and best friend, Aaron aka A-Aron, Shirley McInnis, the most amazing Foster mom, who lovingly fostered my sweet boy for 3 long years before he found his way into my home and two of the best Auntie's a greyhound could ever encounter, Denise Saleh and Gail Mayes. Each of you will have a place in my heart for life!


Shannon Owens is an Angel for All Greyhounds in GU's care; In Memory of On his 7th Birthday (and his first birthday as my guardian angel, Aaron E. Owens aka National Anthem 1/12/16-12/10/22; In Honor of In honor of the bestest boy ever, my constant companion and best friend, Aaron aka A-Aron, Shirley McInnis, the most amazing Foster mom, who lovingly fostered my sweet boy for 3 long years before he found his way into my home and two of the best Auntie's a greyhound could ever encounter, Denise Saleh and Gail Mayes. Each of you will have a place in my heart for life!


Shannon Owens is an Angel for All Greyhounds in GU's care; In Memory of On his 7th Birthday (and his first birthday as my guardian angel, Aaron E. Owens aka National Anthem 1/12/16-12/10/22; In Honor of In honor of the bestest boy ever, my constant companion and best friend, Aaron aka A-Aron, Shirley McInnis, the most amazing Foster mom, who lovingly fostered my sweet boy for 3 long years before he found his way into my home and two of the best Auntie's a greyhound could ever encounter, Denise Saleh and Gail Mayes. Each of you will have a place in my heart for life!


Denise Inman is an Angel for All Greyhounds in GU's care; In Memory of Vapor Trace


Nan Stegall is an Angel for All Greyhounds in GU's care; In Memory of Cindy


Nan Stegall is an Angel for All Greyhounds in GU's care; In Memory of Cindy


Donald & Heather Wayman are Angels for Axel (Irish Grey); In Memory of Drinks Are On Me & Ponda Tankridge


The Cartwright Family is an Angel for All Greyhounds in GU's care; In Memory of Cosmo


The Cartwright Family is an Angel for All Greyhounds in GU's care; In Memory of Cosmo


The Cartwright Family is an Angel for All Greyhounds in GU's care; In Memory of Cosmo


The Cartwright Family is an Angel for All Greyhounds in GU's care; In Memory of Cosmo


The Cartwright Family is an Angel for All Greyhounds in GU's care; In Memory of Cosmo


The Cartwright Family is an Angel for All Greyhounds in GU's care; In Memory of Cosmo


The Cartwright Family is an Angel for All Greyhounds in GU's care; In Memory of Cosmo


The Cartwright Family is an Angel for All Greyhounds in GU's care; In Memory of Cosmo


Diane Benson is an Angel for Otto; In Memory of Abbey, Pharaoh, Kale; In Honor of Mary


Margaret Mason is an Angel for All Greyhounds in GU's care; In Memory of Mary McAnally


Rebecca Olson is an Angel for Lanie


Rebecca Olson is an Angel for Lanie


Eddie & Becky McAllister are Angels for All Greyhounds in GU's care; In Memory of Boots, Dakota, Savannah, Morgan and Keelin; In Honor of All GU volunteers


Eddie & Becky McAllister are Angels for All Greyhounds in GU's care; In Memory of Boots, Dakota, Savannah, Morgan and Keelin; In Honor of All GU volunteers


Eddie & Becky McAllister are Angels for All Greyhounds in GU's care; In Memory of Boots, Dakota, Savannah, Morgan and Keelin; In Honor of All GU volunteers


Eddie & Becky McAllister are Angels for All Greyhounds in GU's care; In Memory of Boots, Dakota, Savannah, Morgan and Keelin; In Honor of All GU volunteers


Darryl Wong is an Angel for All Greyhounds in GU's care


Kate Howell is an Angel for All Greyhounds in GU's care; In Honor of Holly and all my GU Angels that have gone before her


Kate Howell is an Angel for All Greyhounds in GU's care; In Honor of Holly and all my GU Angels that have gone before her


Kathy Cleveland is an Angel for All Greyhounds in GU's care; In Memory of Declan; In Honor of Mary McAnally


Kathy Cleveland is an Angel for All Greyhounds in GU's care; In Memory of Declan; In Honor of Mary McAnally


Kathy Cleveland is an Angel for All Greyhounds in GU's care; In Memory of Declan; In Honor of Mary McAnally


Kathy Cleveland is an Angel for All Greyhounds in GU's care; In Memory of Declan; In Honor of Mary McAnally


Treena Chatterjee is an Angel for All Greyhounds in GU's care, In Honor of Star


Graying Texas ex-pats Dave Gillen and Lois Teed-Gillen in snowy Grand Rapids, MI. are Angels for All Greyhounds in GU's care; In Memory of Frenchy, Cissy, PD, Woody, Peaches, and Duncan; In Honor of Gigi (now 14) and Willie (from Allies for Greyhounds)


Graying Texas ex-pats Dave Gillen and Lois Teed-Gillen in snowy Grand Rapids, MI. are Angels for All Greyhounds in GU's care; In Memory of Frenchy, Cissy, PD, Woody, Peaches, and Duncan; In Honor of Gigi (now 14) and Willie (from Allies for Greyhounds)


Graying Texas ex-pats Dave Gillen and Lois Teed-Gillen in snowy Grand Rapids, MI. are Angels for All Greyhounds in GU's care; In Memory of Frenchy, Cissy, PD, Woody, Peaches, and Duncan; In Honor of Gigi (now 14) and Willie (from Allies for Greyhounds)


Graying Texas ex-pats Dave Gillen and Lois Teed-Gillen in snowy Grand Rapids, MI. are Angels for All Greyhounds in GU's care; In Memory of Frenchy, Cissy, PD, Woody, Peaches, and Duncan; In Honor of Gigi (now 14) and Willie (from Allies for Greyhounds)


Graying Texas ex-pats Dave Gillen and Lois Teed-Gillen in snowy Grand Rapids, MI. are Angels for All Greyhounds in GU's care; In Memory of Frenchy, Cissy, PD, Woody, Peaches, and Duncan; In Honor of Gigi (now 14) and Willie (from Allies for Greyhounds)


Graying Texas ex-pats Dave Gillen and Lois Teed-Gillen in snowy Grand Rapids, MI. are Angels for All Greyhounds in GU's care; In Memory of Frenchy, Cissy, PD, Woody, Peaches, and Duncan; In Honor of Gigi (now 14) and Willie (from Allies for Greyhounds)


Denise and Danny Saleh are Angels for All Greyhounds in GU's care; In Memory of Aaron; In Honor of Shirley McInnis


Denise and Danny Saleh are Angels for All Greyhounds in GU's care; In Memory of Aaron; In Honor of Shirley McInnis


Denise and Danny Saleh are Angels for All Greyhounds in GU's care; In Memory of Aaron; In Honor of Shirley McInnis


Denise and Danny Saleh are Angels for Lyon (Irish Grey); In Memory of Bill Mayes; In Honor of Gail Mayes


Denise and Danny Saleh are Angels for Lyon (Irish Grey); In Memory of Bill Mayes; In Honor of Gail Mayes


Denise and Danny Saleh are Angels for Lyon (Irish Grey); In Memory of Bill Mayes; In Honor of Gail Mayes


Brad Garrison is an Angel for Jackie (Irish Grey); In Memory of ; In Honor of GU volunteers


Tom and Gail Moffat are Angels for All Greyhounds in GU's care; In Memory of Noga, Hercules, Petra, Baxter, and Davia; In Honor of Raven


Tom and Gail Moffat are Angels for All Greyhounds in GU's care; In Memory of Noga, Hercules, Petra, Baxter, and Davia; In Honor of Raven


Tom and Gail Moffat are Angels for All Greyhounds in GU's care; In Memory of Noga, Hercules, Petra, Baxter, and Davia; In Honor of Raven


Tom and Gail Moffat are Angels for All Greyhounds in GU's care; In Memory of Noga, Hercules, Petra, Baxter, and Davia; In Honor of Raven


Tom and Gail Moffat are Angels for All Greyhounds in GU's care; In Memory of Noga, Hercules, Petra, Baxter, and Davia; In Honor of Raven


Jesse, Emily, and Addi Thune are Angels for All Greyhounds in GU's care; In Memory of Navarro and Bella; In Honor of Cozart


Jesse, Emily, and Addi Thune are Angels for All Greyhounds in GU's care; In Memory of Navarro and Bella; In Honor of Cozart


Jesse, Emily, and Addi Thune are Angels for All Greyhounds in GU's care; In Memory of Navarro and Bella; In Honor of Cozart


Jesse, Emily, and Addi Thune are Angels for All Greyhounds in GU's care; In Memory of Navarro and Bella; In Honor of Cozart


Jesse, Emily, and Addi Thune are Angels for All Greyhounds in GU's care; In Memory of Navarro and Bella; In Honor of Cozart


Jesse, Emily, and Addi Thune are Angels for All Greyhounds in GU's care; In Memory of Navarro and Bella; In Honor of Cozart


Jesse, Emily, and Addi Thune are Angels for All Greyhounds in GU's care; In Memory of Navarro and Bella; In Honor of Cozart


Jesse, Emily, and Addi Thune are Angels for All Greyhounds in GU's care; In Memory of Navarro and Bella; In Honor of Cozart


Jesse, Emily, and Addi Thune are Angels for All Greyhounds in GU's care; In Memory of Navarro and Bella; In Honor of Cozart


Jesse, Emily, and Addi Thune are Angels for All Greyhounds in GU's care; In Memory of Navarro and Bella; In Honor of Cozart


Jesse, Emily, and Addi Thune are Angels for All Greyhounds in GU's care; In Memory of Navarro and Bella; In Honor of Cozart


Jesse, Emily, and Addi Thune are Angels for All Greyhounds in GU's care; In Memory of Navarro and Bella; In Honor of Cozart


Jesse, Emily, and Addi Thune are Angels for All Greyhounds in GU's care; In Memory of Navarro and Bella; In Honor of Cozart


Jesse, Emily, and Addi Thune are Angels for All Greyhounds in GU's care; In Memory of Navarro and Bella; In Honor of Cozart


Jesse, Emily, and Addi Thune are Angels for All Greyhounds in GU's care; In Memory of Navarro and Bella; In Honor of Cozart


Jesse, Emily, and Addi Thune are Angels for All Greyhounds in GU's care; In Memory of Navarro and Bella; In Honor of Cozart


Jesse, Emily, and Addi Thune are Angels for All Greyhounds in GU's care; In Memory of Navarro and Bella; In Honor of Cozart


Jesse, Emily, and Addi Thune are Angels for All Greyhounds in GU's care; In Memory of Navarro and Bella; In Honor of Cozart


Jesse, Emily, and Addi Thune are Angels for All Greyhounds in GU's care; In Memory of Navarro and Bella; In Honor of Cozart


Jesse, Emily, and Addi Thune are Angels for All Greyhounds in GU's care; In Memory of Navarro and Bella; In Honor of Cozart


The Hogan Family is an Angel for All Greyhounds in GU's care; In Memory of Tabby, Jake, Vegas, Tarantula, Walter, Stubby, Delta, Ruger, Temerity, Spunky & Brindee


The Hogan Family is an Angel for All Greyhounds in GU's care; In Memory of Tabby, Jake, Vegas, Tarantula, Walter, Stubby, Delta, Ruger, Temerity, Spunky & Brindee


The Hogan Family is an Angel for All Greyhounds in GU's care; In Memory of Tabby, Jake, Vegas, Tarantula, Walter, Stubby, Delta, Ruger, Temerity, Spunky & Brindee


The Hogan Family is an Angel for All Greyhounds in GU's care; In Memory of Tabby, Jake, Vegas, Tarantula, Walter, Stubby, Delta, Ruger, Temerity, Spunky & Brindee


The Hogan Family is an Angel for All Greyhounds in GU's care; In Memory of Tabby, Jake, Vegas, Tarantula, Walter, Stubby, Delta, Ruger, Temerity, Spunky & Brindee


The Hogan Family is an Angel for All Greyhounds in GU's care; In Memory of Tabby, Jake, Vegas, Tarantula, Walter, Stubby, Delta, Ruger, Temerity, Spunky & Brindee


The Hogan Family is an Angel for All Greyhounds in GU's care; In Memory of Tabby, Jake, Vegas, Tarantula, Walter, Stubby, Delta, Ruger, Temerity, Spunky & Brindee


The Hogan Family is an Angel for All Greyhounds in GU's care; In Memory of Tabby, Jake, Vegas, Tarantula, Walter, Stubby, Delta, Ruger, Temerity, Spunky & Brindee


The Hogan Family is an Angel for All Greyhounds in GU's care; In Memory of Tabby, Jake, Vegas, Tarantula, Walter, Stubby, Delta, Ruger, Temerity, Spunky & Brindee


The Hogan Family is an Angel for All Greyhounds in GU's care; In Memory of Tabby, Jake, Vegas, Tarantula, Walter, Stubby, Delta, Ruger, Temerity, Spunky & Brindee


The Hogan Family is an Angel for All Greyhounds in GU's care; In Memory of Tabby, Jake, Vegas, Tarantula, Walter, Stubby, Delta, Ruger, Temerity, Spunky & Brindee


The Hogan Family is an Angel for All Greyhounds in GU's care; In Memory of Tabby, Jake, Vegas, Tarantula, Walter, Stubby, Delta, Ruger, Temerity, Spunky & Brindee


The Hogan Family is an Angel for All Greyhounds in GU's care; In Memory of Tabby, Jake, Vegas, Tarantula, Walter, Stubby, Delta, Ruger, Temerity, Spunky & Brindee


The Hogan Family is an Angel for All Greyhounds in GU's care; In Memory of Tabby, Jake, Vegas, Tarantula, Walter, Stubby, Delta, Ruger, Temerity, Spunky & Brindee


The Hogan Family is an Angel for All Greyhounds in GU's care; In Memory of Tabby, Jake, Vegas, Tarantula, Walter, Stubby, Delta, Ruger, Temerity, Spunky & Brindee


The Hogan Family is an Angel for All Greyhounds in GU's care; In Memory of Tabby, Jake, Vegas, Tarantula, Walter, Stubby, Delta, Ruger, Temerity, Spunky & Brindee


The Hogan Family is an Angel for All Greyhounds in GU's care; In Memory of Tabby, Jake, Vegas, Tarantula, Walter, Stubby, Delta, Ruger, Temerity, Spunky & Brindee


The Hogan Family is an Angel for All Greyhounds in GU's care; In Memory of Tabby, Jake, Vegas, Tarantula, Walter, Stubby, Delta, Ruger, Temerity, Spunky & Brindee


The Hogan Family is an Angel for All Greyhounds in GU's care; In Memory of Tabby, Jake, Vegas, Tarantula, Walter, Stubby, Delta, Ruger, Temerity, Spunky & Brindee


The Hogan Family is an Angel for All Greyhounds in GU's care; In Memory of Tabby, Jake, Vegas, Tarantula, Walter, Stubby, Delta, Ruger, Temerity, Spunky & Brindee


The Hogan Family is an Angel for All Greyhounds in GU's care; In Memory of Tabby, Jake, Vegas, Tarantula, Walter, Stubby, Delta, Ruger, Temerity, Spunky & Brindee


The Hogan Family is an Angel for All Greyhounds in GU's care; In Memory of Tabby, Jake, Vegas, Tarantula, Walter, Stubby, Delta, Ruger, Temerity, Spunky & Brindee


The Hogan Family is an Angel for All Greyhounds in GU's care; In Memory of Tabby, Jake, Vegas, Tarantula, Walter, Stubby, Delta, Ruger, Temerity, Spunky & Brindee


Peyton, Debra, Kelly, and Daniel Allen are Angels for Mugs (Irish Grey); In Memory of Our beloved Daytona


Peyton, Debra, Kelly, and Daniel Allen are Angels for Jackie (Irish Grey); In Memory of Our beloved Daytona


Peyton, Debra, Kelly, and Daniel Allen are Angels for Ozzy (Irish Grey); In Memory of Our beloved Daytona


Peyton, Debra, Kelly, and Daniel Allen are Angels for Axel (Irish Grey); In Memory of Our beloved Daytona


Carol Enkoji & Rick Nelson are Angels for All Greyhounds in GU's care


Carol Enkoji & Rick Nelson are Angels for All Greyhounds in GU's care


Carol Enkoji & Rick Nelson are Angels for All Greyhounds in GU's care


Carol Enkoji & Rick Nelson are Angels for All Greyhounds in GU's care


Carol Enkoji & Rick Nelson are Angels for Lanie


Carol Enkoji & Rick Nelson are Angels for Otto


Carol Enkoji & Rick Nelson are Angels for Jackie (Irish Grey)


Carol Enkoji & Rick Nelson are Angels for Axel (Irish Grey)


The Demarest Family is an Angel for All Greyhounds in GU's care; In Memory of Destiny, Aiden and Liza


Jeni Anderman is an Angel for All Greyhounds in GU's care; In Memory of Delta; In Honor of Kristi & Joey Kang


Jeni Anderman is an Angel for All Greyhounds in GU's care; In Memory of Delta; In Honor of Kristi & Joey Kang


Jeni Anderman is an Angel for All Greyhounds in GU's care; In Memory of Delta; In Honor of Kristi & Joey Kang


Jeni Anderman is an Angel for All Greyhounds in GU's care; In Memory of Delta; In Honor of Kristi & Joey Kang


Jeni Anderman is an Angel for All Greyhounds in GU's care; In Memory of Delta; In Honor of Kristi & Joey Kang


Jeni Anderman is an Angel for All Greyhounds in GU's care; In Memory of Delta; In Honor of Kristi & Joey Kang


Micky Nielsen is an Angel for All Greyhounds in GU's care; In Honor of Kathy Cleveland


Micky Nielsen is an Angel for All Greyhounds in GU's care; In Honor of Susan and Mark Lemon


Micky Nielsen is an Angel for All Greyhounds in GU's care; In Memory of Hazel, Whisper, Sarah, Gabbie and Monnie


Micky Nielsen is an Angel for All Greyhounds in GU's care; In Memory of Mary McAnally


Brad Garrison is an Angel for All Greyhounds in GU's care; In Honor of All GU Volunteers


Cynthia Carrera is an Angel for All Greyhounds in GU's care


Tom Crull is an Angel for All Greyhounds in GU's care; In Memory of Iris, Isabella, Zilla and Scarlety; In Honor of All GU Volunteers


Tom Crull is an Angel for All Greyhounds in GU's care; In Memory of Iris, Isabella, Zilla and Scarlety; In Honor of All GU Volunteers


Tom Crull is an Angel for All Greyhounds in GU's care; In Memory of Iris, Isabella, Zilla and Scarlety; In Honor of All GU Volunteers


Tom Crull is an Angel for All Greyhounds in GU's care; In Memory of Iris, Isabella, Zilla and Scarlety; In Honor of All GU Volunteers


Tom Crull is an Angel for All Greyhounds in GU's care; In Memory of Iris, Isabella, Zilla and Scarlety; In Honor of All GU Volunteers


Tom Crull is an Angel for All Greyhounds in GU's care; In Memory of Iris, Isabella, Zilla and Scarlety; In Honor of All GU Volunteers


Tom Crull is an Angel for All Greyhounds in GU's care; In Memory of Iris, Isabella, Zilla and Scarlety; In Honor of All GU Volunteers


Tom Crull is an Angel for All Greyhounds in GU's care; In Memory of Iris, Isabella, Zilla and Scarlety; In Honor of All GU Volunteers


Tom Crull is an Angel for All Greyhounds in GU's care; In Memory of Iris, Isabella, Zilla and Scarlety; In Honor of All GU Volunteers


Tom Crull is an Angel for All Greyhounds in GU's care; In Memory of Iris, Isabella, Zilla and Scarlety; In Honor of All GU Volunteers


Tsuki Caspary Brooks is an Angel for Jackie (Irish Grey); In Memory of Aziz and Mr. Wilson


Tsuki Caspary Brooks is an Angel for Jackie (Irish Grey); In Memory of Aziz and Mr. Wilson


Gail Mayes is an Angel for Lyon (Irish Grey); In Memory of Bill Mayes; In Honor of Jose


Gail Mayes is an Angel for Lyon (Irish Grey); In Memory of Bill Mayes; In Honor of Jose


Terri Schroeder is an Angel for All Greyhounds in GU's care; In Memory of Carson


Marilyn Spauling is an Angel for Ozzy (Irish Grey); In Memory of Kayla


Marilyn Spauling is an Angel for Ozzy (Irish Grey); In Memory of Kayla


Maryke & Jack Montois are Angels for All Greyhounds in GU's care; In Memory of Santee & Boris; In Honor of Dana


Maryke & Jack Montois are Angels for All Greyhounds in GU's care; In Memory of Santee & Boris; In Honor of Dana


Maryke & Jack Montois are Angels for All Greyhounds in GU's care; In Memory of Santee & Boris; In Honor of Dana


Maryke & Jack Montois are Angels for All Greyhounds in GU's care; In Memory of Santee & Boris; In Honor of Dana


Updated: 13 October 2022 10:06