Be an Angel for GU's Greyhounds this Holiday Season
Experience the joy, warmth, and peace during this wonderful season by becoming an Angel for the Greyhounds in our care by simply donating $25 or more. For each $25 donation you will be entered in the drawing for this beautiful painting as well as having who it is from, who you are an angel for, and either or both "in Memory of" and "in Honor of".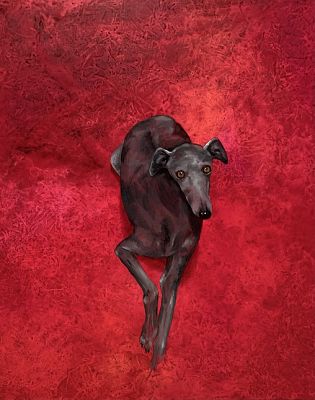 ABOUT "SHIELD", THE PAINTING
"What are the things in life that give you comfort and make you feel a sense of security and well-being? Family, friends, music and for those of us who love animals, our canine companions. It has been said that dogs are a furry shield against melancholy. When the atmosphere closes in and the stress of responsibility or the conditions of the world around us become much to bear, the steady heartbeat and quiet presence of our Greyhounds are there for us. It seems to be a symbiotic relationship that we share with them. We give them the resources they need to survive, and they give us all their love and devotion. Their silky linear form is visually soothing. They make us laugh sometimes when we need it most. No matter what is happening in the world outside our homes, those of us with Greyhounds are extremely fortunate souls."

SHIELD is a 24 x 30" oil on canvas with gallery finished edges by Denise Saleh. This piece has a vibrant red background with subtle undertones of orange and pink all underneath a dark distressed glaze. The blue grey tones in the Greyhound offset his almost illuminated eyes. This piece may be hung with or without frame.
Click here to become an Angel for the Greyhounds: https://store.gu-tx.org/
Click here to view the 2020 Angels: http://greyhoundsunlimited.org/angels/
The drawing will be held on January 19, 2021. Due to the Coronavirus the location has not been selected. You do not have to be present to win.
*********************************************************
Online Sales end at 10:00 PM Central on Thursday, December 31, 2020
*********************************************************
All About Erin — The Velcro Hound with Eyes for You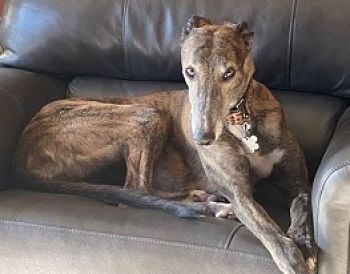 She has fur like velvet; you won't be able to stop touching it, and that's fine with her. She loves to look into your eyes while you're petting her; she's definitely a Velcro dog. This petite brindle five-year-old will gladly crawl into your lap and into your heart.
Erin walks well with an easy-walk harness in quiet neighborhoods, but she will look to you for protection from those big noisy trucks! Her favorite trick at home is to empty the toy basket and carry the toys all over the house. She loves playing and being with other Greyhounds, and a house with one Greyhound already would be a special bonus for her.
Erin is looking for a very special home to love and protect her. She was born with a condition called "megaesophagus, " and so she will need to be fed several times daily with small meals of high-quality canned food, mashed to a soft consistency. She takes a medication at breakfast and dinner to control the condition. This will enable her to digest her food and stay healthy.
A diagnosis of megaesophagus used to be a death sentence. Severe cases would make it impossible for the dog to hold down food and water. Fortunately, Erin's condition is well-controlled. She knows her routine and is happy to cooperate with anyone taking care of her.
She needs someone who will be at home during the day to feed her. There is a financial commitment as well, due to the extra cost of the food. She will also need to be prevented from eating extra food outside of feeding times. So, no sharing and only certain kinds of limited snacks for her.
We know that there is a perfect family (maybe yours?) waiting for Erin. Someone is ready to love her and commit to taking care of her, for all her life. If that's you, Erin is ready.
If you would like to donate for her continued care, please make your donation here or go to https://www.paypal.com/cgi-bin/webscr?cmd=_s-xclick&hosted_button_id=EB3MNP7JLY972
If you would like to consider adopting Erin, please contact jpvandehaar@verizon.net. As always, we thank you for your continued support.
(Thanks to Marilyn Mathis, the author of this article)
Help by becoming a foster home!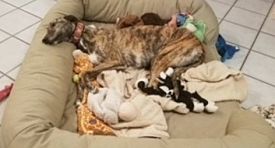 She is quite comfortable in her new foster home...
We also hear that she has a toy-hoarding problem...
We are still in dire need of foster homes for our incoming hounds. Foster homes are the bridge that leads to a forever home for our adoptable hounds, giving them a head start on getting accustomed to living in a home instead of a kennel, teaching them all the new and wonderful things they will encounter in a home that they may never have seen before.
If you are ready to give fostering a try, please send an email to mickynielsen@att.net. One of our foster coordinators will contact you to talk about fostering and how you might be able to help, what your obstacles might be and how we might overcome them together. We all want this to be a successful experience for you and your new foster!
Donate and Express Yourself on our website
Memorial Page: Express yourself regarding the passing of a loved one, be it hound or human. These usually post within 7 days.
For more details and to Submit your Memorial Request
In Honor Of: Honor someone's Anniversary, Birthday, Graduation, Appreciation, Addition to the Family and anything else you wish. You can request a complimentary email (optional) be sent to the recipient containing your message. These usually post within 7 days. If you would like to have a photo posted along with your message you can email one to guonlinestore@msn.com.
For more details and to Submit Your "In Honor Of" Request
Rainbow Bridge: You can list your animal companion accompanied by your name on the Rainbow Bridge page. This is of no cost to you but of course donations are always appreciated.
For more details and to Submit your Rainbow Bridge Request
Can't Donate? Let others do it for you!
Tom Thumb Good Neighbor Program – Register Now and Help the Hounds
Tom Thumb will donate 1% of the purchase price of groceries when you use your Tom Thumb Rewards card. All you have to do is go to the Tom Thumb Good Neighbor Program, fill out the form using our Charity #2743, take it to the customer service counter at your store.
Current Greyhounds Available for Adoption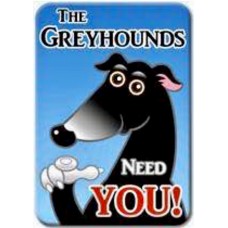 Help Us Now, Make Your Donation Today
Greyhounds Unlimited is a non-profit, all-volunteer organization with no paid staff. Your support is always needed and greytly appreciated, especially by the hounds. Cash donations are always welcome, and 100% of all donations support the ongoing needs of the greyhounds in GU's care.
You can make a one-time donation of recurring monthly donation by clicking on the donate button.
or mail your check to:
Greyhounds Unlimited
P.O. Box 703967
Dallas, TX 75370-3967
Recurring Donation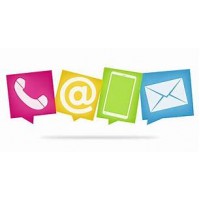 Please tell us if you have changed your contact information or your Dog's name.