Lady (aka Can Go)
Adopted
4.5 years old · Female · Black · Cat Tolerance Unknown · Origin: Australia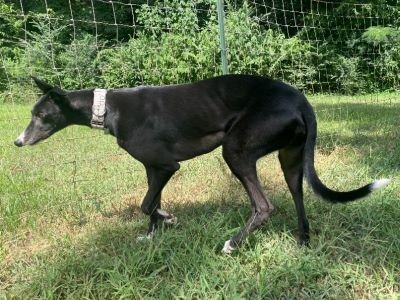 Pedigree Information
Greyhound Data provides information about greyhounds from all over the world with pedigree information drawn from the last four centuries.
Click here and you will find the pedigree, the littermates, and the races of Lady.
Bio
Lady is a happy and affectionate girl who adjusted to her foster home very quickly. She loves to cuddle and will even attach herself to your hip as she escorts you around the house. By greyhound standards, she's fairly energetic and can become overexcited when her people return home. Other than the occasional jump, Lady is well-mannered in the house, and she responds quickly to correction.
Lady is very easygoing and laid back. She is an easy dog and a great choice for a first-time owner. She is 100% housetrained with no accidents. She doesn't bark, and she's not destructive. She does well with storms, strangers, and car rides. She is highly food motivated and also enjoys playing with squeaky toys.
A home without other dogs would be ideal for Lady. She has a high prey drive and enjoys stalking squirrels on her walks. She is not cat tolerant, but she's been exposed to smaller dogs on a couple of occasions and did well. She walks well on a leash, but she can get a little uncomfortable when people or other dogs walk behind her.
You are sure to love Lady! Please consider opening your home and heart up to a sweet girl who will love you unconditionally.