Adele (aka Keeper Adele)
Adopted
2 years old · Female · Black · Cat Tolerance Unknown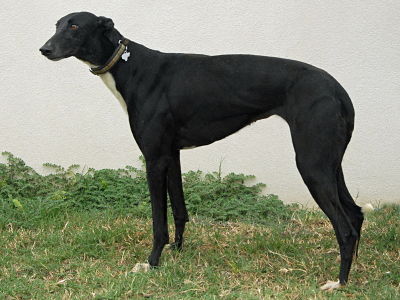 Pedigree Information
Greyhound Data provides information about greyhounds from all over the world with pedigree information drawn from the last four centuries.
Click here and you will find the pedigree, the littermates, and the races of Adele.
Bio
Adele has been our foster baby for the past 7 months. She's come a long way from her first days with us. She is a very sweet, quiet, girl who loves to please. This girl is a Velcro dog and needs to be with her humans and her pack. We have 4 other Greyhounds and she gets along very nicely with them. She is not a dominate dog.
Everything you need to know about Adele:
Crates well for up to 8 hours. Loves to have a kong or chicken jerky (from Costco) when crated.
Sleeps well in the master bedroom on her dog bed. She loves her Sherpa blanket that covers her bed. In fact, she will not lay on her bed unless that blanket is there.
She has never tried to get on the furniture. Not even the couch or the bed.
She eats very well. Usually about 4 cups/day. The Costco salmon flavor is her favorite. She also likes the occasional can of wet food (also from Costco). Unlike our other Greyhounds, Adele is not a counter cruiser! She has manners.
Adele hasn't figured out how to play with toys. She prefers to chew on bones or antlers. She has never chewed on furniture.
Adele is NOT cat or small animal safe. She has a very high prey drive and will chase anything that moves. She runs like the wind, too.
Adele walks well on leash and rides nicely in the SUV.
She's not crazy about having her teeth brushed, or her back feet wiped, but she's doing much better.
If you have a swimming pool, she'll be in it! Adele LOVES to lay on the first step and relax. She will walk in the pool even when it's 30 degrees outside! Drying off feet is a daily occurrence at our house!
Adele hasn't had an accident in about 6 months. She will stand by the door when she needs to go out. She needs to go outside immediately after eating.