Catarena
Adopted
6.5 years old · Female · White w/ Brindle Patches · Cat Tolerance Unknown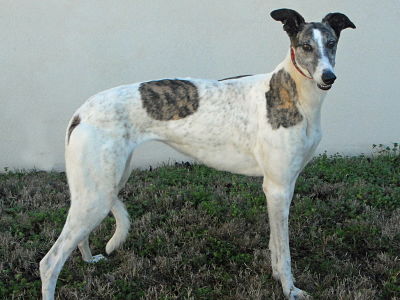 Bio
Greetings to all! As pictured on this site, my name is Catarena. Actually, my racing name was Wampus Cat, but I felt the name did not adequately describe my grace and style. With my beautiful white coat and brindle patches, my foster mom describes me as elegant. I am somewhat on the petite side at 62 pounds.
She said to be sure to mention that I am very sweet and loving. When I catch her at my level, say in her recliner in the evening, I make sure she gets lots of kisses. I am calm, and rarely bark, even when my foster sisters are telling the mailman to get out of the yard. As for kitties, I successfully defended my foster aunties against one, sending the vicious brute scrambling over the back yard fence. (Actually, I only meant to roll him around in the grass a bit.) Guess that means I'm not 'cat safe', huh?
Did I tell you that I especially love kids? My favorites are the ones at eye level - they giggle when I give them kisses. I love grownups too. And stuffies – I recently discovered how much fun they are!
I tend to be a bit shy when I first meet someone new, but soon become comfortable with them. I don't get on furniture and have never had an accident in the house, even before I learned to use the dog door. I would be an excellent first greyhound or a greyt addition to any family pack. As my foster mom says, "What's not to love about Catarena?" I would certainly love to meet you and your family!