Shane
Adopted
2 years old · Male · Dark Brindle · Not Cat Tolerant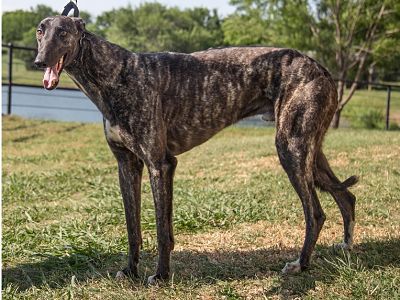 Bio
Shane is a super sweet, affectionate, playful, goofball. He wants nothing more than to be near his human(s). He has bonded strongly with his foster mom who is home with him during the day, and after several weeks discovered his foster dad is pretty cool too. Shane loves going for walks. He prefers a leisure stroll where he can take in the sights, smells, and sounds, but can still get down to business when walking in a hurry. He is also a great car rider!
It took him a while to feel comfortable in the house, but now he acts like part of the family. He has several stuffed toys he enjoys throwing around and has just started chewing on bones. He was fearful of stairs at first, putting only his front paws up. However, after some yummy chicken treats, he has mastered them and enjoys going up and down just for fun! He will help you cook in the kitchen, check on the trash in the trash can for you, and even see if you are okay in the bathroom. He is a very loving boy! Shane is not allowed on the furniture, so he hasn't had an opportunity to show that he likes to cuddle, but his foster parents think he would be more than happy to jump up on the couch or bed and snuggle right up next to his humans in his forever home.
Shane loves to play in the backyard and can run some serious zoomies! He will often pick up his stuffed toys in the house and carry them to the backdoor for outside playtime. In the backyard he will run, roll around on his back, and even sleep (his foster mom limits this to 1 minute because it is too hot outside to snooze!). His foster dad is trying to teach him to play fetch and he is doing surprisingly well. He has picked up a thrown toy a time or two but has no interest in bringing it back to start the process over.
Shane does not like to be locked in his crate. However, he will happily sleep in his crate at night with the door open, and even goes in to lay down without being prompted. He has been left out in the house a few times for short intervals and has not been destructive. He mostly stands by the door the entire time. His foster mom is working on leaving him longer, hoping he will go laydown and sleep. The issue is really with her, not him!
For more pictures and videos of Shane, check out his Instagram page (batdog_the_greyt): https://www.instagram.com/batdog_the_greyt/.