Notch
Adopted
18 months old · Male · Black · Not Cat Tolerant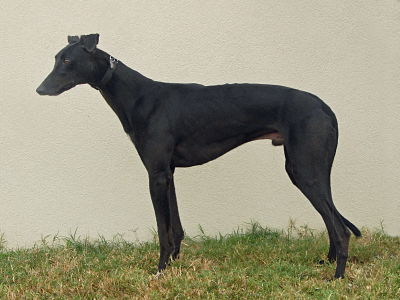 Bio
What a sweet pup! Notch has been with us for a month now and is really starting to fit in well in our home, and with our bossy female greyhound. He came by his name due to a "notch" of his ear missing. The ear lays a bit wonky but is perfectly suited otherwise, and certainly has not reduced his speed! This lad is a small male with a shiny black coat. He has only a touch of white on his chest, feet and a sprinkling on his muzzle and coat, creating quite the dashing hound.
Notch is a lover! He enjoys giving kisses right on your face if you let him. He is always happy to see us when we come home, even when we have only been in the other room for a while. He enjoys meeting people and has been patient when meeting respectful kids.
When Notch first came to stay with us he was a bit nervous by cars that would pass us during our walk. He adapted to the strange sounds within short order and now hardly notices them during our walks. So far we have not seen signs of thunder-phobia and he has managed through the recent storms like a champ! Notch does not prefer to go in the rain, so putting on a raincoat has helped keep him on track when having to go outside when it is raining.
Notch is a brave scaredy-cat. He is always cautious approaching new situations, but once he is comfortable (in a few seconds) he jumps right in with his whole heart. I will say he seems to favor women as men's size/voice startle him a bit. For example, If my husband has a booming sneeze, it startles him and Notch becomes timid around him for a few minutes. After a bit, Notch quickly returns back to giving kisses and snuggles with my husband.
Notch is not cat tolerant and is not small dog friendly. This young pup has a strong prey drive and is easily excited by small dog barks and yaps. He does enjoy meeting other dogs that are more substantial size and has done well meeting other greyhounds at events.
For exercise, we take Notch on a walk daily, and this is one of his favorite parts of the day! He gets very excited when the leash comes out, prancing and hopping to indicate his excitement. Notch walks well on a leash and will heel well if you keep him on a short lead. He will walk out in front if the leash is loose but doesn't pull unless there is prey spotted. Keeping him in close will help move him along in these situations.
Notch also loves to go in the car. His car manners could use a bit of work. He is so excited to go, he likes to stand on the back seat and look out over your shoulder to see out the windshield while pressing his entire body weight against you. This may not be an issue for you if you have an SUV with space in the back for him to ride in.
Another pastime for Notch is playing with stuffies. He spends quite a bit of time throwing the toys around and in the air. He is a fairly gentle toy chewer, only killing off one toy so far. After playing, he often brings a prized toy to his bed.
Although Notch has a playful side, this prince will win your heart with his quiet demeanor. He loves lounging on the sofa after a good romp in the back yard or after dinner. Considering Notch is just under two, he has not been destructive in our home and is doing great with potty training. He sleeps well throughout the night on his bed in the master - although I think he would rather be sleeping on the couch! Overall Notch has been a fun addition to our home and this sweet pup in training will make an excellent companion for his forever home.