Miss Ellen
Adopted
11 years old · Female · Brindle · Cat Tolerance Unknown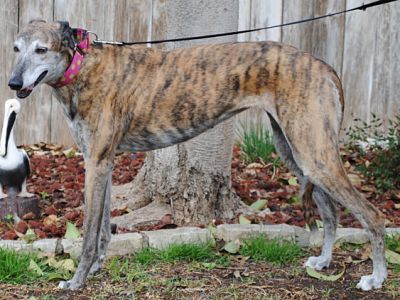 Bio
Ellen is a delight! She is 11 years young and her demands are few. She has great house manners – no chewing or accidents.
Ellen is pretty content on her comfy thick bed but does enjoy a short daily walk. She sleeps on a dog bed in the master bedroom at night and crates well (but doesn't need to be crated). She is always happy and greets us with enthusiasm.
Ellen is not an "in your face" dog but is always very close by. She would do best in a fairly quiet home with or without other dogs (she is ok with small or large dogs) where people are not gone for long periods of time. She needs a soft bed, food, a little attention and somewhere to live out her life.
If you would like more information on Ellen, please call Micky at 817-991-5019.