Iroc
Adopted
2.5 years old · Male · Black · Cat Tolerance Unknown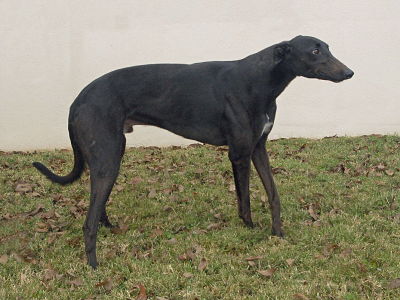 Bio
Hi! My name is Iroc - yeah, like the Camaro muscle car of the 80's. I'm a really good boy and my foster mom says I am one of the sweetest greyhounds she has encountered. I am a laid back kind of guy and I get along great with my foster siblings, Etta the greyhound and Lucy the Lab mix.
When I first meet someone new, I confess to being a bit shy. However, if you scratch my neck and rub my sides for a few minutes, I will be your new best friend. I am very polite…foster mom says I crate well, don't jump on people, and will not get on furniture, except for the 'dog' chair that my sisters also like.
I am a quiet dog, hanging out on my favorite doggie bed (preferably the one closest to my foster mom), unless I hear the treat jar opened! I love kids. Not interested in cats, though. Small dogs make my tail wag – they are so cute with their short little legs! I quickly learned to use the dog door and enjoy coming and going with my foster sisters.
Foster mom says I will be a great 'first' greyhound or will blend well with a pack. I am a truly loveable boy! You can see I'm a beautiful boy with my shiny black coat, white tuxedo front and sugar feet. Hope to meet you soon!