Jose
8 years old · Male · Red · Not Cat Tolerant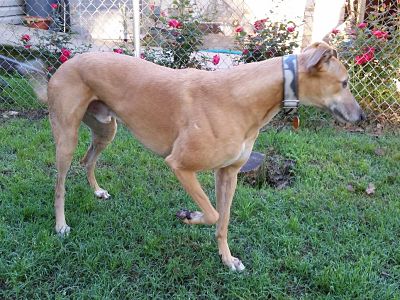 Bio
Jose is a very unusual greyhound. He's either hyper-attentive, or half-asleep, with very little middle ground. He is obsessed with toys in general, and squeaky toys in particular. His current favorite is a nubby red ball. Every time he goes out, he tries to bring it with him, and when he comes back in, it's the first thing he looks for. He loves to play "find the ball" where his humans hide the ball in a different, but visible, place (sometimes only visible from one direction) and he runs through several rooms, tail wagging, looking high and low until he finds it.
Jose loves to play fetch with his squeaky ball, too. He's one of the few truly retrieving greyhounds. Jose carefully watches the ball until it's thrown, then does whatever it takes to snag it quickly, sometimes with acrobatic leaps. Then, he returns to your side, squeaks the ball vigorously several times, and drops it for the next round. He will continue this until he's exhausted, and when he's finished, he takes his ball to the door to be let in to rest for a while.
When not obsessed with a toy, Jose is extremely low-key, and needs to be drawn out and lavished with love. If left to his own devices, he would lie patiently forever until love comes to him. He does enjoy attention, as you can tell when he is leaning against your leg, or standing close by while you pet him, but is not very demonstrative about it.
Jose needs his humans around a lot. He doesn't like being left alone for long periods of time, so his ideal forever home will be with people who are retired or work from home. Also, his home should have only mostly grown children in it, if any at all, because of his liking to grab stuffed animals from his humans' hands. Thunderstorms haven't been too thrilling for him, either. He tends to hunker down until they pass.
Jose gets along, and is very congenial, with the other greyhounds. He has ignored the occasional rebuffs of other greys without batting an eye. Because of his high prey drive, he would be best only with dogs of his size that aren't excessively furry.
Jose is a special dog waiting for his very special forever home with people who can appreciate what a great dog he is!