Buddha
Adopted
4 years old · Male · Black · Not Cat Tolerant · Origin: Not Provided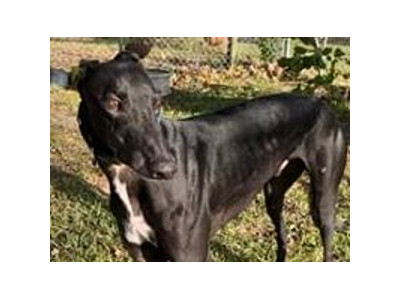 Bio
Hey there – allow me to introduce myself! They call me Buddha (aka Buddha Episode) and I would love to make your acquaintance. As you can see, I am an athletic kind of guy with a silky black coat with a slight tuxedo front. I have a couple of sugar toes. After an illustrious racing career in Florida (102 races in all), I find myself retired at age four.
Foster Mom says I am very smart – discovered the dog door within minutes of my arrival at her home. I am extremely friendly with people and dogs I meet. I've shown too much interest in kitties and my foster mom says cats are not safe around me.
If you become my forever person, I will attach myself to you and would love to be your closest companion. I am playful but have not discovered the wonder of toys just yet. I crate nicely when needed and I haven't gotten on the furniture at FM's home. I love kids, but because I am such an energetic strong boy, it would be best if I am in a home with older children.
If you want to meet me, please contact the folks at Greyhounds Unlimited. They will be happy to introduce us.