Bucki
Adopted
2 years old · Male · Black · Not Cat Tolerant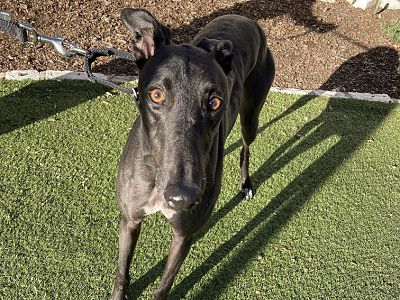 Bio
Bucki is a stately black male who has made tremendous progress in just six short weeks in his foster home.
Bucki is very fearful of noises, especially outside. Freeway noise as well as planes and loud cars and trucks are especially bothersome for him. He had to be led into the back yard but now will go out with the other dogs almost every time. He kept away from us for the first two weeks but now constantly approaches us for attention. He loves to put his head in our laps.
He is a good eater, sleeps on a dog bed in the master bedroom at night, shows no interest in getting on the furniture and does not require crating. He is beginning to show interest in toys. We do go for a walk every day.
Bucki would do best in a quiet, adult home with a fenced yard where there is another confident dog to show him the ropes and be his leader.
If you have the patience and or experience to work with Bucki through his fears and watch him blossom he is well worth the investment. It is very rewarding to watch him grow every day. He wants nothing more than to please and do the right thing.
If you would like to learn more about Bucki or meet him please complete an on-line adoption application and mention his name.