Della (aka Della Emma)
Adopted
22 months old · Female · Fawn · Not Cat Tolerant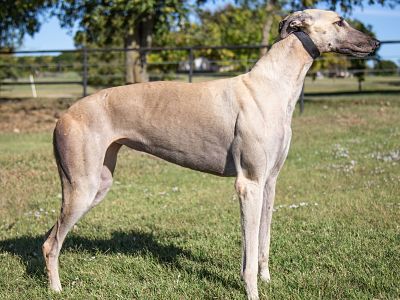 Pedigree Information
Greyhound Data provides information about greyhounds from all over the world with pedigree information drawn from the last four centuries.
Click here and you will find the pedigree, the littermates, and the races of Della.
Bio
Della is a sweet and playful 2 year old fawn. She loves to play, play, eat, and play! She likes to play with stuffies, balls, squeakers, other dogs and people. She is very much still a puppy and has loads of energy for a greyhound. She throws toys high into the air, plays ball all over the house, romps in the back yard and still wants to go on her walks!
At first, Della didn't know what to think about us or being in a house. She has been working hard on discovering life as a pet. While she sometimes runs from us if we move toward her too quickly, overtime we have begun to build up trust. She will often come when we call her, gives sweet little kisses, and loves to receive scritches and belly pats. She has a sweet little snuggle and there is no more rewarding of a feeling than seeing she feels safe with you as she lays her head in your lap while she dozes. Because she is sensitive to unpredictable movement and noise, a home with older kids who can give her space and patience would be best as she continues to learn to trust and live in a home.
Della loves her walks, and she is very good on a lead, especially if you have the lead in close, she rarely will pull which makes her fun to walk. If you let her lead slack she may pull a bit to sniff a round, but it is not bostirus. She hasn't got too riled up seeing other dogs, waterfowl on the leash, but we have yet to see a bunny or squirrel while out this time of year! Update- we saw a squirrel - Della was out of her mind, I was able to control her, but she was hot to get that pest so you will want to be on the look out so she doesn't catch you off guard (Squirrel 1, Della 0)
Speaking of Squirrels, she often chases the neighborhood squirrel off our back fence. She tries to be first out the door to make sure he hasn't come back, checking the fence each time she is let out back. She has yet to come close to nabbing one, but she does ilike to jump up to try to nab the little boogers. (Squirrel 2, Della 0).
She is not mischievous, but she is definitely a curious pup! When we first brought her to our home we had to watch her like a hawk to see what she would "steal" next. As time has gone on, it turns out, this was Della's way of investigating the world around her. She still takes things from time to time, but this has almost completely stopped now that she is familiar with her surroundings.
Della has occasionally barked at the mailman, UPS guy or neighborhood kids out the front window, seems she may have a protective streak in her, or maybe she thinks they have treats. Regardless, she has several unique barks that she uses to indicate her mood... There is the strong and sharp "get off my lawn" bark. The pomeranian like squeaky bark when she wants to play or is trying to play- this gets more intense. But the loudest and most energetic bark we have heard is the ARMAGEDDON - THERE IS A SQUIRREL on the Fence Bark, It is loud and deep and there is no mistaking that action is needed! (Squirrel 3 - Della 0).
Potty training is going well overall. We have had a few accidents during the day, but none at night. We have struggled to identify her signal to need to go out. She will pace at night when she needs to go out, overall there seems to be an antsy component to her indication, and we are letting her out frequently to prevent further accidents and this is going well. She has not had an indoor accident in a few weeks. She does not like the dog door, and will not use it.
Della is quite the sofa hog! She has a real talent to stretch out her body to achieve maximum real estate. If you prefer for her not to be on the sofa, a firm "unuh" or "no Ma'am" will do the trick, but you will need to be persistent, This girl has gumption! While she may be persistent she is also a very smart girl and has caught on to most of our routines quickly.
Della is an absolute food nut. She is a counter surfer and will do her best to get her little paws on anything she can, so you will want to make sure you keep food but away, and never leave your dinner plate unattended around Della… I would be shocked if your food was still there on your return.
All in all, Della is a lovely girl who will make a lively addition to your home and with patience she will be a dear companion as well. Arrange to meet her for yourself and you will see how special she is.