Juliet
Adopted
2.5 years old · Female · Black · Not Cat Tolerant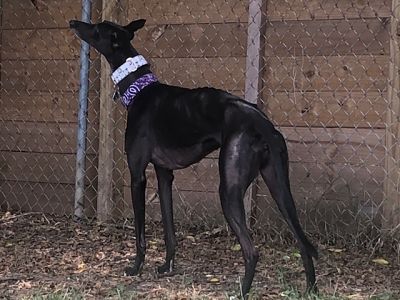 Bio
Meet your new best friend, Juliet! She was returned to GU through no fault of her own and is looking for a new place to call home. She is a very affectionate girl that craves attention. She will enjoy laying her head in your lap and looking into your eyes. She would adjust to a new home very quickly. In fact, she was playing with toys within 10 minutes of arriving at her foster home. She can become quite excitable when you grab the leash or come home from work. She has energy for days and would do best in a home with a backyard. She is very good about telling you when she wants to go out, which is more often than other dogs. She may even like using a doggy door if you have one.
Juliet's leash manners are still a work in progress, but she is showing improvement. She loves going for a long walk, followed by a nice nap. Her other favorite pastime is hunting for squirrels in the backyard. She will even stand on her hind legs to reach for one! She is a major shoe thief but hasn't been destructive in the house. She stays off the furniture and sleeps well in the master bedroom. She is very food motivated and would be a good candidate for obedience classes or even agility training.
Please consider making Juliet a part of your family. She is easy to love and eager to love you back!