Beckett
Adopted
16 months old · Female · Black · Not Cat Tolerant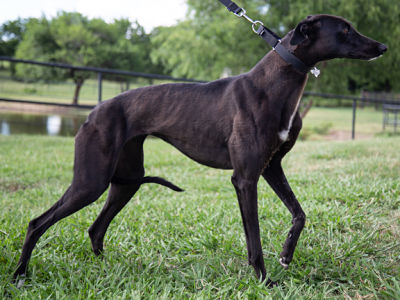 Bio
Beckett is a cute, sweet; petite black girl. She can be shy and reserved but also has a playful side.
She is quiet in the house but likes to play with toys and with her foster sisters. She does not require crating and prefers not to be. She gets along with small and large dogs and sleeps on a dog bed in the master bedroom at night. If she has the option, she loves to be on the couch. Her favorite pastime is going for a walk. She is always nearby and very affectionate.
Beckett would do best in an adult home with a fenced yard where there is another dog to play tug-o-war with.
Beckett came into rescue with a traumatic injury to her left eye rendering her with no sight in that eye. This, coupled with a glaucoma diagnosis, led us to the decision to have the eye removed. This has in no way hindered her from normal activities.
If you would like to learn more about Beckett or meet her please complete an on-line adoption application and mention her name.