Remington
Adopted
6 years old · Male · Red Ibizan Hound · Cat Tolerant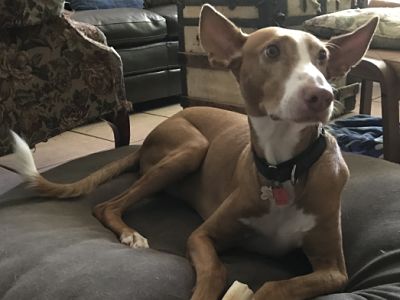 Bio
Remington is an Ibizan- of the sighthound family and the breed originates in Spain. His huge ears give him away :). He is living in a home with a large Pyrenees and 5 cats. The cats are totally indoors and Remi has no interest in them, other than their food! He is very food motivated and can hardly contain himself at feeding time- doing circles around the kitchen island, or just circles. He has finally learned to sit for his meal- and it took a very long time to learn! It turns out from doing research on the breed that they can be stubborn and 'independent' one site said! I think because of his love of food and meal time, he will happily learn more tricks. He loves chewing on his bones and stuffed animals- the bones are his favorite. He plays very well with the Pyrenees and chews on him like a stuffy and climbs all over him as Braxton is 120 lbs of fur. Remi loves to run around the back yard and play with the other dogs and has been doing very well sleeping through the night in the house.
Remington is part of a group of dogs that are referred to as special needs. This is because he is on meds for seizures, which are believed to be epiliptic. Seizures seem to be something that the Ibizan breed is known for. He gets his pill twice a day and the limitation in owning or fostering him is the fact that it is very important for the pills to be spaced out at 12 hr intervals...which means the owners are on a schedule like he is :). He had a couple seizures before we received him and he had another episode of seizures about 3 mo's later. His meds have been adjusted since then and so far he has done fine. If you have never had a dog with seizures then it can be a little frightening the first time you see one. We, as his fosters, had a lovely Lab that had seizures over the 14 yrs we owned her, so we were prepared. His seizures are very short- meaning he has gone into them and out within 5 min's- and then he is very wound up and thirsty afterwards. Two side effects from the medicine is increased thirst and food desires ;)...Remi would eat constantly if given the chance! Because of this the water bowls in our house are picked up overnight.
Remington is a really sweet boy- he loves attention and would climb into bed if allowed! He has a dog bed he loves and goes to bed on his own. He will nose you when he wakes up and needs to go out. Not only does he ignore the cats but he has also been out with our chickens and shows no interest whatsoever...I guess he fails as an Ibizan as the breed was raised to hunt! Yeah!!!
If you would like to add a sweet loving boy to your home Remington will not disappoint! He, like all animals, does not know he has anything wrong with him- and epilepsy does not seem to shorten lifespans, so you will get his love for many more years to come.