Tripp (aka Tripped Out Easy)
3 years old · Male · Brindle w/ White · Cat Tolerant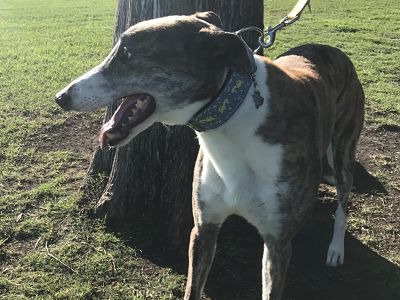 Bio
Tripp is a three (3) year brindle greyhound. He is a timid, GORGEOUS, very sweet, big greyhound. Tripp has impeccable house manners. He is cat tolerant and one of his feline siblings will rub on him. Tripp feels very comfortable hanging in his kennel most of the day and at times he will hang out with his foster mom and the other greyhound in the family room. When Tripp needs to go to the bathroom, he will go and find his foster mom and gives her a sign that he needs to go out to the bathroom.
Tripp loves to go for his walks and he will take his paw now and slap his foster mom on the leg when he knows it is time for his walk. Tripp walks extremely well on a leash. However, he does not like it when someone he doesn't know is walking up behind him. He gets nervous and keeps look behind him. Tripp initially didn't take treats but now he is taking treats out of his foster mom's hand. He gets super excited to get his dental chew when it is time to go to bed. Tripp does not like loud noises and when the tv is on he leaves the room no matter how low the tv volume is.
Tripp would do best in a quiet home with someone that can help build his confidence. Sudden movements and sounds upset Tripp so a home with small children would not be a good fit for Tripp. He is storm phobia. Tripp wants to be close to his foster mom when it is thundering. He likes to huddle down in a hallway where he doesn't hear the storm so much and he wants his foster mom close by.
Also, if you have room for two beautiful boys, his brother Cray is also available. It would be awesome if the brothers could stay together. They recently went on a walk with their foster moms and Tripp was giving his brother Cray kisses.