Sully (aka Little Big Guy)
3 years old · Male · Red w/ White · Cat Tolerance Unknown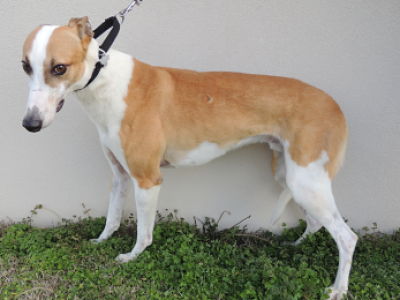 Bio
Sully was born into a racing family on April Fools Day 2017 and never ran a race. He has been in foster care since just before his 3rd birthday, and he has adjusted a lot since then. Sully is very timid and slow to trust, but in the time with his foster family he has shown a very sweet demeanor. He likes to find a quiet corner near his foster dad whenever he can, and he avoids the rambunctious kids most of all. He still needs encouragement to journey through the house from his quiet corners to the back yard, but he's more and more trusting of the family and continues to act more and more comfortable at home. So far, he is only beginning to take some treats from foster dad's hand and won't approach anyone willingly, but he will follow foster dad through the house when beckoned and accept a leash when it's time for a walk.
Sully has an incredibly sweet demeanor and adorable ears! Just wait until you see his curiosity peak and watch his ears point way up to the sky. And when his tongue hangs out the side of the mouth at the same time? Even better! He roaches with the best of them, too! I expect there's quite the personality hiding behind his timid shell. He gets along very well with our incredibly playful 4yo greyhound, even when he hugs close enough to Sully to be his shadow! He's a great eater, so food may just be the way to win his heart.
Sully would do best in a quiet, child-free home where his people can give him time and earn his trust, and another hound to befriend would be nice, too!