Tigger
Adopted
10 years old · Male · Brindle · Cat Tolerance Unknown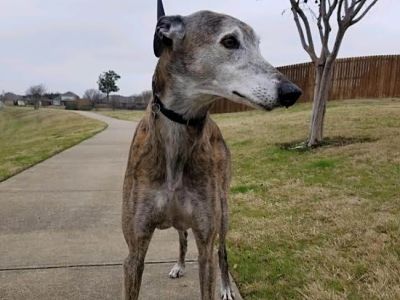 Bio
Meet Tigger!
Tigger is a 10-year-old male, who looks just like his namesake - he is a very big and handsome red brindle boy with a distinguished frosty face. Tigger was adopted 7 years ago and has been living as an only greyhound. He was returned to GU, through no fault of his own, due to his owner's illness.
Unlike the cartoon Tigger, our Tigger is a very gentle boy. He is sweet, soft and quiet. He enjoys attention, but is not a "velcro". He will come and politely greet you when you come home and will come to you when he wants some love. Most of the time, he does what this Tigger loves to do: lazily enjoy his day.
This loveable gentleman has near-perfect indoor manners, he has not attempted to get on the sofa or bed. He has not marked in the house, and he signals when he is ready to go out, by quietly standing by the door. Tigger sleeps on his dog bed in the master bedroom at night.
Tigger does love people food. While his weight has not been affected, he gently looks at you when you have your dinner plate in hand, and is usually found underfoot in the kitchen during meal prep times. I can almost picture him with an apron and chef hat when he is in the kitchen looking to "help" out with dinner.
Since coming to stay in our home a few weeks ago, Tigger has been somewhat shy about taking treats from our hands or interacting with toys. He will generally eat any treat when it is placed on his bed and given his own time to enjoy. He has increasingly been accepting hand-fed treats, and will always take anything that is a favorite (Who doesn't love a bit of bacon?)
Tigger is a slow eater. Previously, he was free fed, but in our home, we feed twice daily since we have another pup, and he has adjusted just fine.
While Tigger does like food, he is not big on thunderstorms. He does his best to take them in stride by doing a bit of pacing to cope during the storms.
Tigger has been getting along fine with other greyhounds, even though he has been an only dog. He is NOT an alpha, and while he is patient with others, he does have his limits and likes his space when he is tired. Tigger has not been too interested in playing with our young grey and has been slow to play with the stuffies and kongs, however, as Tigger is beginning to feel more comfortable in the house, he is starting to show interest in stuffies. I think this shy boy has tons of spirt that he has yet to reveal.
Tigger has been enjoying daily walks with us and looks forward to them. He has been building his endurance and strength in his rear legs on the walks. He also likes riding in the car and going to the pet store. Almost serving as a sentry, Tigger enjoys being in the backyard watching for cats and squirrels that would dare to walk the top of the fence.
One other area we have seen his eyes light up is when meeting people! He loves when strangers stop to give him pets when we are on our walks. Come by and meet this dear sweet boy at a meet n greet soon- He would love to say hello!