Celine (aka Flying Sycamore)
Adopted
6 years old · Female · Black · Not Cat Tolerant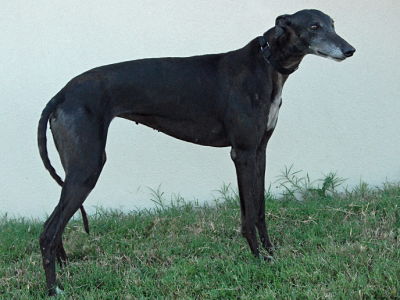 Pedigree Information
Greyhound Data provides information about greyhounds from all over the world with pedigree information drawn from the last four centuries.
Click here and you will find the pedigree, the littermates, and the races of Celine.
Bio
Hello! My name is Celine. I'm a lively girl who turned seven years old on Christmas Day! I'm a petite lady with a shiny black coat and 'sugar feet'. Yep, that's right – I have touches of white on my toes! These sugar feet propelled me through 150 plus races in my career! I might be small in stature, but I am quick!
I can be described as a sweet, loving girl who loves to give kisses and appreciates scratches and ear rubs. I made myself right at home at my foster mom's house. I figured out the dog door in less than an hour after I arrived, and have not had a single accident in the house.
I also discovered that big old leather sofa; what a comfy place to snooze the day away! And, guess what? There are toys to play with! I can unload that toy basket faster than FM can pick 'em up! She says it looks like the toy basket blew up!
I like kids and get along great with my foster greyhound brother and my foster mom's lab mix. I must confess however, that I much prefer chasing small animals as opposed to being their friend! (Probably comes from running after that fuzzy white rabbit at the track so many times.) Obviously I can't be in a home with little furry creatures. I will be glad however, to keep the squirrels busy in your back yard!
If small pets are not a problem for you, I will be your constant companion and snuggle buddy. Please consider giving me a forever home. If you are interested in meeting me, please contact one of the adoption coordinators at Greyhounds Unlimited. You will not regret it!
Love,
Celine
P.S. – My foster mom says I would be a good dog for first-time greyhound adopters...