Noelle
Adopted
2 years old · Female · Black & Tan Saluki · Cat Tolerant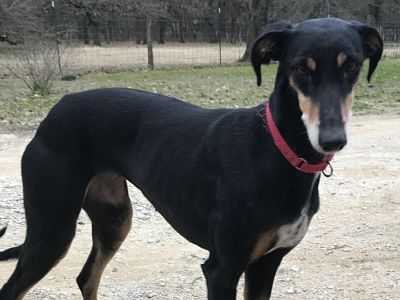 Bio
Here are two special ladies who were rescued in December and appropriately named Noelle & Joy. They are Saluki's- which are members of the sight-hound family.
They were rescued by two good Samaritans who found them running loose…actually it would be three Samaritans if you count the sweet pit bull named Blue, who brought home the 2nd one.
They have been vetted by GU and are now in our foster care together. They have both fit into a home routine very well. There are 5 cats they are sharing the home with, along with Braxton, a 123 lb Great Pyrenees, which needless to say was a bit intimidating the first night. There was a smaller dog who was here being babysat for a couple of weeks too. The girls have ignored the cats and in fact are a little intimidated by them as a couple will hiss, and sometimes we hear whining and they won't come down the hall as the cat is there!
The vet thought they were around 2 yrs old, but Noelle appears the elder and looks to have had a litter…could they be mom and daughter?? There's no telling, but they certainly are close.
They both have strong appetites :), which means they let you know when it's time for breakfast or dinner. Bones are a favorite treat.
They love to play and when outside race around like on a track, even involving Braxton. Joy is submissive to both Noelle and Braxton, rolling over on her back, but then taking off like a shot. Their foster home also has chickens and cows. The cows are not too interesting, but the chickens...
Most nights both sleep right through without a sound in dog beds in the living room. We do muzzle them overnight as sometimes if Braxton or one of the cats walk too close to their bed they growl- probably protecting their 'area'. We are working on that behavior. Also, shoes and socks have been known to show up in Joy's bed along with her stuffies, so we have to stay on top of our housekeeping.