Jen
Adopted
2 years old · Female · Black · Cat Tolerant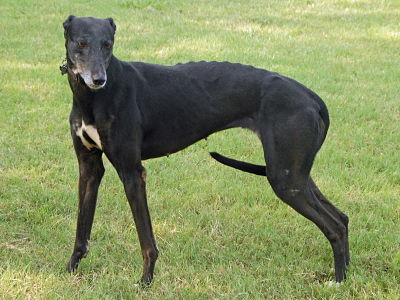 Bio
Jen was found as a stray and is learning to trust people. Jen loves her routine and she gets super excited going on a walk. She walks very well on a leash unless she gets scared and then she wants to pull you. Jen does not show well at a meet and greet. She still thinks they are too scary and will tuck her tail. So when you meet her at a Meet and Greet please remember she thinks they are scary and she does not act that way at home.
Jen loves to cuddle with her "foster greyhound brother" even though her foster greyhound doesn't want anything to do with cuddling with her. Jen gets along well with the two Siamese kittens in the house. Jen is able to sit very prettily and she loves to cross her two front paws. And when she takes a treat out of your hand so daintily it will truly melt your heart.
Jen is nervous when there are loud noises and does exhibit some storm phobia. She paces when she hears loud storms. She loads and rides very well in a car. She settles down very quickly in the car.
Jen's ideal home would be with another dog. She might do well as an only dog after some adjustment period and who has the patience to earn her trust. However, she does seem to gravitate towards the other greyhound in the home when she becomes nervous and needs comfort.
If you have the patience to work and love this sweet sweet girl, please come to a Meet & Greet to meet her!!!!