Harvey
2.5 years old · Male · Cream Saluki Cross · Not Cat Tolerant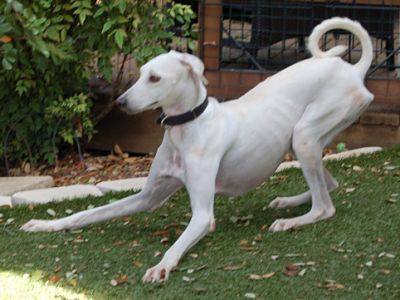 Bio
Harvey is a Saluki cross from the Middle East, he arrived on a flight from Qatar on 10/27/17.
Input from person who coordinated his travel:
Harvey had been dumped near a shelter in early 2015, as a puppy with his mum... therefore born late 2014/early 2015. He is not good with cats, but friendly and playful. He is active but not a barker or howler. He stayed at the shelter in Qatar until his October flight to Dallas (2-1/2 years).
Input from foster mom in Texas (day 3):
Harvey seems amazingly hardy and resilient... recovered from his long flight from Qatar to Germany to DFW remarkably fast. What I've observed so far is that he's a good eater, crates well, and is light as a feather on the leash. Pure delight to walk. Super trusting of people, wants to be near and follows me around. A bit leery of his new pack (all much larger than he is), but that's getting a little better each day. Excellent progress in less than 48 hours on his housetraining. Adorable saluki traits, sweet as he can be. He is definitely underweight, but with his good appetite hoping he will start filling out soon.