Harvey
2.5 years old · Male · Cream Saluki Cross · Not Cat Tolerant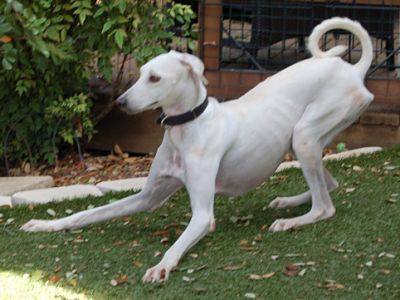 Bio
Harvey is a Saluki cross from the Middle East, he arrived on a flight from Qatar on 10/27/17.
Input from person who coordinated his travel:
Harvey had been dumped near a shelter in early 2015, as a puppy with his mum... therefore born late 2014/early 2015. He is not good with cats, but friendly and playful. He is active but not a barker or howler. He stayed at the shelter in Qatar until his October flight to Dallas (2-1/2 years).
Input from foster mom in Texas (day 3):
Harvey seems amazingly hardy and resilient... recovered from his long flight from Qatar to Germany to DFW remarkably fast. What I've observed so far is that he's a good eater, crates well, and is light as a feather on the leash. Pure delight to walk. Super trusting of people, wants to be near and follows me around. A bit leery of his new pack (all much larger than he is), but that's getting a little better each day. Excellent progress in less than 48 hours on his housetraining. Adorable saluki traits, sweet as he can be. He is definitely underweight, but with his good appetite hoping he will start filling out soon.
Update from foster mom in Texas (day 28):
This little 45-pound guy will make an EXCELLENT walking companion for someone who enjoys longer walks than most greyhounds can endure! Salukis are known for their endurance; they don't tire and pant like a greyhound, they keep going and going. Yet they have that same quiet laziness around the house. Harvey has wonderful leash manners, loves to go for walks, and is not skittish about anything along the way, not even trash trucks, motorcycles, or delivery trucks, which his foster mom finds absolutely amazing, considering he's spent his entire life in a shelter.
Harvey accepts treats ever-so-gently, and has a tender, soft, and delicate demeanor. He has mastered the pet door, mastered his housetraining, and no longer counter-surfs. He is no longer leery of his new pack, gets along with everyone, seems to feel right at home, especially now that he has his own little Saluki-size bed.