Twilight (aka Moe Jones )
Adopted
3 years old · Male · Black · Cat Tolerance Unknown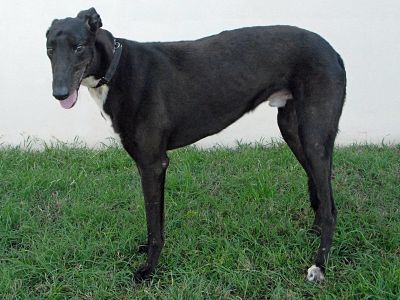 Pedigree Information
Greyhound Data provides information about greyhounds from all over the world with pedigree information drawn from the last four centuries.
Click here and you will find the pedigree, the littermates, and the races of Twilight.
Bio
Twilight is a 3-year old black male, born 2/11/14. There were 3 puppies in his litter, all black males: named Larry, Curly, and Moe. Twilight is Moe, actually 'Moe Jones' on his pedigree. Then early this year, Moe was picked up as a stray in Fort Worth, and Greyhounds Unlimited began caring for him.
Twilight aka Moe has been in his current foster home since 5/21/17. He gets along wonderfully with the other dogs in the house (all sighthounds), he's playful but not destructive. He's a calm, quiet, sweet boy who craves human attention. He is sometimes a little on the shy/cautious side, and there have been a few people who instantly seem to frighten him, we're not sure why. Good eater, crates easily, walks beautifully on leash. He figured out the pet door within a week, to his foster mom's delight.