Alfie (aka He Zipper)
Adopted
3.3 years old · Male · White & Black · Cat Tolerance Unknown · Origin: Australia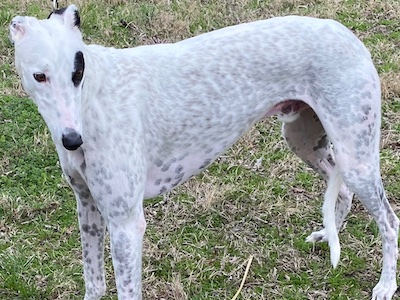 Pedigree Information
Greyhound Data provides information about greyhounds from all over the world with pedigree information drawn from the last four centuries.
Click here and you will find the pedigree, the littermates, and the races of Alfie.
Bio
Alfie is from Australia, adoption fee is $750 plus Texas sales tax.
Alfie can be quite playful with tennis balls and softer toys but would very much prefer treats and any type of food enrichment. He can be rather boisterous and jumpy at times, so would best suit those with older/teenage or no children. He doesn't mind spending time on his own and fulltime workers wouldn't be a bother. Alfie walks quite well when on a harness but is still learning that he now doesn't need to bounce around everywhere he goes.