Be an Angel for GU's Greyhounds this Holiday Season
Experience the joy, warmth, and peace during this wonderful season by becoming an Angel for the Greyhounds in our care by simply donating $25 or more. For each $25 donation you will be entered in the drawing for this beautiful painting as well as having who it is from, who you are an angel for, and either or both "in Memory of" and "in Honor of".
Go to http://greyhoundsunlimited.org/angels/ to see all of this year's Angels as well as previous year's Angels.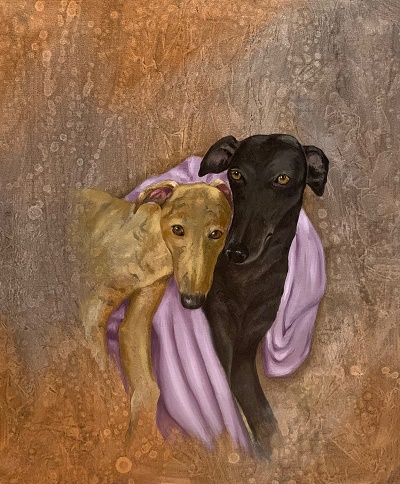 "Friends in Need"

These two found each other and became friends in the most uncertain and unsettling time in their lives. When dogs find themselves uprooted from all that is familiar, they often find closeness, warmth, and solace in the heartbeat of another dog.

The Greyhounds that come into our homes give us the same kind of comfort. They make us laugh as they throw their newfound stuffies in the air or cuddle up with us on the sofa. Please consider opening your heart to fostering, adopting, and supporting these loving dogs.
ABOUT THE PAINTING

The painting, "Friends in Need" is a 20" x 24" oil on deep stretched canvas with gallery finished edges by Denise Saleh. This piece may be hung as is or framed. The background does not phot all that well as it is copper and silver metallic. Much more impressive in person.

Click here to learn more and to become an Angel for the Greyhounds.
Go to http://greyhoundsunlimited.org/angels/ to see all of this year's Angels as well as previous year's Angels.
*********************************************************
NOTE DATE CORRECTION BELOW

ONLINE SALES end at 10:00 PM Central on Thursday, January 20, 2022

The drawing will be held at the Grapevine Meet and Greet
on Sunday, January 23, 2022. You do not have to be present to win.
*********************************************************
Help by becoming a foster home!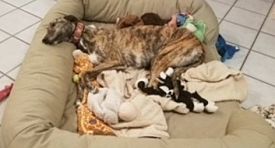 She is quite comfortable in her new foster home...
We also hear that she has a toy-hoarding problem...
We are still in dire need of foster homes for our incoming hounds. Foster homes are the bridge that leads to a forever home for our adoptable hounds, giving them a head start on getting accustomed to living in a home instead of a kennel, teaching them all the new and wonderful things they will encounter in a home that they may never have seen before.
If you are ready to give fostering a try, please send an email to mickynielsen@att.net. One of our foster coordinators will contact you to talk about fostering and how you might be able to help, what your obstacles might be and how we might overcome them together. We all want this to be a successful experience for you and your new foster!
And the greyhound in the spotlight is ... Bucki!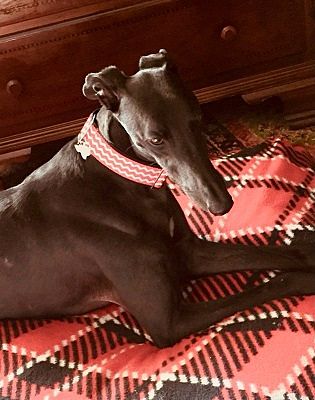 Bucki is a black male greyhound, celebrating his third birthday in June. Presenting a sleek, toned racing body, he also is fearful of many aspects of his life. Noises scare him and routine is especially important. Bucki is labeled as a "spook".
He loves riding in the SUV, taking walks, and looks forward to his meals. He is nonaggressive and very affectionate when comfortable in his surroundings. Bucki is a pleasant challenge and a very handsome boy.
Please consider opening your heart and home to this sweet greyhound!


Donate and Express Yourself on our website
Memorial Page: Express yourself regarding the passing of a loved one, be it hound or human. These usually post within 7 days.
For more details and to Submit your Memorial Request
In Honor Of: Honor someone's Anniversary, Birthday, Graduation, Appreciation, Addition to the Family and anything else you wish. You can request a complimentary email (optional) be sent to the recipient containing your message. These usually post within 7 days. If you would like to have a photo posted along with your message you can email one to guonlinestore@msn.com.
For more details and to Submit Your "In Honor Of" Request
Rainbow Bridge: You can list your animal companion accompanied by your name on the Rainbow Bridge page. This is of no cost to you but of course donations are always appreciated.
For more details and to Submit your Rainbow Bridge Request
Can't Donate? Let others do it for you!
Tom Thumb Good Neighbor Program – Register Now and Help the Hounds
Tom Thumb will donate 1% of the purchase price of groceries when you use your Tom Thumb Rewards card. All you have to do is go to the Tom Thumb Good Neighbor Program, fill out the form using our Charity #2743, take it to the customer service counter at your store.
Current Greyhounds Available for Adoption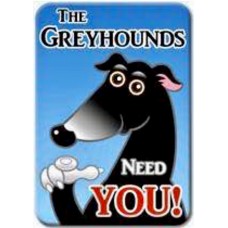 Help Us Now, Make Your Donation Today
Greyhounds Unlimited is a non-profit, all-volunteer organization with no paid staff. Your support is always needed and greytly appreciated, especially by the hounds. Cash donations are always welcome, and 100% of all donations support the ongoing needs of the greyhounds in GU's care.
You can make a one-time donation or recurring monthly donation by clicking on the donate button.
One-time or Recurring Donation
or mail your check to:
Greyhounds Unlimited
P.O. Box 703967
Dallas, TX 75370-3967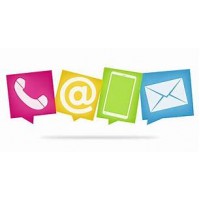 Please tell us if you have changed your contact information or your Dog's name.