Be an Angel for GU's Greyhounds (including the Irish Greys)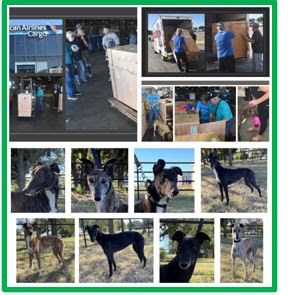 On October 20th, GU welcomed its first group of Irish Greyhounds into the family. The following Wednesday, we received three more for a total of 8 Greyhounds from Ireland. "Feed Me Gateaux", "Gusty Ozzy", Jaxx Love Story", "Mugs Away" and "Scary Mission", "Bass Strait", "Witches Lyon" and "Whitewood Axel" arrived at DFW after a 10-hour trip from Heathrow Airport in London in specially made wooden crates for their flight to the US.
GU volunteers waited with anticipation to greet them in the American Airlines Cargo terminal. Your donations will help with the expenses associated with our Irish Greyhounds.
Experience the joy, warmth, and peace during this wonderful season by becoming an Angel for the Greyhounds in our care by simply donating $25 or more. For each $25 donation you will be entered in the drawing for this beautiful painting as well as having who it is from, who you are an angel for, and either or both "in Memory of" and "in Honor of".
Go to https://store.gu-tx.org/ to register.
Go to http://greyhoundsunlimited.org/angels/ to see all of this year's Angels as well as previous year's Angels.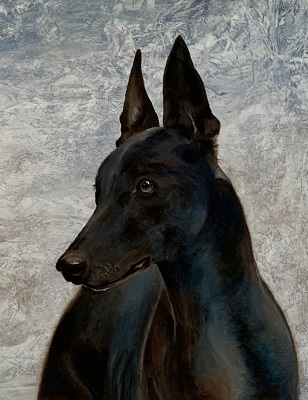 "Origins"

Egypt is considered to be the place of origin for the modern-day sighthound such as the Greyhound. The first Greyhound type canine is evidenced to be in existence about 8000 years ago. Greyhounds are considered to be one of the oldest purebred dogs. From their ancestors to modern day Greyhound pets, their magnetic beauty and calm temperament remains. Our own Greyhound pets can sometimes conjure images of the Egyptian Anubis. We must preserve the Greyhound breed and continue to enjoy them as our treasured companions. Please help Greyhounds Unlimited in their effort to preserve this wonderful breed and find loving homes through adoption. Please consider fostering, donating, or adopting.
ABOUT THE PAINTING

The painting, "Origins" is a 20" x 24" oil on deep stretched canvas with gallery finished edges by Denise Saleh. This piece may be hung as is or framed. Much more impressive in person.

Help by becoming a foster home!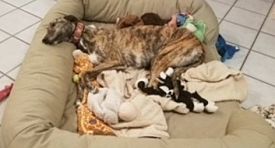 She is quite comfortable in her new foster home...
We also hear that she has a toy-hoarding problem...
We are still in dire need of foster homes for our incoming hounds. Foster homes are the bridge that leads to a forever home for our adoptable hounds, giving them a head start on getting accustomed to living in a home instead of a kennel, teaching them all the new and wonderful things they will encounter in a home that they may never have seen before.
If you are ready to give fostering a try, please send an email to mickynielsen@att.net. One of our foster coordinators will contact you to talk about fostering and how you might be able to help, what your obstacles might be and how we might overcome them together. We all want this to be a successful experience for you and your new foster!
Donate and Express Yourself on our website
Memorial Page: Express yourself regarding the passing of a loved one, be it hound or human. These usually post within 7 days.
For more details and to Submit your Memorial Request
In Honor Of: Honor someone's Anniversary, Birthday, Graduation, Appreciation, Addition to the Family and anything else you wish. You can request a complimentary email (optional) be sent to the recipient containing your message. These usually post within 7 days. If you would like to have a photo posted along with your message you can email one to guonlinestore@msn.com.
For more details and to Submit Your "In Honor Of" Request
Rainbow Bridge: You can list your animal companion accompanied by your name on the Rainbow Bridge page. This is of no cost to you but of course donations are always appreciated.
For more details and to Submit your Rainbow Bridge Request
Can't Donate? Let others do it for you!
Tom Thumb Good Neighbor Program – Register Now and Help the Hounds
Tom Thumb will donate 1% of the purchase price of groceries when you use your Tom Thumb Rewards card. All you have to do is go to the Tom Thumb Good Neighbor Program, fill out the form using our Charity #2743, take it to the customer service counter at your store.