Quantos
Adopted
12 years old · Male · Black · Cat Tolerance Unknown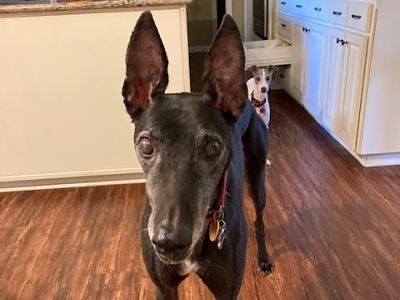 Bio
Quantos is 12 years young. He was returned to GU after his owner became too ill to continue to care for him. He is in very good physical shape for his age. He is happy and alert.
He is in a foster home with small, medium and large dogs. He has no separation anxiety, is not destructive in any way and completely housebroken. He sleeps on a dog bed in the master bedroom at night. He loves his daily short walks and has a great appetite.
Quantos is, however, partially blind. GU's vet feels his blindness cannot be reversed and that there is nothing proactive we can do at this point. He had his teeth cleaned and they are like those of a 2 year old and I brush them every day. He is currently not on any medications.
He would do best in a quiet adult home with a fenced yard and no pool or stairs. He gets around fine once he learns the lay of the land.
Quantos is very easy to have around and just needs a place to live out his life. If you think you could provide a loving home for Quantos, please complete an online adoption application and mention his name.