Ivory
6 months old · Female · Greyhound/Staffordshire cross · Cat Tolerance Unknown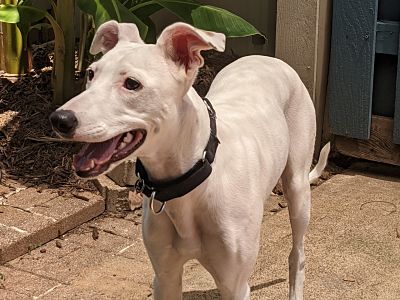 Bio
Ivory is a sweet, baby greyhound/Staffordshire cross, 6 months old. Since she's been in foster, she's learned to potty outside, and mastered the dog door and stairs. She jumps into the car, and waits patiently for me to grab her leash before jumping out. We're working on leash training so she doesn't pull, but she does love to sniff EVERYTHING. Part scent hound, maybe?
Ivory is a cuddler and sleeps well if you let her on the bed. She doesn't get up during the night and isn't a bed hog. Lately, she's been sleeping on the love seat at night with our other dog. Ivory will bark when she wants to play and is a little whiny about it if she's not getting the result she wants.
She loves to play with toys and will have you laughing out loud watching her throw them in the air and then pouncing on them so they squeak.
Ivory isn't fond of vacuum cleaner noise and we haven't had any thunder or fireworks to determine if those are a problem for her. She will sometimes play with other dogs at the dog park, but can also be a little intimidated by some of them. I don't force her to stay when she's uncomfortable.
As with most babies (and greyhounds), Ivory sleeps hard and often. No signs of sleep startle, but if you awaken her, the first thing she'll do is roll over for belly rubs. She's kind of shameless about the need for belly rubs.
We have enjoyed teaching Ivory new behaviors and skills. She's a fast learner and doesn't fight the effort to train. She's fun, affectionate and has enough confidence that she's not a velcro dog. Ivory would do well in a home with another playful dog and maybe children. She does have a sister who will be available for adoption after she's spent time in foster.
Ivory will be a delightful companion for someone who will love this adorable, whippet sized girl with a joyful personality.