Penny
2 years old · Female · Blue Doberman Pinscher Cross · Cat Tolerance Unknown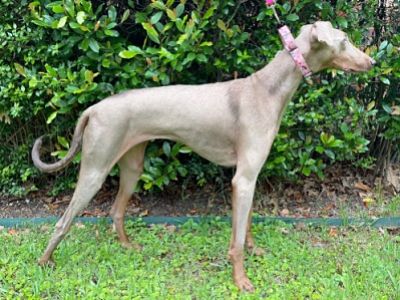 Bio
Pretty Penny is a petite girl looking for her forever family. Miss Penny loves adults and children of all sizes. During our time on walks and at the park she gravitates to children and patiently waits for attention. The more they pet her the happier she is. She would live to have a full time family group so she could get her full dose of cold nose cuddles.
Penny will do best with a family willing to give her direction and guidelines. Sit! Stay! Down! Off! All give her peace. I think this little girl would learn much more with the right training partner. Without instructions, she can become obsessive and will pace back and forth without pause.
Penpen loves being with other dogs. Her foster family has pups of all sizes and she gets along with all. She has a very unusual play stance and is still learning to play with others. She is very interested in interacting but she can get loud, so we are working on inside voices while playing.
When it comes to other animals she shows an obsession with birds and squirrels outside. She is happiest looking for new friends in the trees and pacing back and forth. She can literally do this for hours, so she will need limits to make sure she stays hydrated and your grass does not get worn down.
She is a healthy eater and is showing promise on growing back a healthy coat. Her teeth are bright and shiny and her toe nails are short and well maintained.
Penny does not enjoy being created and would prefer someone that has plenty of time to spend with her. She has not been destructive but her anxiety level peaks when left contained. She sleeps in a dog bed beside the human bed. She loves to come on the couch, if allowed, and will snuggle under a blanket if one is available.
This girl will make the right family very happy.