Chilli (aka Robell Skyla)
3.6 years old · Female · Red Fawn · Cat Tolerant · Origin: Australia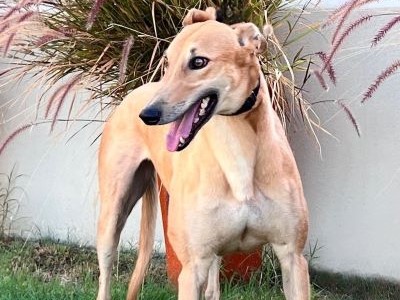 Pedigree Information
Greyhound Data provides information about greyhounds from all over the world with pedigree information drawn from the last four centuries.
Click here and you will find the pedigree, the littermates, and the races of Chilli.
Bio
Want to spice up your life? Chilli crossed the pond from Australia to Texas! She was born on February 15, 2020. Chilli is a gorgeous fawn female! Chilli won't burn your tongue, but she will melt your heart! Her racing name was Robell Skyla, and she raced 52 races in Australia! Chilli is the excitable flavor you have been searching for to add that extra zest to your home! She likes to play hard, and then she likes to "chill" hard! Chilli is cat-tolerant and gets along well with the cats and greyhounds in the home.