Tripp (aka Tripped Out Easy)
Adopted
3 years old · Male · Brindle w/ White · Cat Tolerant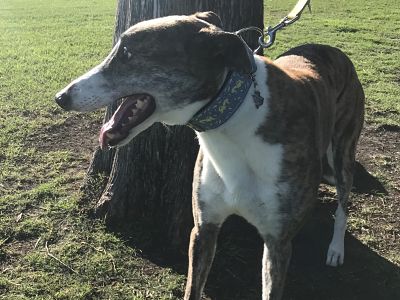 Bio
Tripp is a big, gorgeous three (3) year old brindle greyhound. He has impeccable house manners, walks well on a leash, and is cat tolerant. When he first came to Greyhounds Unlimited, Tripp was very timid, but he's made steady progress should continue to do so in a forever home. At this point, he's not afraid of people but he's still a worrier, so loud noises or sudden movements still startle him, however he calms down quickly.
This boy needs time to get comfortable in new situations, but once he settles down, he's content to nap in the room with his people (unless the television is on, then he'll usually excuse himself to a quieter room). As you might expect, Tripp does not like thunderstorms, but he's never exhibited any severe phobic reaction; he just finds a place to hide where he thinks the thunder and lightning can't find him.
Tripp loves to go on walks, he loves to eat, and once he's comfortable in his surroundings he loves to do early morning zoomies in the yard. So far, Tripp has only been in homes with other dogs, but he might also be fine as an only dog. When he has a dog-friend available, Tripp will sometimes want to race and rough-house in the yard. Unfortunately, the resident dog in his current foster home is a smaller, scruffy old man who's too badly outmatched in size and speed to enjoy that game. Occasionally, Tripp joins that dog in games of fetch, beating him to the ball, of course, but then not grasping the concept of bringing the ball back to his person—instead dashing around the yard, throwing the ball in the air to himself. His foster-mom thinks this is hilarious, but the resident dog is not amused. LOL.
Tripp would do best in a quiet home with someone willing to help him continue to build his confidence. A home with small children wouldn't be a good fit, since loud noises and sudden movements startle him, and because of his size and exuberance when he plays.
This boy hasn't had an easy time: Tripp was fostered for several months, adopted, then returned after only three months through no fault of his own (his adopter had an employment change that made her unable to keep him). For the last two months he's been living in a different foster home, where he's continued to gain confidence but still has a way to go. What Tripp needs is a forever home. He needs a stable environment where he can stay long enough to relax and become the silly hound we've so far only seen glimpses of.
If you happen to have room for two beautiful boys, his brother Cray is also available. Cray is not cat-tolerant, but otherwise the boys seem to have similar temperaments, and being together might boost their confidence.