Cowboys vs Saints Raffle Ticket
Featured Item!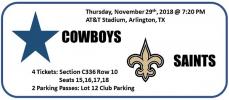 DALLAS COWBOYS
vs
NEW ORLEANS SAINTS
Thursday, November 29th @ 7:20 PM
AT&T Stadium, Arlington TX
*** ALL SOLD OUT! ***

GU is Raffling off a set of 4 Cowboys vs Saints tickets + 2 Parking Passes!
** Section C336 * Row 10 * Seats 15, 16, 17 and 18 **
There will be ONLY 100 tickets printed for $25 each.
These are Mezzanine Club seats! - the highest views of any club seating option - very good sight lines to all ends of the field.
In addition to the club amenities at Cowboys games - which include wider padded seats, private entrance, and access to premium upscale lounges - these seats will have amazing views of the legendary sideline facing video board. Steeper seating than the other club seating options, but with just 16 numbered rows in each section it will still be easy for fans to get to and from the seats.
Drawing will be held on Sunday, November 25th
No PayPal payments please
Checks must be received by Thursday, November 22nd at 2:00 PM
Any check received after Thursday, November 22nd will be voided and returned to sender.