Paw In Hand T-Shirt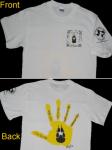 This special t-shirt was designed and featured for Greyhounds Unlimited 2010 Greyfest fundraising event.
Surronding the Paw Print on the front are the words: Save An Athlete Adopt A Greyhound
On the back of the t-shirt is a paw print nested inside of a hand print with the following words on the fingers: One by one until there are none ... that will be the sweetest day
The Original Artwork was donated by local tatoo flash designer Stormy Jones
These T-Shirts are Gildan Ultra Cotton made from 100% Pure Cotton.
Click on the picture for a larger view.
Price: $15.00