Be An Angel this Holiday Season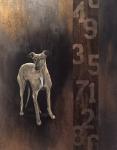 Thanks to all of the Angels this year! We were very successful in raising $6,550.
Congratulations to Dave G. of Grand Rapids, MI, the winner of the "Foster Dog" painting.
Greyhounds Unlimited Presents the 2018 Be an Angel Campaign: "Foster Dog"
"Foster Dog"
I am practicing to be someone's beloved pet. You will be my gateway to a whole new life. Because you have trusted me to be in your home, I am learning to trust. I have come from a structured environment where I spent a good deal of time with other Greyhounds. Please be patient with me while I learn to navigate through the unfamiliar surroundings of a home. I really want to please you and learn how to relax and soak up the love you have for me. Teach me to snuggle and show me how to play and be silly. One day when my special person comes along and decides to make me their very own, I will be so happy, but I will always remember my first teacher, my foster person. You gave me a chance, took me by the paw and taught me so much about life. Now I am complete.
Only with the help of loving foster homes can these Greyhounds learn the skills to become forever pets. With the current change in the racing industry, there will be more Greyhounds than ever, looking for a foster home and eventually a forever home. Please open your heart and your home, if possible, to help support the efforts of Greyhounds Unlimited. Through your empathy and generosity, we can make a new life for these wonderful Greyhounds.
The painting, "Foster Dog", is a 24" x 30" oil on canvas with gallery finished edges, by Denise Saleh. This piece may be hung with or without frame. Metallic undertones with a dark distressed glaze and a visual nod to the numbers with which these dogs are often identified such as tattoos, racing silks etc. The dog in the painting is Keeper Bash (Winnie). She has just recently become a foster.
HOW TO BECOME AN ANGEL FOR THE GREYHOUNDS
By selecting one of the Greyhounds in our care you can donate $25 toward their care. You also can donate multiples of $25 for one Greyhound or spread it around by going through the process multiple times and selecting a different Greyhound each time.
WHAT'S IN IT FOR ME?
Beyond the warmth and peace that you could experience during this wonderful season, beyond getting your name posted on the website as well as "in Honor of" or "in Memory of" another, there is always that little thing known as the tax write-off ... hey, it is true, and the deadline is almost here.
THE DRAWING
On January 19, 2019 at PetSmart located at 6204 W Park Blvd · Plano, TX during the Meet and Greet a drawing will be held and the person's whose name is drawn will be given this beautiful painting as a wonderful thank you for Being An Angel. You do not have to be present to win. We will attempt to contact the winner by phone immediately upon completion of the drawing. If unsuccessful we will try email and then regular mail. The winner's first name and last initial will be posted on this site within 48 hours.
HOW TO MAKE YOUR DONATION
Select the Greyhound you wish to Be An Angel for or if unsure you can select "All", change the quantity to increase the amount of your donation (this amount multiplied by $25 equals the amount of your donation), provide the name you wish to appear on the website and if you wish you may select to make your donation in memory of or in honor of someone by simply placing their name as you wish to have it appear on the website. Finally press the "ADD TO CART" button. If you would like to sponsor another Greyhound simply click "Continue Shopping". Continue this process until you are through and then follow the system prompts to check out.
*** ONLINE SALES end at 11:00 PM Central on Friday, JANUARY 18, 2019 ***
We only ship within the Continental United States