Be An Angel this Holiday Season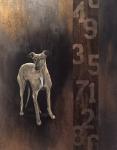 Greyhounds Unlimited Presents the 2017 Be an Angel Campaign: "Those Eyes"
*** Congratulations to Jim V. from Coppell, TX, the winner of the "Those Eyes" painting. ***
Thanks for all those participating in this year's campaign!
"Those Eyes"
The eyes of a Greyhound open our hearts. So many adopters, over the years, have said "when I looked into those eyes…".
The plight of Greyhounds needing a soft place to rest and the love of a family or companion is a concern with which we are all so familiar. In our country and across the world, Greyhounds and sighthounds need loving homes. For the generosity and rescue efforts of all who have looked into "those eyes", we are very grateful. These special dogs connect us to people in different parts of our communities and even those across the world. Their eyes are truly windows into their souls and into our hearts.
The painting, "Those Eyes", is an 16" x 20" oil on canvas with gallery finished edges, by Denise Saleh.
HOW TO BECOME AN ANGEL FOR THE GREYHOUNDS
By selecting one of the Greyhounds in our care you can donate $25 toward their care. You also can donate multiples of $25 for one Greyhound or spread it around by going through the process multiple times and selecting a different Greyhound each time.
WHAT'S IN IT FOR ME?
Beyond the warmth and peace that you could experience during this wonderful season, beyond getting your name posted on the website as well as "in Honor of" or "in Memory of" another, there is always that little thing known as the tax write-off ... hey, it is true and the deadline is almost here.
THE DRAWING
On January 20, 2018 at PetSmart located at 6204 W Park Blvd · Plano, TX during the Meet and Greet a drawing will be held and the person's whose name is drawn will be given this beautiful painting as a wonderful thank you for Being An Angel. You do not have to be present to win. We will attempt to contact the winner by phone immediately upon completion of the drawing. If unsuccessful we will try email and then regular mail. The winner's first name and last initial will be posted on this site within 48 hours.
HOW TO MAKE YOUR DONATION
Select the Greyhound you wish to Be An Angel for or if unsure you can select "All", change the quantity to increase the amount of your donation (this amount multiplied by $25 equals the amount of your donation), provide the name you wish to appear on the website and if you wish you may select to make your donation in memory of or in honor of someone by simply placing their name as you wish to have it appear on the website. Finally press the "ADD TO CART" button. If you would like to sponsor another Greyhound simply click "Continue Shopping". Continue this process until you are through and then follow the system prompts to check out.
*** ONLINE SALES end at 11:00 PM Central on Friday, JANUARY 19, 2018 ***
We only ship within the Continental United States