Would you like to make a monthly recurring donation? Click on the "Subscribe" button below and follow the instructions.
If the donation amount is not listed below, please send an email to GUONLINESTORE@MSN.COM and we will add the dollar amount that you wish to donate.
---

GU and Greytwear have teamed up to help the hounds in GU's care. Greytwear generously agreed to donate to GU 30% of all Greytwear sales from the items listed in GU's Online Store. Stop...Shop...Save...Save lives that is!!
---
2013 Celebrating Greyhounds Wall and Desk Calendars have arrived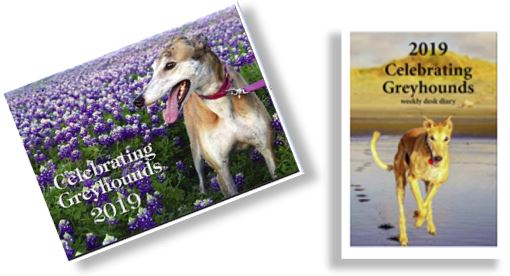 ---
"Treasured Greyhounds"
It's back! Get your print NOW!
The artist commissioned 10 prints to be reproduced from the original "Treasured Greyhounds" painting and each is signed and numbered. Some have already been purchased but you can still get yours for only $210. The prints are a giclee (an elegant, state-of-the-art) reproduction. The reproduction print is finished by the artist applying a hand embellishment with gold leaf. The image size is 24x24" and it is done on archival quality paper. This piece comments on the lives of Greyhounds, once owned by royalty, to athletes on modern day race tracks. They can be both, treasured or discarded in today's world.
You can obtain your beautiful print today by contacting the artist via email at greytgirl74@gmail.com
All purchases will be made from the artist and the proceeds will then be donated to Greyhounds Unlimited.
---
Donations: Our main source of funds
Cash donations are always welcome and very much appreciated. 100% of all donations support the ongoing needs of the greyhounds in GU's care. If you would like to make a tax-deductible donation in any amount you can make an on-line donation by going to the Donation section or click here
3 WAYS TO EXPRESS YOURSELF ON GU:
Memorial Page
Express yourself regarding the passing of a loved one, be it hound or human. With the minimal fee of $25 you get to make your expression in your own words and it is posted to our website for at least 3 months. These usually post within 7 days.
Sumbit your Memorial Request

In Honor Of ...
You can now celebrate life events through our new web page "In Honor Of". Honor someone's Anniversary, Birthday, Graduation, Appreciation, Addition to the Family and anything else you wish. For a minimum donation of $25 you get to say your message in all your own words and it stays for at least 3 months and a complimentary email (optional) will be sent to the recipient containing your message. These usually post within 7 days.
Sumbit your In Honor Of Request

Rainbow Bridge
You can list your animal companion accompanied by your name on the Rainbow Bridge page. These requests will be added to the page the beginning of every month and will remain for at least ninety days. This is of no cost to you but of course donations are always appreciated.
Sumbit your Rainbow Bridge Request
---
Shipping and Payment Information
To find out more about our Shipping and Payment policies and options click here.
All proceeds from this site and Greyhounds Unlimited events go directly to the rescue, rehabilitation and placement of Greyhounds into their forever home.
---