Cassie
Adopted
5.5 years old · Female · Black · Cat Tolerance Unknown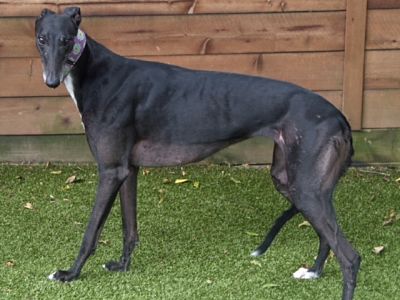 Bio
Single Female Athlete, Looking for Love
Ready for a forever relationship sharing mutual affection?
I'd adore those long outdoor walks together.
But I'd love just sitting together on the sofa, too.
You could say I'm looking for the perfect person to warm me up.
Don't hold it against me because I'm shy!
(You could be my new favorite person!)
I'm a true "old soul" in an elegant, long-legged package.
Hurry! I can't wait to gaze fondly at you (only you)...
with my gorgeous, deep, dark brown, loving eyes!
Yes, Cassie the Greyhound put this personal ad together with a little help from her friends at GU. She is indeed an elegant, leggy black beauty who's still extremely shy, but making great progress in learning to trust and relate to humans.
Cassie, 5 1/2, was at a blood bank before coming to GU, donating blood to other dogs in need. (P.S. She loves other Greyhounds.)She was at our GU kennel for several years before coming into foster care in January 2021.
She's ready to be adopted, but only by that special person ready to nurture a shy greyhound. So, what is Cassie like at home? She's a sweetheart with excellent manners. When she hears her leash clicking, she generally comes running. Then she goes into her "safe corner" and waits to be leashed up. She also enjoys curling up on the sofa near her foster mom, but needs to be led there with her leash. She has begun to come into the room where her foster mom is, and just stands and looks. She is starting to move forward as she becomes more curious all the time!
Could you be the perfect match for Cassie? Now you know a little about her.What about you? Here are some qualities that her new human needs:
✓ Love, Understanding, Patience
✓ Gentle demeanor
✓ Ideal work situation: Retired or Work from Home. (She needs to know you're there for her.)
✓ Essential animal companion: Another big dog. (Another Greyhound would be perfect!)
In brief, she is looking for someone happy to take on the challenge of a very shy dog who will learn to love and trust you back. With time and love, Cassie will bond with you. Her foster mom says she has lived this scenario with other shy greyhounds, and she can honestly say the rewards are immeasurable!
Are you ready for this challenge? C'mon! Look at that photo again. Haven't you already fallen in love with her just a little bit? Those eyes! Besides, think of the rewards of connecting with an old soul looking for a serious relationship. (Immeasurable rewards!) Who else but GU could offer you this perfect match!?